I've always wanted to see Mount Rushmore. That iconic chiseled rock of presidential faces makes me think of milk and cookies during snack time in elementary school.
I consider myself a patriotic immigrant: happy to be here, but aware the American dream is sometimes interrupted by a few night sweats.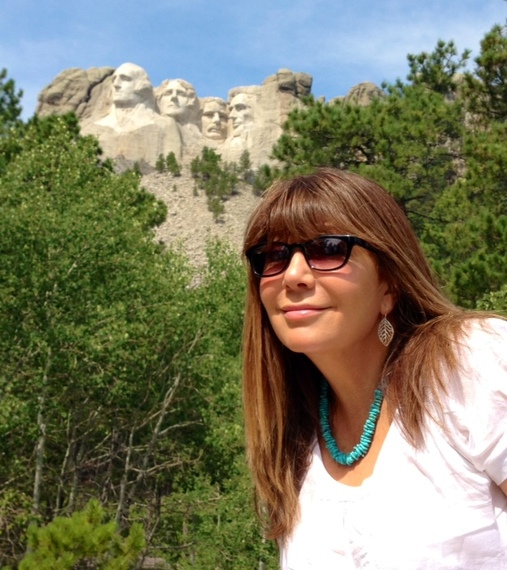 So as I researched what to do in South Dakota, a list of things popped up on Google: Custer State Park, Crazy Horse Monument even Calamity Jane's grave in Deadwood, but not much on Wounded Knee.
That surprised me since Wounded Knee is considered the last major battle fought between the Native Americans and the US government. In other words, it marks the white man's victory in winning the West.
But this "victory" is marred by Lakota blood. Nearly 200 women and children of the Oglala Lakota tribe were slaughtered on a cold December day in 1890. Their bodies were left frozen in the snow for days until US soldiers finally buried them in a mass grave.
So as I plotted my trip, I realized I could not honor the victories of the American West without acknowledging and respecting the devastating losses of the Native Americans. It's just how I'm wired.
The American West is complicated. Sure, there's the pioneer spirit. Brave souls who took the government up on its offer which boiled down to this: if you can get your butt out there and farm the land, the land will be yours.
After the majesty of Mount Rushmore, I went to Deadwood, a saloon town from the Gold Rush. If they had a map of the stars, Calamity Jane would be on it. I kept thinking of that classic 1953 movie starring Doris Day as Calamity Jane. What the producers left out is that Calamity Jane was an alcoholic prostitute.
I learned that at the Adams Museum in Deadwood. It's about the only place in Deadwood without slot machines. This little gem of a museum in the Black Hills is free. I love that it's dedicated to debunking the lies made up about the legends of the West. As you can imagine, there's enough material to fill a museum.
Learning the truth about the most famous female in the West, reinforced how little I knew. I bet Doris Day didn't know either. She would have never played a hooker.
If the West was going to be won, the people needed stories of legends and victories whether they were true or not. I believe the truth is important. That's why I had to go to Wounded Knee.
You won't find many tours of Wounded Knee listed on travel sites. It's located in the heart of Pine Ridge Reservation, the largest Lakota Nation near Rapid City which is close to all the monuments.
Getting to Wounded Knee was a full day trip, mostly because the reservation has spotty cell service, which means no GPS, and the old fashioned map I was using didn't reflect the roads I was on. The map of life rarely does.
The grave is as modest as the reservation. There's one hand-painted wood sign that marks the historic site. The mass grave has no markings, just a chain link fence around it. It is the complete opposite of the historic sites I visited. There is nothing grand about it, except its significance.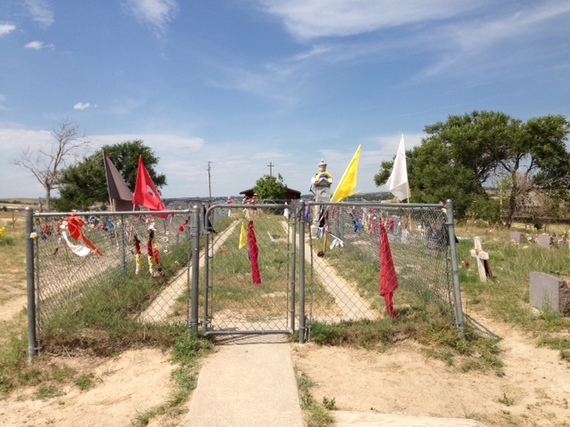 There weren't many tourists either, just us and a German family. What happened to all the people staying at the Holiday Inn Express with me? Why weren't they here? Maybe because the truth isn't always pretty.
The "Rez," as locals call it, has unspeakable poverty, a school drop out rate of 70 percent, and no real grocery store for more than 60 miles.
Yet, it is rich in history and Lakota culture, as I discovered when I found The Friends of Pine Ridge Reservation website. It details ongoing projects like the transformation of Wounded Knee Elementary School.
The site has a long wish list of school supplies which I retweeted before I left on my trip.
Thank God for social media.
A girlfriend of mine saw the tweet, and she packed me a big bag of sewing materials to donate. I knew I couldn't haul all the supplies from LA, so when I landed in Rapid City, the first thing I did on vacation was buy crayons at Target.
A visit to Wound Knee and the school were always part of my plans because I believe in traveling with a purpose.
So after paying my respects at the gravesite, I finally arrived at Wounded Knee Elementary School. I handed principal Alice Phelps the supplies. In return, she gave me the education I never got at school.
Principal Phelps is new to the school, but not to Pine Ridge. She is a Lakota woman who has returned home to turn things around.
This woman is changing everything: the teachers, the lesson plans, even the building itself. Alice Phelps will make history again at Wounded Knee, but this time it will be because she turned around a failing school. That's when I realized the female legend I was searching for on this journey was standing before me.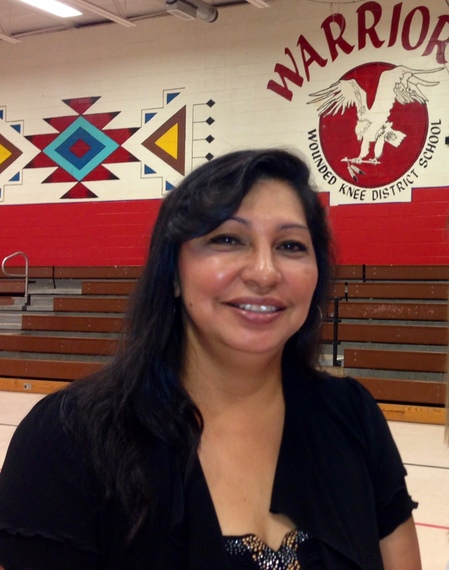 I loved my trip to South Dakota, it was filled with wild buffalo surrounding my car at Custer State Park, the majesty of Mount Rushmore, and a life lesson at Wounded Knee.
The little girl in me was so excited to see Mount Rushmore, but the woman in me knew beyond the facade was a painful past. Delivering school supplies to the reservation was my way of healing the hurt.
I left a little bit of me at Wounded Knee. OK, maybe it was mostly in crayons and construction paper. Travel with a purpose. That's my philosophy. Do a little good everywhere you go.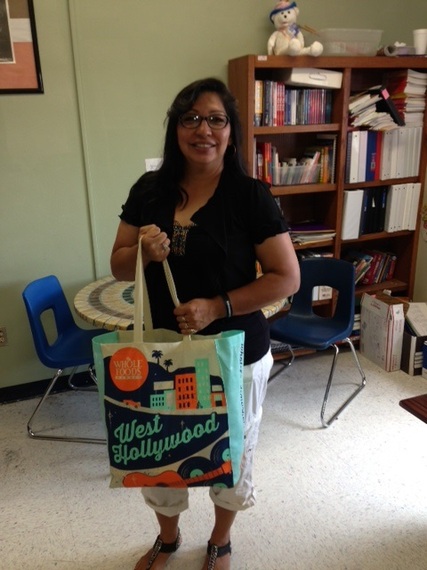 Alice Phelps, Principal of Wounded Knee Elementary School, holding one of the donation bags from Los Angeles
Related