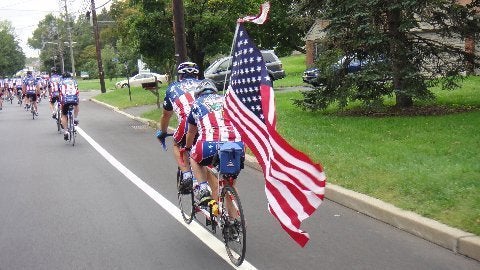 This story is part of the "The Impact of 9/12," series, which focuses on those who were inspired to give back after the tragedies of September 11, 2001.
They all have different stories. Blinded by an explosion. Paralyzed legs from a helicopter crash. Traumatic brain injury from repeated IED blasts, resulting in anger and suicide attempts. Scarred and malformed limbs from a roadside bomb blast. Missing arms, missing legs.
But these wounded warriors, who volunteered and served in the post-9/11 wars in Afghanistan and Iraq, have one thing in common: They're not sitting at home in depression and self-pity.
Instead, they are joyfully -- and sweatily -- riding an eight-day, 542-mile bicycle trip from Ground Zero in New York to the Pentagon, both to celebrate their camaraderie and to raise money to help other wounded warriors recover through cycling.
For them, the years since 9/11 have been a time of renewal, of community and of inspiring others.
"My guys didn't save me to sit at home," explained Gary Linfoot, a former special operations pilot with 21 combat missions in Iraq and Afghanistan. Pulled from the wreckage of his AH-6 helicopter after it crashed in Iraq three years ago, he is paralyzed from the waist down. Like for others, cycling has given him a way to stay fit and work himself back into the world of high-intensity achievers, like those in his old special ops unit.
"I've been very fortunate," he said.
There are 350 of them, almost all wounded warriors, who laid wreaths of remembrance at Ground Zero on Sept. 10, then launched out on their bikes on 9/11, pushing 50 miles toward the Pentagon that day. Riding between 50 and 90 miles a day, they are scheduled to arrive at the Pentagon for a memorial and celebration on Sunday, Sept. 18.
The bikes: most modified by Ride 2 Recovery, a California non-profit that organized this trip and other regular rides around the country, and operates cycling programs for the wounded at military bases around the country. R2R, as it's known, provides specially adapted bikes to any wounded warrior who can be coaxed out for a ride.
What they find is a renewed sense of purpose, accomplishment and community.
"You take a bunch of wounded warriors and put them on adaptive bikes, and they are all equal. It's absolutely inspiring," said John Wordin, a former bike racer who founded the organization in 2008. "When you're in the hospital, you're all by yourself. In rehab you're focusing on yourself. We put them on adaptive bikes -- quadriplegics, single and double amputees, a burn patient with no fingers -- it's group therapy on wheels."
There are hand-crank bikes for those without working legs; pedal recumbent bikes -- in which the rider sits or reclines low to the ground -- for those whose arms and hands don't work well. There's a tandem bike for former 1st Sgt. Dexter Durrante, who is blind. He rides behind a buddy from Fort Bragg. Gary Linfoot rides a specially designed recumbent, Freedom Ryder.
And here comes Danny Kennedy, a 35-year-old former military medic, riding a specially modified recumbent bike that he helped design with his partner, Sara Drane. Kennedy had been trying to shield an injured soldier when he was run over by an armored Humvee, leaving him with extensive nerve and spinal cord damage.
He was in a wheelchair for two years, unable to move except to wiggle a finger. He was angry, hating the world and himself. Twice he tried to take his own life.
Then he hooked up with a nonprofit called LifeQuest Transitions, which uses high adrenalin adventure sports to help rehabilitate wounded warriors. "They told me I couldn't do it, as simple as that," he said to explain how he climbed away from his depression and began working with what he had.
"You can decide to let your injury run your life, or use your life to master your injury," he said.
He and Sara figured out how to enable him to paddle a kayak with one arm, to run using a harness and tether to his partner, even to ice climb with his one arm and one leg that still work. "I have no fear," he said. "If I fell, what's the worst that could happen to me? That I'd fall and end up in a wheelchair?"
He competes against "normal" people in events sponsored, among others, by Extreme Xterra. Last fall Kennedy completed a 110-mile race that combined kayaking, running and mountain biking. His marathon time is 3:58:16. He identifies himself as an endurance athlete.
"I can do almost everything you can do," he said. "I only do it differently."
The R2R ride had the wounded warriors swarming down country roads and busy highways across New Jersey, Pennsylvania, Maryland and Virginia.
On some parts of the trip, volunteer motorcycle riders from veterans organizations rode flank, leaping ahead to hold car traffic at intersections while the riders flowed by. In the Pennsylvania hamlet of Hellam, the Red Line American Legion Post 543 ladies auxiliary cleaned up a flooded parking lot and set up stands of iced water and peanut-butter and jelly sandwiches for the riders. In New Oxford, Pa., special needs middle-school students welcomed the riders with ice water and hand-made red, white and blue pins.
"Thank you! Thank you!" people cried and waved along the route, while a few old veterans stood and saluted. "Thank you for your service," an R2R rider said to a Vietnam veteran. "I'd get up but ..." he gestured at his useless legs. "But welcome home."
As the miles unroll and the riders start to tire, the riders coalesce into what many say is the main benefit of the ride: Despite the diversity of their wounds and circumstances, they are united in a community, bonded by grit, determination, hard work and the camaraderie of intensive effort.
Two riders, one with a prosthetic arm and hand, flank a wounded warrior on a recumbent, giving him a boost up a long hill. Clusters of riders cheer each other on. At a rest stop, riders and bystanders high-five and hug. The mock-insult humor of close-knit military units kicks in. "Hey! Stand up when I'm talkin' to you," Danny Kennedy yells at a rider with no legs. "I will -- if you clap," the veteran yells back to Danny, who has only one working arm.
"I used to have nightmares, anger, confusion, I couldn't stop crying," said Joseph Daniel Jackson, a former Navy combat corpsman from Modesto, Calif. He has traumatic brain injury and post traumatic stress disorder from multiple exposure to IED blasts during deployments with the 5th Marine Regiment. "I felt like I've screwed up everything since I got out of the Navy. I just wanted to be back with my Marines," he said.
"R2R gave me an escape and a sense of purpose. It really draws you into a community. I can sleep at night now," he said.
R2R, sponsored by United Health Care, the USO and others, operates cycling clinics at the Walter Reed National Military Medical Center in Bethesda, Md., and at Warrior Transition Units on military bases. But the organization is looking to expand these programs.
"Guys come out on a ride like this and they don't want to commit suicide, they leave behind the depression and isolation," Wordin said. "There are a lot of things the military hasn't figured out yet, and those problems tend to get solved out here on the road."
Not quite all the problems, says Dexter Durrante, the blind rider.
"You can't get back to how you used to be -- used to would, used to could ... no," he says. "But you gotta be positive. This biking thing is a release. I've always been a high-energy guy. When that explosive blew up in my face I lost my eyes in an instant. Being blind you are solely dependent on somebody else. Now what I am supposed to do with all that energy."
He spent a lot of time in the gym, working on the bicycle trainer. But that gets lonely and boring after a while. And even for the wounded warriors who are determined and aggressive positive-thinkers, there are always those bad moments when the 'what-ifs' start creeping back, often accompanied by self-doubt and self-pity.
"Out here, out with these guys, I burn up a lot of that negative energy," Dexter said. "I do this for me, of course. But I know there are blind people out there, behind doors. If I can inspire the parents of a blind child by seeing me out here, then there is a little bit of hope for that child."
Calling all HuffPost superfans!
Sign up for membership to become a founding member and help shape HuffPost's next chapter