Looking at him today, you would never know that in January 2008, a massive explosion detonated by a suicide bomber outside Ramadi, Iraq, injured Brian McPherson, then a strapping 20-year-old infantryman. The blast killed another Marine and wounded three others.
McPherson was knocked unconscious and lost much of his hearing and memory. Both shoulders were wrenched out of alignment. Ignoring his blurred vision and headaches, however, McPherson went on fighting for weeks, completing his combat tour, before doctors finally called his military career to a halt.
Now 27, McPherson has been treated for traumatic brain injury (TBI) and received therapy to improve his speech, memory and muscle coordination, although his pain lingers. He is a wounded veteran -- but virtually indistinguishable from the other students at Ohio University, where he's working toward a degree in public health, eventually to help other vets.
You might not pick out Adele Loar, 44, as a wounded veteran either. She's a former Air Force counterintelligence agent who was injured when a bomb blast in February 2006 sent her armored Humvee crashing off a Baghdad overpass. Shrapnel tore through her shoulder, destroyed one eye and damaged the other, cut through her cheek and sliced across facial nerves. The concussion from the blast collapsed a lung. Convalescing months later, she suffered a blood clot in her kidney.
McPherson and Loar are among hundreds of thousands of Iraq and Afghanistan combat veterans returning to civilian life wounded but not obviously disabled. They are battered, struggling to adjust to injuries that are mostly invisible, permanent and life-altering.
Yet McPherson, Loar and 12 others have set themselves a physical and mental challenge: to climb California's Mount Whitney, the highest point in the lower 48 states. Their push to the summit is planned for Sept. 11.
Approximately 15,000 veterans constitute the military's most severely injured, the major-limb amputees and the badly burned, who have rightly become a visible and honored part of the postwar landscape. Battered veterans like McPherson and Loar are different.
They are far more numerous, for one. The Department of Veterans Affairs reported last year that over 700,000 Iraq and Afghanistan war veterans are receiving compensation for some 4.7 million injuries -- an average of 6.6 wounds per person. These include 2 million cases of bone or muscle damage, 455,000 cases of hearing damage or loss, 400,000 cases of nerve damage and 100,000 genital injuries -- the harm inflicted by improvised explosive devices (IEDs). Hundreds of thousands also suffer from strained backs, stiff knees, inflamed tendons, headaches, migraines and other ailments. Like the severely injured, many of these battered veterans have post-traumatic stress disorder and TBI as well.
Unlike those whose artificial limbs or deep scars are visible evidence of their sacrifice, however, the veterans walking around with less obvious injuries often find they must face medical and psychological issues without recognition.
After Loar was released in May 2006 from medical treatment at Walter Reed National Military Medical Center outside Washington, for example, she was assigned to appear at a ceremony with other wounded warriors. Afterward, she said, a general came forward and shook hands with each of the amputees. He ignored Loar. "He couldn't even tell I was wounded," she fumed. "Isn't losing an eye enough?"
For the severely wounded, returning home can lead to an embarrassment of attention. Politicians and celebrities fawn over them. Surgeons and nurses consider them rock stars. Nonprofits build them houses and donate handicap-equipped cars. And the military, after years of resistance, now honors whatever career path the severely wounded choose, even finding ways for them to stay on active duty if they so desire. The Army, for instance, has enabled some Special Forces soldiers with amputations to return to active duty and deploy overseas.
Not necessarily so for those who bear lesser wounds. While some have returned to active duty, Loar and others who have demonstrated they are physically and mentally capable of resuming their military duties have still been medically discharged from the service they cherished.
Such dismissal forces an abrupt and unanticipated shift from a familiar military culture into the civilian world. Even though they continue to receive medical care, retirement requires them to abandon long-held career plans. Starting anew demands an abundance of social skills and self-confidence, characteristics that wounded veterans with TBI and PTSD often lack.
That's why the four-month training regimen to climb Mount Whitney appealed to 14 wounded veterans. None of them has previous climbing experience. None plans to be a professional climber. But all of them are seeking a difficult goal to work toward and an encouraging team to help them reach the summit.
Scaling Mount Whitney, a granite tower jutting 10,000 feet from the California desert floor, is a metaphor for overcoming life's most difficult challenges, said Erik Weihenmayer.
Blind since age 13, Weihenmayer is a mountaineer who climbed Everest in 2001 and went on in 2005 to found No Barriers, a nonprofit organization dedicated to helping people of all backgrounds overcome difficulties in their lives. One project of No Barriers, called Soldiers to Summits, has organized, trained and equipped the 14 wounded warriors to climb Mount Whitney, among several expeditions it has led for injured vets since it was launched in 2009.
"Things get in the way. We get discouraged. We're not living the life we feel we should be," Weihenmayer told The Huffington Post. "The idea is to take people who get shoved to the sidelines to where they're climbing, so they can serve and really live again."
"It's very scary," he said, "and very powerful."
That was starkly evident during the group's first training climb in May, when they set up base camp at 10,000 feet and then scaled Colorado's James Peak, climbing to just over 13,000 feet.
"When you see that wall of white in front of you, holy crap!" said Loar. "But to have everybody around you, other wounded vets, everyone so supportive, everyone high-fiving you -- you know you belong."
Finding that sense of belonging can be elusive for veterans, but it is a key element in handling the return from war. Life in the combat zone is strictly mission-oriented. Fear, loneliness, boredom, discomfort and pride are all intensely felt. Decisions can result in life or death. Friendships run deep. Laughter and tears are common. Combat troops may be world-class wise-guy complainers, but they also share a sense that their mission at some level is a noble one and that they fight together for a higher cause.
All that disappears when they separate from the military and come home. Civilian life can seem pointless and drab, without purpose. Their supporting network of comrades is missing. As they work to reorient their lives, battered veterans in particular can feel alone in crowds of civilians who don't know or care who they are or what they've done and don't notice what it's cost them.
"One of my big issues is going from a world where a life could end at any moment, and a lot of times it does, to this world of BS -- in a lot of ways, such a fake society," said David Inbody, 40, a member of the team training for Mount Whitney.
Serving in Afghanistan as a Texas National Guard lieutenant, Inbody was in an armored truck when it was blown up by an IED four years ago. The truck's design and armor saved his life, but Inbody lost his right foot and suffered damage to his left hip and lower back, as well as hearing loss and "other minor stuff that goes along with all that," he said. Today, Inbody walks without a trace of injury, yet the military forced him into retirement.
That ended his dream of a full military career, rising through the ranks to command ever-larger units. "I had big goals ahead of me," he said. "All of a sudden that got yanked away, a 90-degree turn in the road and you're going somewhere else."
While wondering what to do next, Inbody enjoyed being at home with his wife in College Station, Texas, and their two children, ages 7 and 9. But like a lot of hard-chargers who were attracted to military life, he began to itch for a challenge. "Something to motivate me to get up off the couch," he explained.
"I was looking to get my butt kicked ... and I got my butt kicked," he said after a day of practicing with crampons and ice axes on a steep, snowy slope during the first training climb in Colorado. Being with other veterans, with whom he shares combat experience, he felt like the shallowness of civilian life just dropped away. "Out here," he said, "there's no faking."
Since then, Inbody said, he has spent time at the gym, getting back in shape. "I see this climbing as a steppingstone. Mount Whitney is one goal along the way of me getting back to where I want to be physically and, as a result, mentally. Feeling physically and mentally strong, like I was when I was in Afghanistan."
For Adele Loar, the challenge of Mount Whitney was likewise a prod to get out of her house in Narragansett, Rhode Island. Leaving the hospital in 2006, she had felt raw and exposed as she tried to adjust to her prosthetic eye and brain injury.
"I was running into walls, couldn't remember conversations I'd just had, and for a long time it hurt to move my shoulder. Just constant reminders that you're not the person you used to be," she said. She also was grieving the loss of two friends in the same blast that injured her.
Loar said she begged to get her old job back as a counterintelligence agent. She aced the fitness tests, qualified with her weapon and passed an off-road, evasive driving course. Like Inbody, however, she was medically retired in 2010.
"My local commander said it outright: 'I would never deploy with a one-eyed agent.' I'm gonna say it was political," Loar said, adding without irony that being dismissed "blindsided me."
Restarting her life wasn't easy. Although her injuries are almost entirely invisible to others, she was extremely self-conscious about her difficulties with memory and balance and her prosthetic eye. As many other veterans have found, her PTSD can magnify her fear of strangers and strange situations.
"Being female and single and losing an eye, it was really awkward to go out and meet a guy," she said. "Right now I'm not that pretty girl anymore," she said. She built fences around her house to keep people away and stayed indoors with her two Australian cattle dogs.
Eventually, with the help of a VA therapist, she began making longer and longer forays from home. Then this past winter came the invitation to climb Mount Whitney. Cautiously, she signed up.
Brian McPherson had a different motivation. When he got off the plane in Denver for the first training climb, he was met by a USO representative who he said told him, "No offense, but you don't look like a wounded warrior. You don't look like there's anything wrong with you."
"I kind of laughed it off, you know. I get that a lot," said McPherson. "I said most of my wounds are invisible. I told him that a lot of vets come back with invisible wounds and are not willing to go to the VA and are still struggling to go ask for help. I want to advocate for them."
He's also motivated by the memory of his team leader, best friend and mentor, Lance Cpl. James Gluff, who was killed in the blast outside Ramadi that injured McPherson. McPherson took his death hard. During painful months of rehab at Camp Lejeune, North Carolina, he often would hear from "Big James" as he slept.
"This might sound strange, and I'm not a very religious man, but I feel he talks to me -- not very often, but he lets me know he wants me to do something bigger than myself and not sit in my house," McPherson said.
So after doctors cleared McPherson for vigorous exercise in 2010, he set out to ride a bike -- and suddenly realized that because of his brain injury and loss of memory, he couldn't remember how. He sneaked back to his room at Camp Lejeune's Wounded Warrior Barracks to study an online video of toddlers learning to ride bikes. He pushed himself hard and, a month later, entered a triathlon and took third place. More triathlons followed as he found relief from his chronic pain and headaches in grueling physical exertion.
Racing, he said, "has been my way of doing something for Big James. He wouldn't want me to dwell on his death but to live for him, and that's kind of what I'm doing."
Then one night this past January, Big James came to him again.
"He told me he wanted me to climb a mountain, and he wanted to see that view through my eyes," said McPherson. "I woke up and started searching for a mountain to climb, and a few days later, on the anniversary of his death, I stumbled upon Soldiers to Summits."
The climb up James Peak in May was the first of two team training sessions before the Mount Whitney summit attempt in September. Soldiers to Summits had solicited applications and, from the dozens who applied, selected 16 veterans who demonstrated physical and psychological stability, compatibility and a desire for challenge. (Two team members have since dropped out.)
Nonprofits have organized many similar programs to challenge veterans to overcome physical and mental barriers and find new skills and new confidence. Some use adaptive sports techniques to assist disabled vets to climb, ski and race bikes and to play ice hockey, wheelchair basketball and other sports. This Soldiers to Summits program doesn't require adaptive equipment, only determination. A second training session, a backpacking trip in August into Colorado's Collegiate Peaks, was grueling and revelatory.
"It's amazing what it's already done for my self-esteem," said Loar. Drawing strength from being a member of a close-knit team again, she has begun emerging from her self-isolation -- for instance, working out at the gym to increase her strength to carry a heavy pack up Mount Whitney. "It's built up my confidence, and as I get stronger, I am more confident, I'm more sociable, I'm getting out."
"I didn't date for years," she added. "And now I've been on a few dates."
The oldest member of the team is Bob "Diggs" Brown, 57, a retired Special Forces officer with PTSD and TBI from two tours in Afghanistan. Part of the benefit of the group climb, he said, is that "you're with other military folks with common backgrounds, so you are back in your comfort zone with a common goal in mind. Also, you're out in what I call God's cathedral, out in the mountains, so all your senses are firing, and that takes you from being stuck in the past right into the present."
"Plus, you're working your ass off," he chortled. "It's the best thing I've done in a long, long time."
Invigorated and inspired, the team paused after the first training climb to load gear into a van. A passer-by stepped around the piles of packs, ice axes, sleeping bags and boots and asked what was going on. A team of wounded warriors is training for a big climb, he was told.
"Do they also take normal people?" he inquired.
Without pause, Loar shot back, "And what the f**k are we?"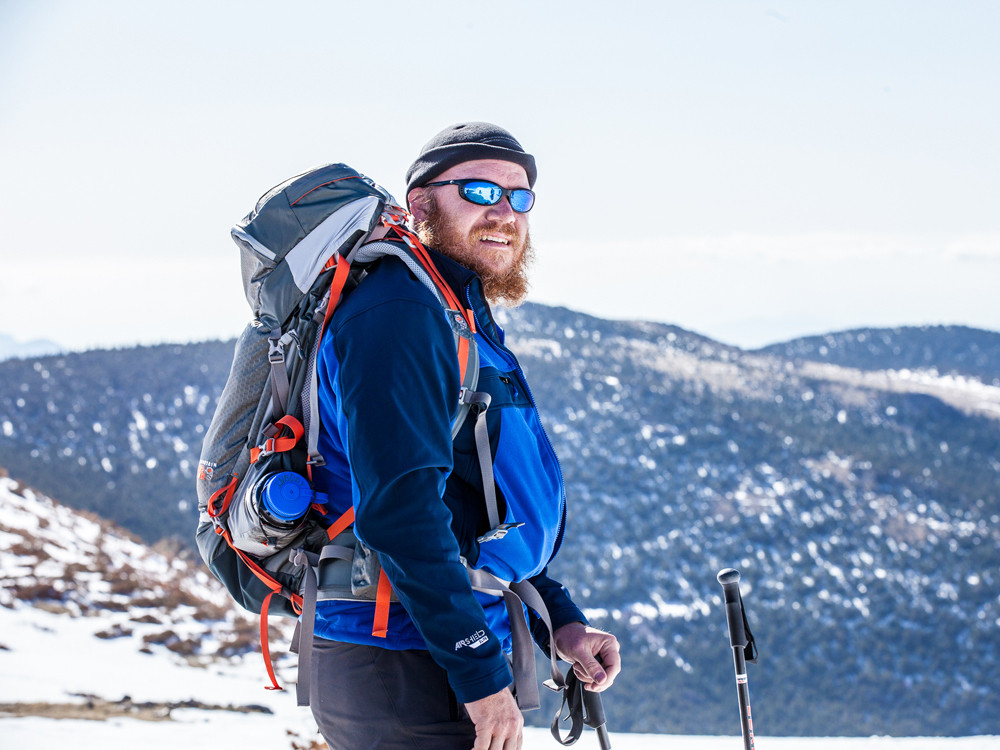 Enjoy reading this article? Read more selections from the best of HuffPost in Huffington Magazine.
Calling all HuffPost superfans!
Sign up for membership to become a founding member and help shape HuffPost's next chapter