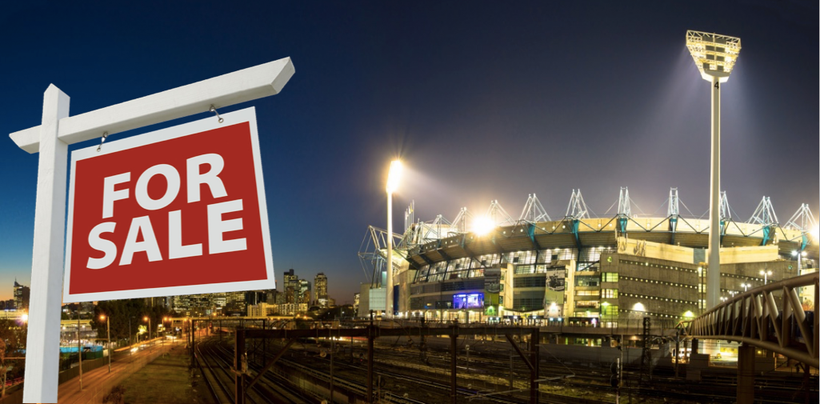 Most sport fans would place Melbourne, as a huge sporting zone, and arguably one of the sporting capitals of the world, and that is largely thanks to one of their most recognizable icons; the legendary Melbourne Cricket Ground.
Lord's, Wembley, Madison Square Garden and Yankee Stadium are considered among the greatest sporting arenas in the world, but for history, pure drama and emotion, it's hard to look past the Melbourne Cricket Ground.
From hosting the first Cricket Test in the history of the game, to setting the stage for Shane Warne's 700th wicket, to EJ Whitten's lap of honor before the AFL State of Origin match in 1995, or even the 1956 Melbourne Olympics, the public and the MCG have enjoyed an ever-engrossing relationship.
They're moments that made us cheer, made people cry, or they may have simply made some fall silent in awe.
"The MCG is one of Australia's greatest assets and sits proudly alongside other internationally recognized attractions and attracts three million-plus people annually." MCC President Paul Sheahan said during The G's recent birthday celebrations.
Yet with recent plans for a $1 Billion make-over being pitched to maintain the sport's precinct as the world's best; it's surprising to find what's known as People's Ground up for public sale.
So imagine my surprise, when someone in Melbourne, whilst doing some late night gift buying for their father, sends me a message about discovering the opportunity to buy him an amazing piece of the now demolished and renovated Ponsford Stand, where they spent many weekend afternoons screaming & cheering together.
… an experience, and now loving memory, which is such a right-of-passage for many Australians.
The Heartbeat of Melbourne
It would be hard to argue hosting three major international sporting events each year: the Australian Open (Grand Slam Tennis), the Melbourne Cup (Thoroughbred horse racing) and the Australian Grand Prix (Formula One Racing).
But the crown jewel of Melbourne sports is... and always has been the iconic Melbourne Cricket Ground (MCG).
"The Melbourne Cricket Ground is a shrine…It is to this city what the Opera House Is to Sydney, the Eiffel Tower to Paris and the Statue of Liberty is to New York; it symbolizes Melbourne to the world. It inspires reverence."
-Greg Baum, Fairfax Media
The Ponsford stand was built in 1968, which means that it has been around for nearly 50 years. It's been there for cricket's most memorable games and seen the sport's greatest legends.
… and it's pieces of this historic stand that has been turned into some amazing sporting history, that is allowing the ground known as "The People's Ground" to be owned by the people!.
These amazing Ponsford Pens have been handcrafted with tremendous care by one of Australia's oldest and most experienced pen makers. It's a symbol that any self-respecting sports enthusiast would be proud to own.
Designed in the fashion of the classic Junior Gentleman's Rollerball writing instruments, it's similar to the $1000 Monte Blanc pen which is seen in most Collins St boardrooms.
Seeing this piece of a storied stadium may bring back memories of being young and alive, or for some the feeling of attending games with their dads. You'll feel the pride, excitement, and wonder of being part of something big, loud, and exciting...all over again.
Because this piece of sports history is more than just memorabilia…
It Could Be A Savvy Investment
Australia's leading finance journalist and commentators, David Koch recently wrote
"I love a good piece of sport memorabilia. It brings up a nostalgic feeling reflecting on the moment or journey it represents. But it can also represent a shrewd investment, and as a finance man I just love that about it too."
For my Australian pal, this is great news, as her dad has always said he prefers presents that are better a year after receiving them - often a hard thing to achieve for most of us. But something tells me, her die-hard Essendon Bombers fan dad will be loving this gift for many many years to come.
"Normally 'investment' you think shares, property, education... Rarely does it conjure up images of Don Bradman's baggy green or Cathy Freeman's track shoes. But sport memorabilia is just as much an investment as any of those other assets." Kochie continued.
Kochie's Top 5 tips for investing in the memorabilia market seem to point towards the PonsfordPen being an ideal gift investment for anyone:
1. Don't buy memorabilia made to cash in on an event. It's usually cheaply and plentifully produced, and therefore unlikely to appreciate. Instead look for historic or unique items.
There isn't anything more authentic that a piece of the 'G.
2. Steer clear of replicas. They might be authentic, but you can rest assured that there are plenty more of them out there and are easily reproduced if demand warrants it.
No replica jersey or cricket bat here.
3. Get everything authenticated. The best way to ensure this is to only buy articles bearing a Certificate of Authenticity.
The Ponsford Pen comes with a full Certificate of Authenticity, along with Pens limited edition number.
Well this author feel she's done a good job researching for this article.
5. Enjoy it. One of the joys of investing in sport memorabilia instead of things like shares is that you have something physical to enjoy.
Unlike a framed singlet or signed poster, you can use this piece of sports memorabilia each and every day.
One Mans Trash, Another Mans Treasure.
I reached out to Pete Williams, who is helping "give The People's Ground, back to the people" to find out more about this surprising opportunity.
"It's been a pretty amazing journey really… I stumbled upon this authentic timber when the MCG was first being redeveloped for the Commonwealth Games – and it was only recently that the idea to create these pieces of collectible history came to mind.
It turns out that because these pens are meticulous handmade from authentic wood from the real Ponsford Stand, there's an extremely limited supply.
Only 500 pens are being crafted, and there isn't any remaining wood to make more.
Now as you can imagine, there are thousands upon thousands of sports fans in the world who would love to own a piece of this historic stadium.
… and in a world of mass produced, overly manufactured goods, especially sports memorabilia; it's exciting to be able to purchase an authentic piece of Australian sporting history.
So if you consider yourself a cricket or footy fan…
A collector of random artifacts
Or even just a lover of all sports, and the worlds best gift-giver (like me)
As die-hard Saints fan, Molly Meldrum would say – do yourself a favor!
REAL LIFE. REAL NEWS. REAL VOICES.
Help us tell more of the stories that matter from voices that too often remain unheard.
This post was published on the now-closed HuffPost Contributor platform. Contributors control their own work and posted freely to our site. If you need to flag this entry as abusive,
send us an email
.