If you've seen one dude ranch you've seen 'em all, right?
Dude ranches can be as varied and multifaceted as any hotel experience. You can bed down in a tent or check into a five-star cabin; you can cook your own meal on a campfire or have a five course, white-glove dinner with wine pairing; you can wrangle your own horse or saddle up with a mounting block.
We've seen it all -- from the downhome, family-style ranch experience at the Bar W Guest Ranch to the adventurous all-inclusive amenities at Mountain Sky Ranch to the ultra high-touch elite-level service at the Brush Creek Spa and Resort.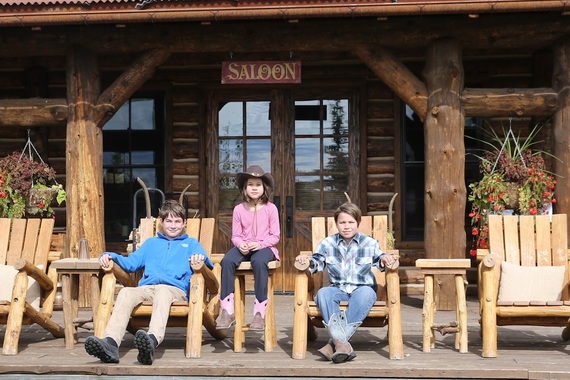 At the Bar W Guest Ranch, just outside Whitefish Montana and nearby Glacier National Park, you're never in doubt that you're on a working ranch. Our kids brushed the horses, fed the horses and rode the horses. We even roped some cows, sorta. If you want to show your kids how to be a cowboy, this is the place to do it.
Guests and staff live and work side by side. After tending to the horses, we learned roping and riding skills or took to the trails. And we all ate like cowboys. During meals we swapped stories, sang songs and watched our marshmallows brown over the fire. At the end of the week we'd bonded with our horses, the staff and fellow guests.
It was hard to say goodbye.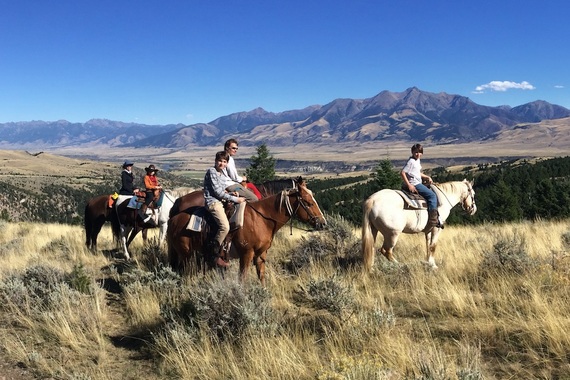 Mountain Sky Guest Ranch, based in Emigrant Montana, had something that none of the other ranches we visited could duplicate, Yellowstone National Park. Every horseback ride ascended steep winding trails leading to stunning vistas of America's first national park.
Along the trail you're bound to spy elk, moose, antelope and deer. After the ride you can enjoy a massage, practice yoga or take a dip in the heated pool -- amenities most cowboys can only dream of. Cabins are peppered throughout the valley with the main lodge as the centerpiece. The best place to meet other guests is the saloon/game room or by the rustic fireplaces at the main ranch house.
Definitely the right spot if you prefer to be a pampered cowpoke.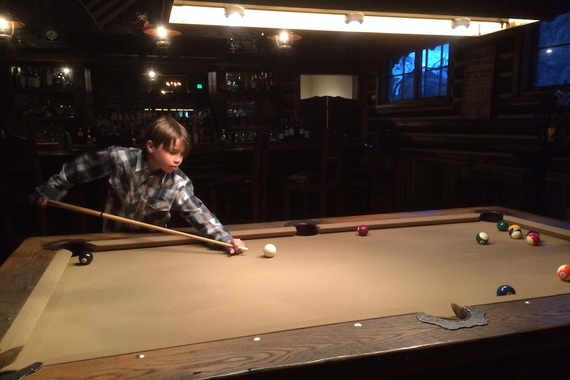 If you're looking for an unapologetically upscale ranch experience, try The Brushcreek Ranch. Don't take our word for it, a few days before we checked in, Kati Perry and John Mayer had visited for a destination wedding. The ranch, which opened in 1900, stretches more than 30,000 acres, and borders Medicine Bow National Park.
The resort is so vast that guests are issued a golf cart when they check in. This is helpful when planning daily activities which may include archery, paintball, ziplining, target practice, hunting, hiking, and roping. Yes, the list is high energy activities is almost endless. But if you're looking for something a bit more restive like a visit to the spa, a romantic dinner beneath the stars or early morning yoga, you can find that here too.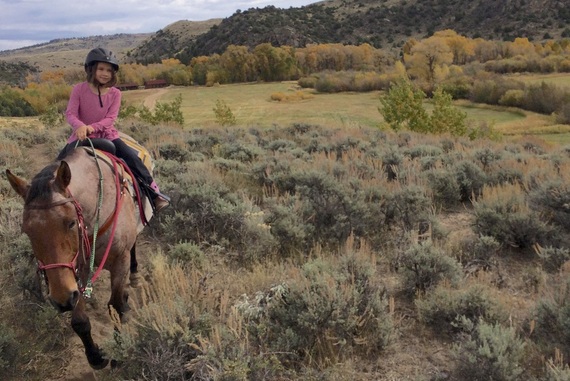 The horseback riding, though phenomenal, is almost incidental.
But it was the meals that really stood out, for two reasons: the ambiance and the food. Hors 'd vours served on a mountain overlook at sunset, dinners prepared creekside, lunches at the chuckwagon and after-dinner drinks in the saloon, the settings were incredible and changed daily.
The food, prepared by a team of gourmet chefs, went far beyond traditional cowboy fare. Selections of meats, grilled and fresh vegetables as well as homemade soups and sauces really hit the spot. Our favorites were the cowboy baked beans and buffalo chili.
And despite all the first class amenities, you still get to wear your favorite pair of jeans.
Sure, these ranches seem quite different, but they do have a few things in common. Each of these ranches rang the dinner bell to call everyone in for meals and meals were served community style. Phones and television services were only available in the main lodges or common areas. And no matter where you looked, there were breathtaking views.
If you're thinking about a ranch vacation, you can find more information about choosing the right ranch for you at the Dude Ranch Association website. The organization is dedicated to maintaining a standard of service for all ranches and can help you plan for your trip.