Like many guilty gourmets at this time of year, my disciplined Ayurvedic diet veered drastically off course. Tempted by the sweet and savory flavors of chocolate, cheese and charcuterie, a deep inhale was in order to button my size 26 J. Brand skinny jeans. I prefer my skinny jeans to have a looser fit, and I knew where to make that a reality, naturally -- in a mere 60 minutes.
Just off of Grand Central station, perched on the top floor of an Art Deco skyscraper, you'll find Ildi Pekar's beauty spa. A native of Hungary, Pekar stays on top of her game by investing in Europe's most advanced beauty technology, promising visible results when combined with her signature face and body treatments. With a roster of steady clients, including magazine editors, beauty executives and models, I heard quite a buzz about her makeover magic. In these bitter cold, weight-gaining months, Pekar suggested a hot ThermaSLIM treatment to whittle away my pesky puffiness. Indeed, feeling sluggish from holiday over indulgence, a relaxing detoxifying therapy is just want the East European had in mind.
Pekar instructed me to completely disrobe and lay on heated table covered in plastic. Then out came the tape measure (uh-oh), allowing her to measure the circumference of my ankles, knees, thighs, hips, stomach and arms. After making a number of notations about her findings, Pekar began slathering an aromatic Belgian oil all over my body. Formulated with pure essential oils, such as wheat germ, juniper, thyme, sage, peppermint and pine, this top-grade concoction stimulates lymphatic detoxification, firm and soft skin, improved metabolism, and healthy circulation.
"Get ready," Pekar warned, in her charming Hungarian accent. "You're going to sweat!" And with that, Pekar cocooned me in the ThermaSLIM wrap and left me alone in her tranquil treatment room. Within 15 minutes, the heat offered a welcome sensation on my perennially cold body. Barely breaking a sweat at this point, I breathed in the calming lavender fragrance from the body oil. However, 45 minutes later I began perspiring profusely. Pekar returned, saying the last 10 minutes of the wrap were a challenge for some of her bold-faced clientele. For the sake of fitness and fashion, I endured the sweltering temperatures.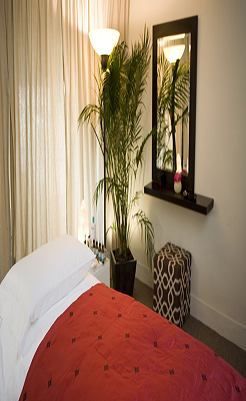 While wrapping me a like a present, Pekar explained that some clients with toxic lifestyles (junk foodies, smokers, imbibers, etc.) excrete a bright yellow sweat. I'm happy to report that wasn't my experience -- only a slight discoloration in my sweat. Still, it's telling evidence that my gluttonous ways made an unhealthy cellular impression.
After the treatment, Pekar reported I lost 6.25 inches overall. My skinny jeans fit like a sleek glove, with breathing room to boot. The first treatment is one hour, the
following ones are 45 minutes. "After 10 treatments women can lose up to one dress size," Pekar claimed. Gift giving season is over but wrapping yourself in ThermaSLIM is the ultimate gift to yourself -- and your waistline. $125 for a single treatment, $350 for three visits and $690 for six. 212-682-6080