Around this time last year, a 21-year-old named Aella posted a photo album on Reddit's "GoneWild" board. At first glance, the album appears to be a normal progression of amateur nudie pics.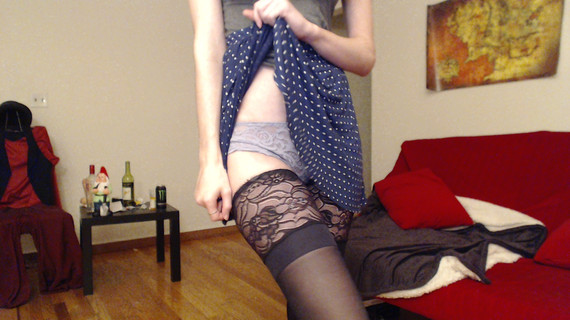 But then we notice something odd: a cluster of gnomes lurks at her feet, inching closer to her in each picture. By the time she notices them, it's too late: they have her in their clutches. We're helpless but to watch them whisk her away.
The Reddit-sphere erupted, and Aella became a celebrity on the social media site seemingly overnight. Around that same time, she was at the Cam Girl Mansion, an exclusive event where popular cam girls congregate each August to network, party and perform. Between the two, the last quarter of 2013 proved to be quite a life-changing time for her; she capped off 2013 as the most popular girl on r/gonewild, and found that her audience had grown tremendously.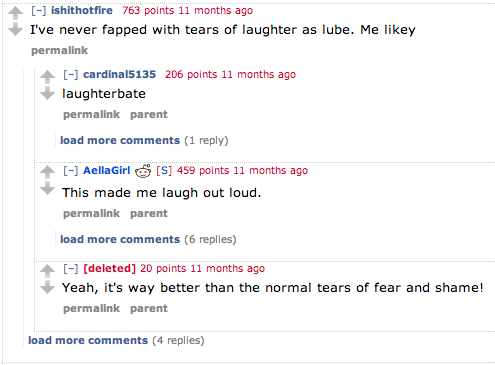 She's posted two other gnome-centric albums since the original, but the comedic impulse is hardly limited to that series. She's been known for some time on 4chan's "Random" board (/b/) as "mime girl," in reference to live shows in which she performs as a mime.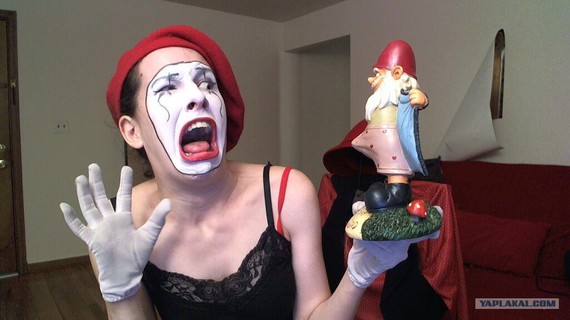 In addition, she's posed and/or performed as catwoman, a nun and a clown, and can also be seen as a "squirreltaco" in the trailer for Cam Girlz, a forthcoming documentary about women who do Internet sex work via webcam:
Just as Charlie Chaplin revolutionized his field in a jester's clothes, in donning these identities to "tell" these stories, Aella undermines and revolutionizes. I've written elsewhere about the emerging cultural dominant called metamodernism (you might have heard of it in relation to the media coverage of Shia Labeouf earlier this year, but it's actually much broader than that), and Aella typifies this structure of feeling. These theatrics aren't satire; she's not making fun of the industry so much as toying with its form, offsetting the artificial self-seriousness of the pornographic imagination with comedy that simultaneously embraces sexuality as something that can be as fun as it is arousing. She pushes boundaries by incorporating a type of honesty rarely seen in more traditional pornography: old-fashioned goofiness. That this earnestness springs from a field often underscored by misogyny makes it all the more daring. Fun as it appears, these are creative risks that directly impact Aella's cheddar. After stumbling across her work on /b/, I decided I had to find out the ethos behind the antics; we spoke last week, discussing farts, camming, LSD and more:
Jesse Damiani: How'd you get started camming? What were your initial experiences like?
Aella: I was trying to be self-employed at the time -- I had recently quit my job and moved cities and was sleeping on a couch with a friend and had very little money, living off savings -- and at the time I had this friend who was in porn and he was like, "Hey, you should start camming with me, it's good money, and I can get us success because I'm already in porn," but that ended up not working out and then a couple months later when I was really desperate -- I was trying to be a photographer in podunk Idaho -- I tried it myself, and I made $80 on the very first night. I was like, "Oh my God, my life has changed!" And then I worked a lot after that. It was really terrifying at first, because I had, up until that point, been a very conservative, not very sexually promiscuous person. Well, mostly.
JD: Wait, elaborate on that.
A: Well, I mean, I was homeschooled and Christian my whole life, and so while I was still exploring how, you know, I could not be a prude, it was still very new for me. And so, getting naked on the Internet was really terrifying. I'd not really sent nudes before -- I'd done nude modeling, but that was artistic and not sexual -- so I was really scared at first, and I think that's why I was so silly, why I started out being ridiculous, because I was terrified.
JD: What prompted you to don the mime paint?
A: It was Halloween, and there was -- I don't remember where it was but for some reason there was a tube of white paint lying around -- and I was really drunk at one point with my friend. This was when I was still living with that friend on her couch -- but we eventually started camming together -- so I put on the paint at one point and cammed with it on, and it was a great success, and miming was not as hard as it looks. I kept doing it because people had such a great reaction to it; it became a regular thing.
JD: Your time at the Cam Girl Mansion seems like it was pretty important for you. Can you talk about that?
A: It was awesome to have a whole bunch of girls who do exactly what you do, because it's kind of ostracizing from society, not necessarily in an intentional way, but in the sense that the work schedule is very different; it's very difficult to be friends with somebody who has a 9-5 job when you're constantly with people who don't, and who share a very unique experience with you. So it's like being thrust into this world where everybody else suddenly has the same social experiences that you do. It was really cool, like an instant bonding thing. And, you know, a lot fun! You walk down the halls and see, just, some girls masturbating in the hallway and you're like, "Hey yo!" and just wave as you walk by. It's really surreal because it's not the type of experience you ever expect to have in your life. The second one was also fantastic -- I'm not currently going to the third one, but hopefully the fourth one -- but yeah, the second one was a little more intense because there were the AVNs and also the Reddit AMA, which was crazy. But they were pretty fundamental to boosting my success because it elevated awareness of what I did. It's like a huge publicity thing.
JD: Can you describe your life before "gnomerape" and after?
A: You know, I was just sitting bored in my Portland apartment alone, because I lived alone and I didn't really go outside very much (very introverted), and, I had this idea, and overnight it just exploded. There's this thing called CamScore -- it's essentially a numerical measure of success, like if you worked a job where you got tips and you had a number to quantify how well you did per hour with tips -- where the better you did the higher your number. The higher your number, the more you're exposed to success, so it's like a feedback loop. I had a pretty low CamScore before the gnomerape thing, but after that, and after the first Cam Girl Mansion, it really went up, which made my exposure to people on the site significantly larger. I think that was the most noticeable measure of anything improving in my life. And then people started wanting interviews shortly after that, and that makes me feel special. I like it when people ask questions about my life, I think it's a fundamental human desire, and this definitely scratches that itch. It's surreal.
JD: You talk about miming and the gnome albums as sort of happy accidents. Do you have a specific creative process or do you just improv with what's around you? Is it a mix? How do you come to these ideas?
A: Well, the first one was like, "You know what would be hilarious?" I don't know where the idea came from; I just thought it'd be great if somebody started posting pics of things that'd be unexpected. And the first one was received so well I figured I'd follow the same recipe with the second two. Now I'm brainstorming with my friends -- I live with the other camgirl roommates now, and so they think about it a lot. Hopefully before the end of this year I'll have some video sketches out as well involving porn and comedy.
JD: Can you share more about that without spoiling anything?
A: I was actually in a short film involving the guy who plays Archer--
JD: H. Jon Benjamin? That's Awesome!
A: Yeah! It's just a really small role -- my roommate has a really big role in the film -- I just had an extra role because they needed some nude people in the background to do some anal fisting, but I got to be in it and it was awesome! I also got to talk to the writer and the director, and the writer is a guy on Reddit who's also very Reddit-popular; he wrote one of the top posts on WritingPrompts, and then it turned into this series of stories which then got picked up to make the short film with H. Jon Benjamin, which is crazy! And so I got to talk to him and the director and they want to fly out and help me make a series of sketches that they're going to write and direct with me. Very excited about that, if it works out, you know...don't wanna get ahead of the game, but.... What was the original question?
JD: I'm actually more interested in talking about this! So, is this new series loosely autobiographical or are they writing other sketches for you as a character?
A: There are various ideas that I've always wanted to film that are difficult to produce alone. Some of them involve gnomes and porn, others are things like, this one called, "Valley Girl Philosophy." So, it's, "Like, you know, like, the universe and stuff?" and then we'd get into existential philosophy, which is one of my favorite things. I want to make thinking more accessible, and combine it with not taking ourselves so seriously when we get naked, because it's hilarious business.
JD: Do you have specific goals in mind with your work? Any issues you're toying with?
A: I have the social messages I want to send; I have really strong ideas about the world. I'm a strong libertarian, and I want other people to be, too. I want to get my message out in a really even-handed way, but getting naked has been the most surprising way to get people's attention, to draw their attention to the things I want to. Like, I'm not a feminist, I think feminism is very damaging to the current world and Western society, and I want to tell people about that! And so, getting naked on the Internet is kind of ironically the best way to do so. Also, in less serious terms, I think it's great for people to realize that people in porn are, you know...it's a really farty business, the whole sex thing...
JD: Just to make sure, you just said "farty" as in, F-A-R-T-Y, right?
A: Yeah, you know, sometimes dicks flop around, like helicopter or giraffe neck or whatever, and it's not scary, it isn't. There's nothing about ourselves that we should take seriously. Even the most proud, sacred moments could always be made better with a fart joke.
JD: When did you start making visual art? Has your work in that arena impacted your camming sensibilities?
A: I didn't use to draw until January of this year, when I did acid. I had this overwhelming urge to just start drawing constantly for the next week -- and now I keep my drawing book right here [lifts sketchbook]. It really just bloomed; it was a gateway to creativity. I'm a huge proponent of acid. That's something I want to talk about, too! At least, in this "career," if you call it that.
JD: Take it away. I'd love to hear your thoughts on LSD and camming.
A: It's not nearly as damaging as people make it out to be. If you're wise about it -- obviously, like with alcohol, don't abuse it -- it's a beautiful experience, it's incredibly beneficial; it's been shown in studies to be very therapeutic, help with depression, alcoholism, stuff like that, and it helps with your creativity. It also made me far more open to Zen Buddhism, when before I was a very obsessively rational, logical person, and if something did not follow from point A to point B I wouldn't believe it. But now I believe I am God [lifts kalachakra necklace]. Hold on, I want to show you [lifts webcam for a panorama around room to reveal the many posters and tapestries covering the walls]. I used to live in a blank white box -- you can see in the gnome photos -- I'd been living that way for quite some time, but now...
JD: Wow, yeah, you decked out.
A: Yeah, I went full hippy.
JD: How do you think crowd-sourced camming has changed the porn industry? How do you see your work in conversation with the mainstream pornography industry?
A: I think traditional pornography is dying. I don't think it will ever be fully dead, because there are always going to be people who don't like cam girls, but I think the income for cam girls is vastly increasing -- there are many porn stars switching over to camming -- and the industry is just shifting in that direction. They had the first cam girl convention a couple weeks ago, and they have cam girl awards now. It's more personalized, more control to the people.
JD: Who are your influences (cammers or otherwise)?
A: I really like Hey Ash, from Hey Ash, Whatcha Playin'?. She's like my idol. If ever I could have that level of comedic genius, I would, ugh. I really like -- not so much for the comedy but what she's done with her work -- Stoya. I really like anybody who's in sex work who uses it as a tool to achieve something else. I have a lot of respect for that.
JD: Speaking of cammers, what are some common misconceptions about cam girls?
A: I think it varies depending on what site you're on and who you're exposed to. I've heard the conception that cam girls work only in studios, because you see the stereotype of the Romanian model who doesn't really speak English and works from a single, black-color background.
JD: Like the Workaholics episode? I don't know if you watch that show.
A: I did see the cam girl episode! That went around in the cam girl circles.
Maybe that we always love it? I know there are times when I get on cam and I'm just having a shitty day and I'm like, "Okay, I gotta smile!" Sometimes, you know, it's not that fun, but you have to look like it's fun, always. You have to look like you love your job. And most of the time I do; 99% of the time I do. I don't want to give the wrong impression there.
JD: So how do you get yourself in that space when you're having an off day?
A: They've done studies showing that if you smile, if you act one way, you eventually start to feel it. Sometimes it just takes a little while of smiling and acting happy, and suddenly you really are smiling and acting happy.
JD: Sort of reminds me of laughter yoga, where you laugh for like a half-hour straight.
A: Oh my God, I had a cam show like that once! The first time I met AwesomeKate I was living in Australia and she came out to visit me. We did a group show where people pay you by the minute, so you're supposed to be doing sexual stuff constantly and entertaining, and we just got into a laughing fit -- we were a little drunk -- and we're just masturbating next to each other and dying of giggles every time we look over at each other for half an hour. We just lost it; we couldn't even masturbate. It was hilarious.
{Check back soon for Part II of the Interview. When published it will be available at this link.}