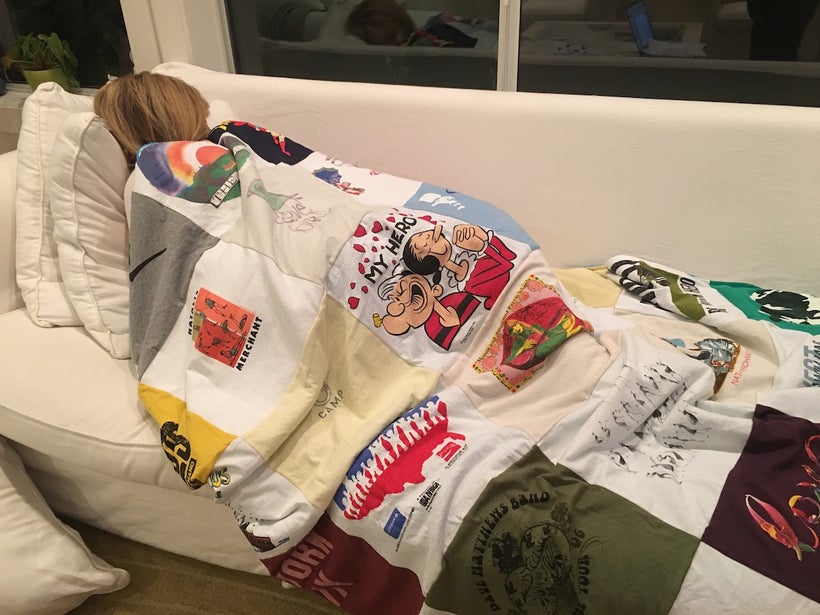 Years after he outgrew them, I still couldn't bear to throw away my son's t-shirts. They were filled with so many memories of his sports teams, his favorite bands and places we visited together.
They also filled boxes in my garage.
So, even though I had no idea what I was doing, I took 20 of his t-shirts and made a quilt out of them for him. It involved months of cutting, measuring, sewing and cursing. Despite the fact that it's not quite even and that a few more threads unravel each year, it's one of his most treasured possessions.
So, when Project Repat asked if I would be interested in reviewing their t-shirt quilts, I jumped at the chance to actually get one professionally made. This time I was going to use my own t-shirts.
I read the company's back story and loved all the ways they are doing good. Not only do they repatriate textile jobs – returning them to the United States – but they keep all these t-shirts out of landfills, and back the quilts with PolarTec fleece made of recycled plastic bottles.
I went through my t-shirts and picked 30 for a full-size quilt. This was not an easy decision because I have so many t-shirts from concerts and movies and events and elections, all of which are really meaningful to me.
Although Project Repat will happily design your quilt for you, I am too much of a control freak for that.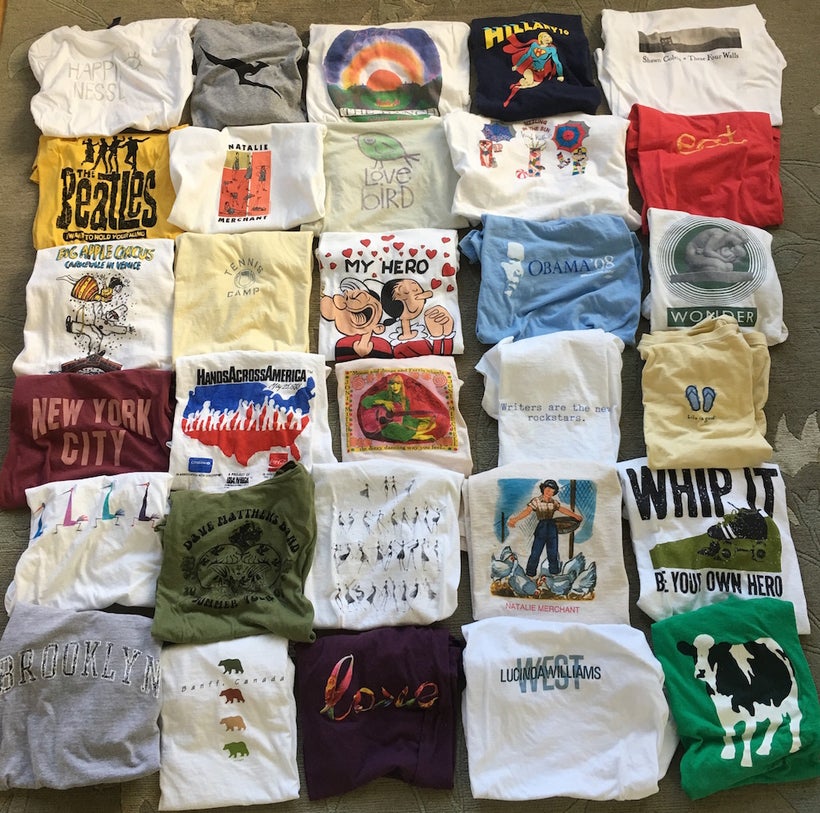 I laid out the shirts on my living room floor, alternating between white ones and colored ones. I moved them around a lot so my three Natalie Merchant t-shirts were spread apart and my Hillary t-shirt was above my Obama shirt and close to my heart (because: respect). I reminisced about standing with my sister during Hands Across America, flying Qantas to Australia with Oprah, visiting Pixar headquarters on a press trip in honor of "Up", singing along to "Sgt. Pepper's Lonely Hearts Club Band" at the Beatles' "Love" in Las Vegas, and growing up to a soundtrack provided by Joni Mitchell.
I took a photo of my final layout and enclosed it when I sent in my t-shirts. Project Repat makes the whole process so simple. You choose the color fleece you want for the back of it – I chose a gorgeous blue – and there's a short video that shows you how to send them your shirts. It basically involves either sending them the whole shirt (if there's a design only on one side so they don't have to figure out which side to use) or cutting the side you want them to use and just sending that.
I recommend cutting your shirts because I was able to fit all 30 into a large flat-rate box that way.
My quilt came within a few weeks and it actually made me cry.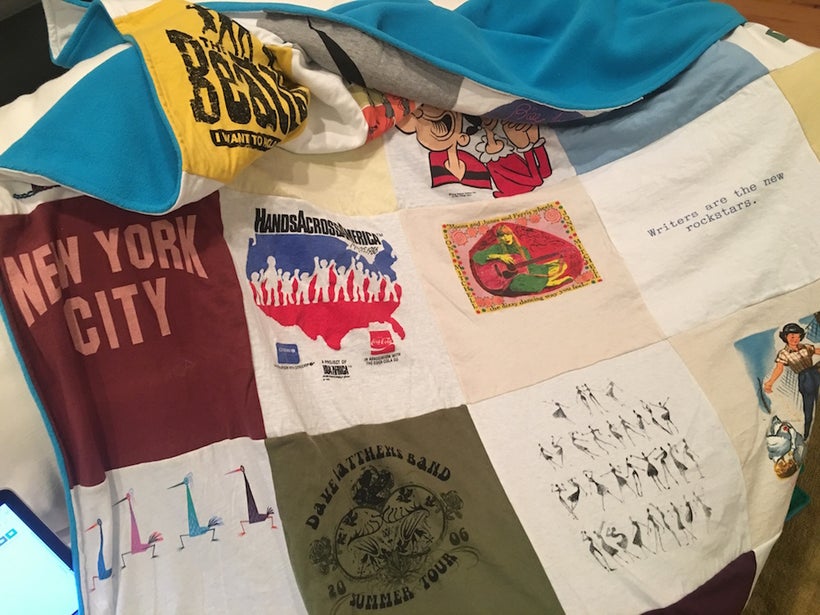 This would make such a special, personal gift, and I'm thinking of making one for my husband and daughter, as well.
Because, during these challenging times, there's nothing more comforting than cocooning yourself in memories of happier moments.
Calling all HuffPost superfans!
Sign up for membership to become a founding member and help shape HuffPost's next chapter
This post was published on the now-closed HuffPost Contributor platform. Contributors control their own work and posted freely to our site. If you need to flag this entry as abusive,
send us an email
.