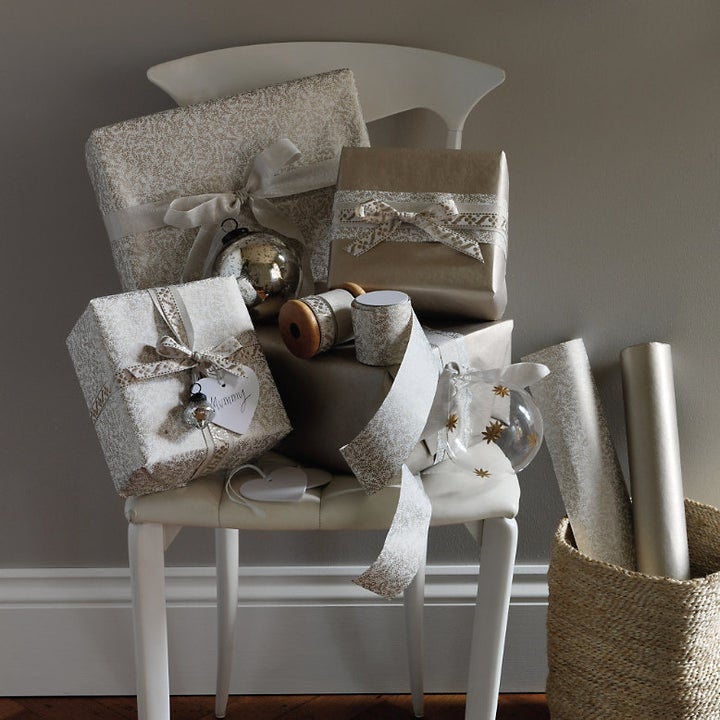 The holiday season is thick upon us, and I'm scurrying around searching for the perfect gifts -- ones that will not only please the receivers, but also say something about my unique talents as a giver. Many of us make ourselves crazy around the holidays, but we do it because we know the big payoff is just around the corner... that incredible moment when your kids first lay eyes on the pile of presents, all festively wrapped in sparkling colors.
It's this final touch -- the wrapping paper -- that I've been pondering this season, prompted by the experience of opening up a package of stunning tissue paper that I picked up at T.J.Maxx and being instantly overtaken by such a sharp, chemically smell that I immediately thought, "Imminent cancer!" My son Felix, who is 3, noticed it, too, wrinkled his nose, and said, "Yuck!" And then of course we proceeded to wrap some gifts for his cousin in this potentially carcinogenic stuff.
The main reason that we give people wrapped presents is obviously to cloak the offering so that its contents cannot be discerned until the moment is ripe. Wrapping paper heightens the anticipation, especially for kids. But that's not entirely it. If it were, we could just leave the gift in the bag from the store. (Of course, this would reveal that I bought your gift at T.J.Maxx and not Barneys.) As I write, this I'm staring at a gorgeous pile of sparkling, wrapped gifts that have been carefully laid out under our Christmas tree. It's a visual feast, and part of holidays that I don't want to give up.
Still, it's part of my job at Gimme the Good Stuff to be a downer, and point out how all the fun stuff in your life is actually really bad for you and the planet (even as I secretly continue to use a some of these products myself). I know this is probably old news, but I recently read in The Washington Post that "[w]rapping paper, from an ecological point of view, is a pretty worthless use of trees. Each year in the United States, four million tons go from logs to landfills to make wrapping paper and holiday shopping bags."
And that's not the only problem. Most of the colorful decorative papers are made in China or other countries with lax environment laws and few worker safety regulations. These products can contain "lead, synthetic inks, plastic film, chlorine or metal-based foils, which release toxic and carcinogenic compounds."
When I was a kid, immediately after we tore open all of our gifts on Christmas morning, my grandfather would gather up all the wrapping paper, boxes, ribbons, and bows and set them ablaze in the fireplace. Leaving aside his compulsive need for neatness and order, the toxic potpourri he rained down on his neighborhood annually was a pretty lousy Christmas gift.
So burning this stuff isn't a good idea, but burying it in landfills is also less than optimal (that's four million tons of potentially toxic paper being added to our waste stream). And have we considered the uptick in greenhouse gasses generated during the manufacturing and shipping of these festive wrappers? We are probably well on our way to melting the North Pole right out from under Santa's feet.
Ok, so that's the guilt trip -- and I'm feeling it big time as I stare at all the gifts I wrapped in this potentially toxic stuff this year. Now for the fun part: I'll give you a couple of better options for wrapping gifts, as well as a promise that, starting now, I'll be implementing these strategies myself.
Four Easy, Eco-Friendly Ways to Wrap Gifts
1. Make your own wrapping paper. I know, what a pain in the ass... Even though this one might not qualify as "easy," it is fun. My dad has always opted to cut open paper shopping bags, making them into nice flat sheets of brown paper. His kids and now his grandkids have a blast using crayons and watercolors to decorate the paper. If you're really ambitious, you can make potato stamps with holiday themed shapes (stars, trees, gifts, reindeer), dip them in red and green ink, and make really original, beautiful wrapping paper (which you can use again next year -- see Tip 4).
2. Make paper from the Sunday Funny pages. This is a really easy option if your local newspaper still includes a Funnies section.
3. Collect beautiful, whole-page images from magazines and use these pages to wrap your presents. My friend Elle does this for every occasion, and her gifts always stand out. For a bridal shower, she'll do all pages with gowns or bouquets; for a Hanukkah gift, she'll select pages featuring menorah, chocolate gelt, and yes -- gifts wrapped in real wrapping paper!
4. Really reuse. We have come to think that watching a child savagely shred the paper from the package is part of the fun. But if we consider the paper to be foreplay for the gift itself, what better way to extend the excitement than to open packages slowly and with care? To achieve reusability, use small bits of tape when wrapping, or go old school and use ribbon or string rather than tape. People tease me for the way I carefully open each gift, fold up the paper, and tuck it into my purse; I've even been known to do this when people give me birthday gifts at restaurants. This year, despite my failure to follow any of the above suggestions, a solid 25 percent of the gifts I've wrapped are covered in paper from presents I received last year.
One last thought. My parents are old hippies who eschew conventional wrapping paper and instead use the four strategies above. But I remember one year when they were especially busy and my dad caved bought one of those packs of several rolls Christmas paper. I think I was 16 at the time. I'm 32 now, and that pack has not yet been fully used up. I'm not saying I'll be able to pull off an eco-friendly Christmas to rival any of those I enjoyed as a child, but it's a nice goal.
I wish you all a happy, sane holiday season!
Calling all HuffPost superfans!
Sign up for membership to become a founding member and help shape HuffPost's next chapter