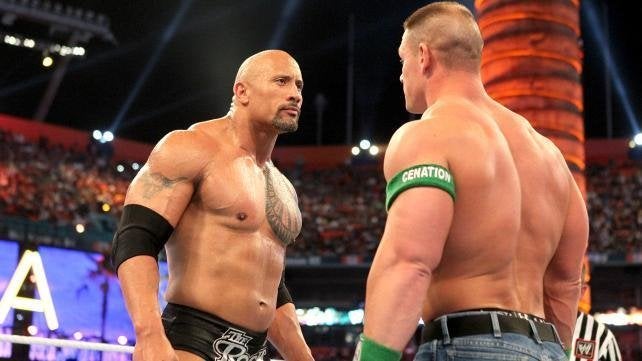 Quick Results
Sheamus defeated Daniel Bryan
Kane defeated Randy Orton
The Big Show defeated Cody Rhodes
Maria Menounos and Kelly Kelly defeated Beth Phoenix and Eve
The Undertaker defeated Triple H
Team Johnny defeated Team Long
C.M. Punk defeated Chris Jericho
The Rock defeated John Cena

The Good, The Bad & The Ugly: WrestleMania 28
The event kicks off with a lovely rendition of "America the Beautiful" sung by announcer Lilian Garcia, that is punctuated by an airshow rivaling Springfield's best. An opening video that attempts to outdo "Lord of the Rings" in terms of gravitas is accompanied by the narration of character actor Keith David. Fireworks go off in the Sun Life Stadium, and despite the fact that's an outdoor stadium and despite the laws of physics dictating that sound travels upward, that is one loud-a** crowd. .

World Heavyweight Championship: Daniel Bryan (Champion), with his girlfriend AJ vs. "The Great White" Sheamus, 2012 Royal Rumble Winner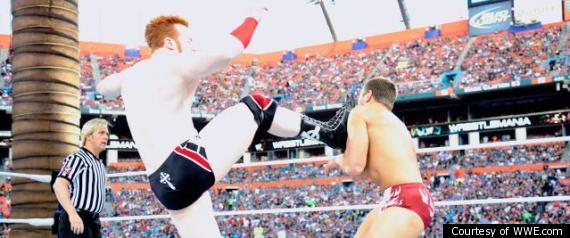 First match in and the packed Stadium breaks out in a surprisingly vocal "Yes!" chant, in support of bad guy Bryan. Ringside is surrounded by a sea of "Yes!" signs. The bell rings, but first Daniel Bryan shares a good luck kiss with AJ. He turns around and walks right into Brogue Kick and... it's over?!
Winner and New World Heavyweight Champion: Sheamus
Bryan is stunned, Sheamus is celebratory. That may be one of the shortest world title challenge in history.
Verdict: Ugly. From a story perspective, that outcome made sense; Bryan was an arrogant champ who cheated his way to victory and he needed to eventually fall victim to his own hubris. It's reminiscent of the classic Ultimate Warrior-HonkyTonk Man match from SummerSlam 1987. The difference is Bryan and Sheamus are much better wrestlers than HonkyTonk and Warrior; the ridiculously vocal "Yes!" chants indicated that the massive crowd wanted to see a hard-fought wrestling match, and they didn't get it.
Commercial: Buy Next Year's WrestleMania -- Already!
WWE, ever the carnies, don't know how to take a break from hustling. We get our first of many advertising breaks during a pay-per-view broadcast. This is like putting commercial breaks on an HBO show; people paid extra so they wouldn't have to sit through this.
Verdict: Ugly. This is a cheap and tacky trend that continues all throughout the night. Advertisements for WrestleMania 29, K-Mart, Slim Jim, The National Guard and "G.I. Joe: Retaliation" eat up more time than the Sheamus-Bryan opener.
In the Locker Room: Team Laurinatis Pep Talk
Miz and Otunga rally the troops before welcoming "Mr. Excitement" John "Johnny Ace" Laurinaitis. A white-suited Johnny Ace comes in and compares his eventual win to a Hulk Hogan-level iconic moment.
Kane vs. Randy Orton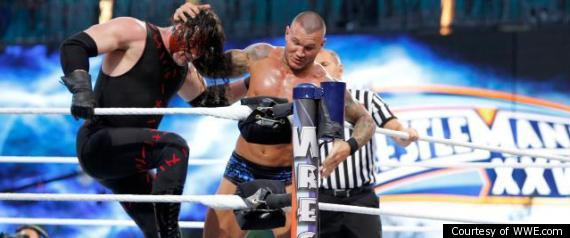 These two have their work cut out for them in terms of winning the crowd over; "Daniel Bryan" chants take over the crowd and they could not be less interested in this match. It's a slow and plodding affair that the commentators try to sell as "methodical." It picks up with the end exchange of choke-slams and attempted cranial punts. To the genuine shock of everyone, Kane plants Orton with a second-rope chokeslam and gets the win.
Verdict: Bad. The apathetic crowd and lumbering effort would have earned this an "ugly," but Orton's loss created the night's biggest upset. Though it's on a smaller scale, Orton is a lot like Cena: he's a one-note character that producers are afraid to make more interesting because he already brings in so much merchandise. This show of vulnerability was a much-needed injection of character development.
Backstage: Santino and "Deadliest Catch's" Captain Keith Eat Lobsters with Mick Foley.
It's as bad as it sounds, and it's only purpose is to be a not-so-subtle promo for the season premiere of "Deadliest Catch." The terrible comedy is broken up by a cameo from newest member of the Hall of Fame, Ron Simmons.
Intercontinental Championship: "Dashing" Cody Rhodes (Champion) vs. The Big Show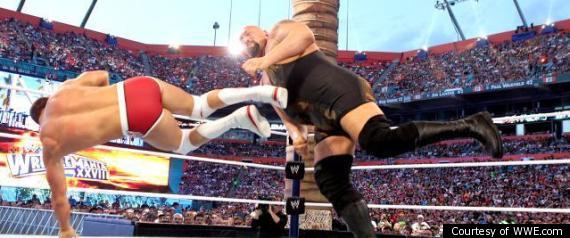 A nicely paced, good back-and-forth bout hits its crescendo when Show spears Rhodes, while the champ is in mid-air. Cody recovers from the nasty blow just in time to walk into a knockout punch.
Winner and New Intercontinental Champion: The Big Show
Show takes a victory march, overcome with emotion, before planting a big smooch on his wife's lips.
Verdict: Good. Much like Sheamus-Bryan, this was all about a loudmouth getting his comeuppance. Show's win was a well-deserved feel-good moment, and both characters should be heading in interesting directions.
Highlight Package for the Divas
I...I don't know what this is but it highlights all the patronizing things that the Divas do -- from fashion-shoots to serving as game show models to walking red carpet premieres -- none of these things actually involve competing like athletes.
Divas Tag Match: Divas Champion Beth Phoenix & Eve vs. Kelly Kelly and "Extra's" Maria Menounos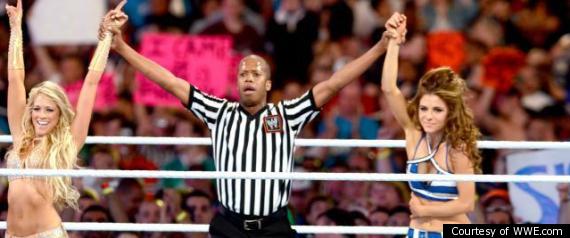 It's worth nothing that Phoenix sports a ridiculously awesome headdress that would earn props from Cher, circa 1984. Like Orton-Kane, the crowd is more interested in chanting "Daniel Bryan" than paying attention to the match. Suspension of disbelief is broken immediately just by the notion that the legit amateur-trained Phoenix can't wipe the floor with the twig-sized Kelly or the broken-ribbed "Dancing With the Stars" contestant. Phoenix literally carries her opponents through a blatantly-choreographed contest, that mercifully ends when Phoenix allows the celebrity to pin her.
Winner: Kelly Kelly and Maria Menounos
Verdict: Ugly. Congratulations WWE, you got your thirty-second mention in this morning's celebrity news-cycle. But you still haven't made your audience care about female athletic competitors.
Before the next fight, we get a brief interview with Shawn Michaels, who reiterates points we already knew. Then WWE congratulate themselves for setting a new attendance record at the Sun Life Stadium. Immediately after this, we are pleasantly surprised by the return of Good Ol' J.R., Jim Ross, who is here to guest-commentate the next showdown.
The End of an Era: The Undertaker vs. Triple H with Special Guest Referee "The Heartbreak Kid" Shawn Michaels - Hell in the Cell Cage Match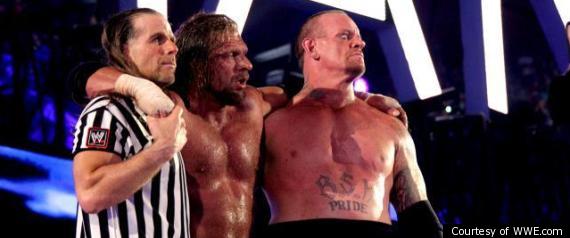 Triple H enters out of his own personalized steaming skull castle, the likes of which haven't been seen since last Halloween's Spooky Farms "Haunted Corn Maze." Undertaker ominously arrives wearing a new spiked trenchcoat that makes him a lock for any future "Mortal Kombat" adaptations. His pre-show peacocking ends when he lowers his cloak to reveal an aggressively shaved head, complete with tiny mohawk and thunder-claps. Metalica's "The Memory Remains" blares over the PA system as the Hell in the Cell cage lowers into the arena... and I realize that America is not that different from a sequence in a "Mad Max" movie.
Despite not wrestling for a year and being the oldest active-competitor in modern WWE, Undertaker hasn't lost a step and is the clear crowd-favorite. The match gets hard-hitting in short-order, with the introduction of steel steps and chairs. Before long Triple H goes into overdrive, pummeling 'Taker with chair shots. HBK pleads with 'Taker to stay down, but the Deadman orders him to not end it. Shawn tries to pull Haitch off of his weakened opponent, but it won't stop him. HHH then pulls out the sledgehammer and tells the guest ref that if he doesn't ring the bell now, then Helmsley will have to put the Phenom down through brute force.
A sledgehammer shot to the face later and the match almost ends, but 'Taker kicks out at 2.99 seconds. Michaels is as conflicted as the crowd between ending the match out of compassion and giving 'Taker one more fighting chance. From his vulnerable position, 'Taker puts HBK(?!) in the Hell's Gate and knocks him unconscious. Then he applies the same move to Triple H and makes him pass him out too. But there is no conscious ref to ring the bell!
Referee Charles Robinson runs down and begins acting as proxy ref, but he is quickly dispatched with a 'Taker chokeslam. Undertaker then picks up a prone Haitch, ready to hit the Tombstone piledriver, but Michaels recovers at that moment and hits the Sweet Chin Music. 'Taker stumbles into a rejuvenated Triple H, who hits the Pedigree.
It looks like the undefeated streak is finally over, but Undertaker blows Miami's collective mind by kicking out at 2.995 seconds. Triple H then throws Shawn out of the ring for failing to do his one task correctly, and then turns around to a revitalized 'Taker. Undertaker finally connects with the Tombstone. Michaels races back in to count the pin: 1-2-2.996! Miami goes into cardiac arrest, and Michaels crawls to the corner and breaks down. Triple H and 'Taker pick themselves up by punching each other, in a recreation of the grueling scene between Necro Butcher and Randy the Ram in "The Wrestler." Suddenly, a Pedigree: 1-2-2.997!
The two laboriously struggle to stand on their own two feet. 'Taker blocks Triple H from picking up the sledgehammer, and smothers Haitch with chairshots that leave his back swollen purple. After 'Taker lets up, HHH crawls to the corner and props himself up; with the last breath in his body, he lets out a De-Generation-X crotch chop. But he stumbles into a Tombstone piledriver that he can't recover from. 1-2-3.
Triple H lays unconscious on the mat. Michaels walks over to the Deadman and helps him to his feet. They embrace with tears in their eyes. 'Taker stands and basks in the cheers of the crowd for what is starting to feel like for the final time. Finally, 'Taker and Michaels pick up an unconscious Hunter and carry him to the back. The three share a group hug at the top of ramp, one last time to a standing ovation.
Verdict: Good. I gave them enough grief for beating that "End of an Era" tagline into the ground, but this one lived up to all that hype and more. The body language of all men indicate that this may be the real last match for 'Taker and/or Haitch. Whether they ever step into the ring again or not, it was clear that this was the last time any of these three legends would be regular characters in the ongoing WWE soap opera. Triple H will one day inherit the WWE business, the man behind the Undertaker can't keep up with the character's physicality anymore and HBK is content to live a retired life. If this was the curtain call for three larger-than-life Saturday morning heroes, it was pitch-perfect.
The 2012 Hall of Fame Ceremony
We recap the Saturday night ceremony honoring: Ron Simmons, Mil Mascaras, the Four Horsemen, Yokozuna, Mike Tyson and Edge. Highlights will air tonight at 8pm, before Raw begins on the USA Network. After the recap, the decorated men are paraded out to the cheering Stadium.
Backstage Interview with Flo-Rida
Josh Matthews attempts to interview the rapper but it's interrupted by the "One Man Rock N Roll Band" Heath Slater, who tries to get some crucial airtime for himself. He gets shoved to the ground by Flo-Rida and that's enough to earn a paycheck.
For Complete Control of Raw and Smackdown: Team Johnny vs. Team Long - 12-man Tag Match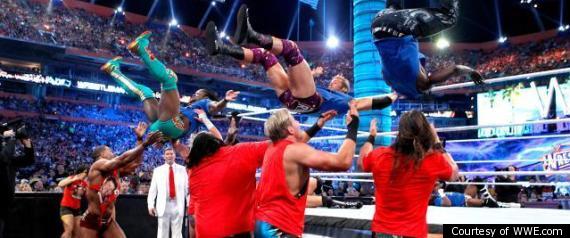 Brie Bella introduces Team Johnny: The Miz, "The World's Strongest Man" Mark Henry, Drew McIntyre, "The All-American-American" Jack Swagger, Dolph Ziggler, Team Captain David Otunga, Flag-Bearer Vickie Guerrero... and finally Mr. Excitement himself, Johnny Ace.
Nikki Bella introduces Team Long: Kofi Kingston, the Great Khali, R-Truth, "Long Island Iced Z" Zack Ryder (who shocks the crowd by appearing with that jezebel Eve), Booker T., Team Captain Santino Marella, Flag-Bearer Hornswoggle the Leprechaun... and lastly, Mr. Teddy Long, with his lovely assistant Aksana.
Every one on the team gets to have a moment to shine in this demolition derby -- even Hornswoggle! Zack Ryder has victory within his reach, but he gets distracted by Eve, who runs into the ring to provide some poorly-timed moral support. Ryder tries to get her out of the ring safely, but Miz takes advantage of dopey chivalry with a Skull-Crushing Finale.
After the match, Team Johnny hilariously celebrates, while Team Long looks on in despair. Eve helps a stunned Ryder to his feet... then kicks him below the belt. She confidently struts out to the catcalls of the arena.
Verdict: Good. Johnny Ace's weird deliberate anti-charisma will now be blessing WWE fans two times a week on Monday Night Raw and Friday Night Smackdown. Sometimes, the bad guy just has to win because it makes everything so much better and hilarious.
*Although it's worth nothing that between Bryan and Ryder, the night's driving message has been: "Never trust a woman because that will be your downfall."
Backstage, Johnny Ace parades right through C.M. Punk's pre-match warm-up. Ace comes up with a last-minute stipulation and decrees that if Punk is disqualified, he will lose the WWE title.

WWE World Title Match: C.M. Punk (Champion) vs. Chris Jericho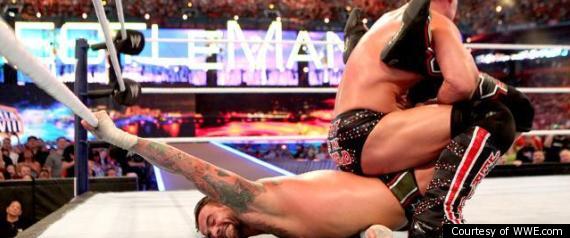 Two and a half hours in, and we get the first actual wrestling match of the night that isn't kick-punching. Throughout the contest, Jericho tries to get into Punk's head, taunting him with all the personal drama he's been airing on live TV; Punk comes close to losing his temper (and his title), but he regains his composure, and gets back to out-wrestling Jericho. A fantastic half-hour contest comes to a tense finale when Jericho and Punk trade submission grappling moves. The two fight between the Walls of Jericho and the Anaconda Vice, with each superstar busting out with new, ingenious ways to gain the fighting advantage. But Punk uses his wits to catch Jericho in an inescapable Vice scenario, forcing Jericho to finally tap out.
Verdict: Good. Undertaker-Triple H may have been the more theatrical match, but this was the best pure athletic contest on the show. The sweat-drenched counters and desperate clubbing blows proved that pro wrestling can still entrance a crowd, even with the much more "real" UFC stealing all its pop culture thunder.
Crowd Hype with Brodus Clay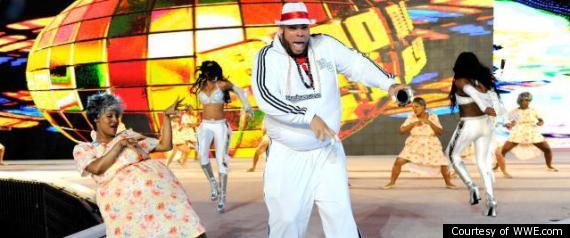 "The Funkasaurus" comes out to keep the crowd on their feet for the main event. He implores the audience to pick up their cell phones and call their mamas... and literally one guy in the crowd obliges. Then Mama Funkasaurus and her Bridge Club Back-Up Dancers arrive on the scene. And with this moment, WWE makes it clear that they want some of Tyler Perry's sweet, sweet "old lady fat suit" comedy money.
Verdict: Bad. Stupid comedy is stupid comedy.
Pre-Main Event Concert with MGK and Flo-Rida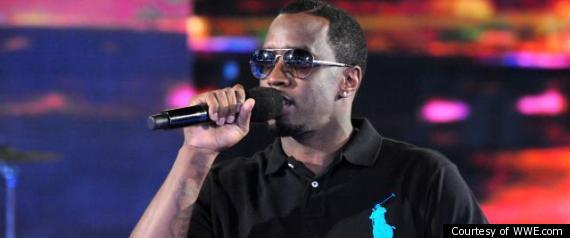 Before the final fight can get underway, we get pre-show videos that we've seen since the Royal Rumble back in January. Then Sean "Diddy" Combs comes out because... why not? He introduces MGK and Skylar Grey who come out to perform "Invincible" -- the theme song for John Cena. MGK hilariously earns Miami's hatred by calling their hometown boy an "ego" and claiming that Cena, the 12-time champion and poster-boy of the WWE's media machine is an "underdog." Then John Cena, sporting Boston Celtic colors, arrives to a clear and resounding chorus of "boos." Next, Flo-Rida comes out to sing another auto-tuned generic pop club hit that sounds terrible live. Actually make that two songs. The Rock enters to a thunderous hometown ovation.
Verdict: Ugly. Silly me expecting "wrestling" at WrestleMania. After what feels like twenty minutes of pre-match spectacle, we finally get to the fireworks factory.
Main Event: John Cena vs. Dwayne "The Rock" Johnson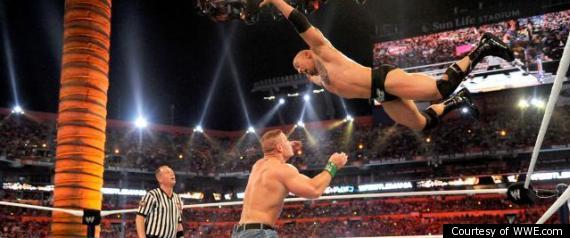 The Rock is so the crowd favorite, that it's not even funny. If there are Cena fans, they're not loud enough to drown out the 70,000+ in support of the Rock. Whatever attempt WWE was making at splitting this crowd 50/50, is out the window. Cena's smug smirk is quickly wiped off his face, when Johnson shows that he can still grapple like he hasn't been making movies for the last eight years. The two trade bombs throughout the entire match, Cena always earning more derision from the crowd. Rock and Cena both hit their patented finishers, but neither move can put the opponent away.
Cena applies a painful STF submission that brings out Shakespearean-levels of acting in Jonhson. But he recovers and powers out; regaining control, he lays out Cena with the People's Elbow -- but it's only good for a nearfall. Rock climbs to the top rope and goes for a high-risk maneuver, but Cena catches him with an incredible display of strength. He plants the movie star on the ground and prepares to throw down a "You Can't See Me" taunt... but he decides to change it up at the last second. He goes for his own version of The People's Elbow -- and just when he's going to drop the bomb on Rocky, the most electrifying man in sports entertainment jumps up and nails Cena with a huge Rock Bottom.
Cena rolls out, astonished that his is own arrogance cost him the biggest win of his career. Rock stands in the center of the ring to soak up the adulation. Fireworks go off, Rock tears up -- and we're out!
Verdict: Good. Rock worked his butt off to prove that he can still go in the squared circle. And even if his character may be stale and predictable, John Cena the athlete can deliver when he has to. Cena needed to lose because it's the only way his character can go in an interesting direction; another predictable win wouldn't have done anything to break up the weekly monotony, and the audience was tired of having its intelligence insulted with the played-out corny "underdog" story.
Cena lost the biggest match of his career because he got cocky. His demeanor throughout the whole match -- treating his victory like it was inevitable -- was the behavior of a wrestling bad-guy. He totally deserved to have that grin smacked off his face by the Rock.
Show Verdict: Good (5), Bad (2), Ugly (4). The night's biggest matches definitely delivered, and felt worthy of WrestleMania's near-thirty-year iconography, but this was not a pay-per-view worth ordering. Not after the way they shortchanged the millions of fans that paid exorbitant amounts of money to watch a night of hyped fights, and instead were given commercials, music performances and celebrity pandering. WrestleMania has always done a cheesy job at that pandering, but in past years there was something quaint about it. This year, the scales were tipped too far in the soulless commercial direction, and actually got in the way of the wrestling that the crowd was vocally pumped for.
You're better off finding the "can't-miss' matches on Youtube, then picking them up on DVD.
The Real Main Event: Rock vs. Cena, the Hell in Cell, Punk vs. Jericho. (Three-way Tie) Just incredible stuff all around.
The Curtain Jerker: Daniel Bryan vs. Sheamus. Both of those men deserved better. A lot better.
Tonight on the USA Network: The 2012 WWE Hall of Fame ceremony airs at 8pm, followed immediately by Raw. What will the show be like with Johnny Ace in charge permanently? How will Cena handle his crushing defeat? Tune in and find out.
REAL LIFE. REAL NEWS. REAL VOICES.
Help us tell more of the stories that matter from voices that too often remain unheard.