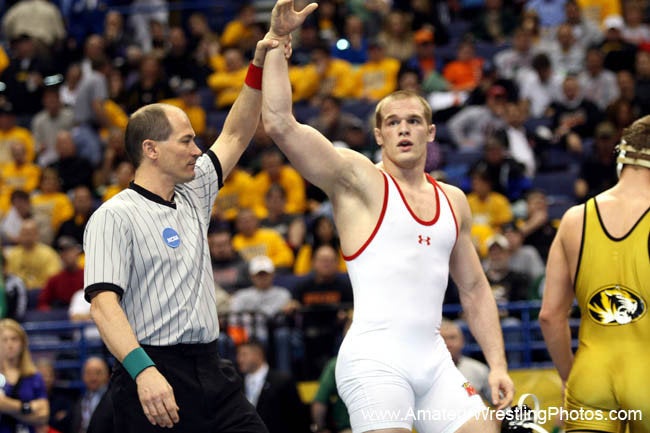 Hudson Taylor, an All-American wrestler and coach at Columbia University, wants to eliminate homophobia from all levels of sports.
"I've been wrestling my whole life," says Hudson, who is straight. "But until I got to college, homophobia didn't mean anything to me."
Starting out as a theater major at the University of Maryland, Hudson noticed that many of his friends were coming out to the class. "Everyone would celebrate and clap and hug since they were one step closer to being truer to themselves," Hudson remembers. But a few hours later, he'd head to wrestling practice and the tone was different. "The way they acted and the things they said started to affect me a lot more."
As captain of his team at the University of Maryland, he tried to reverse people's homophobic views -- correcting offensive language and demeaning behavior when he noticed it. He also wore a Human Rights Campaign sticker on his headgear during competitions, which irked some of his teammates.
"Certainly when I first started this, I had a lot of arguments with friends, family, teammates, about the politics."
But the "light switch" from ally to activist came after he was interviewed by OutSports about his support for the LGBT athletic community. After his interview was published, Hudson received hundreds of emails from other closeted athletes and parents thanking him for his support.
"They told me that nobody was speaking out for them and letting them know they can feel included and respected. It really made me want to do more."
Thus Athlete Ally was born, and Hudson became a spokesman for closeted athletes around the country.
When you arrive at the website for the first time you're presented with a pledge -- " I pledge to lead my athletic community to respect and welcome all persons, regardless of their perceived or actual sexual orientation, gender identity or gender expression" -- and from there, you're presented with other steps for action.
Covering this controversial ground for athletes must spark angry responses as well, right? "You'd think so, but you'd be amazed at how many people contact me wanting to help," Hudson says. "These are Midwestern kids, these are wrestlers and other athletes who consider themselves 'cowboys,' and they say they like what I'm doing and they respect what I'm doing."
The site features a number of videos and other tools for athletes to stand up as allies of the LGBT community.
Meanwhile, Hudson still wrestles professionally, and he will compete this weekend at the US Open in Cleveland. At only 24, he plans to stick with Athlete Ally for life and he has deferred from law school for another year to do just that.
"This is only about how we treat one another, how we speak to one another. It's not about politics or religion or anything else. I just want to create a safe space for people."
Calling all HuffPost superfans!
Sign up for membership to become a founding member and help shape HuffPost's next chapter