Professional wrestler Tyrus thought he had the next two years all figured out.
As an Impact Wrestling superstar, he planned to grow an already-impressive film and television resume, then "go out on his shield" inside the company's six-sided ring. That plan fell apart, Tyrus admitted to Arm Drag Takedown with Pollo Del Mar, when Global Force Wrestling entered the picture earlier this year.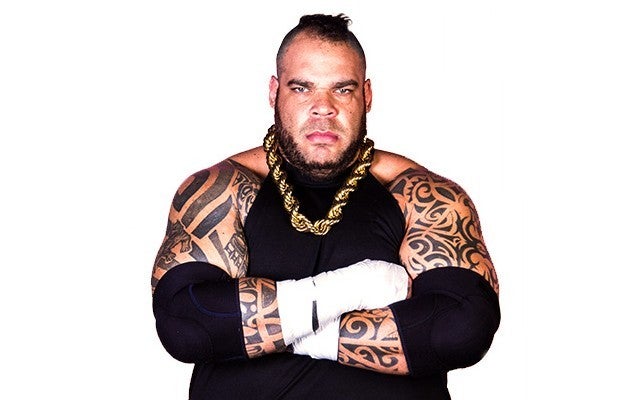 "I had to move on, which was frustrating," confessed Tyrus, who until his appearance on the weekly pro wrestling podcast has been "ducking and dodging" requests to discuss his Impact departure.
In the first wrestling-specific interview since his August exit, the grappler-turned-actor opened up about the "difficult decision" to leave the company where he expected to end his in-ring career. It all came down to a soured working relationship with the man who founded Impact (née, Total Nonstop Action) in 2002 and GFW more than a decade later, Tyrus revealed.
"When Jeff Jarrett came along — because him and I have an uncomfortable history — I just wasn't comfortable with the management," he finally admitted.
When Global Force launched in 2015, Tyrus shared, Jarrett wanted him for the company's Amped television tapings and house shows scheduled later that year. Of the interactions, Tyrus said: "That was the first time I'd ever spoke to him, and things seemed to get off on the right foot."
With his contract allowing outside bookings, save for appearances with lead rival World Wrestling Entertainment, Tyrus initially agreed. However, given bad blood at the time between Impact and Jarrett -– forced out of the organization he built by an ownership change -– the company pushed back.
"They didn't want me working for Jeff," confirmed Tyrus, who "didn't think it was fair" to be in the middle of a "personal thing" between Jarrett and Impact.
"Basically, it came down to either stay with Impact or I could go with Global," explained the Pasadena, CA, native. "I was making more with Impact, and Global didn't have the resources to pay me what I was making."
Plus, Tyrus noted, Impact "was threatening to void my contract" if he competed for GFW. When he spoke to Jarrett about the conundrum, he said, the semi-retired, third-generation star urged him to jump ship.
"He was basically saying it was better for me to come to Global, because Impact was about to fold," detailed Tyrus. "He was very adamant about that."
LISTEN: Tyrus Explains How Jeff Jarrett Beef Contributed to Impact Wrestling Departure
Despite Jarrett's best efforts, Tyrus chose to honor his Impact contract. It didn't take long to realize how smart the decision was — and alter both his opinion of the GFW owner and career trajectory on PopTV.
"Two weeks later, at the TV tapings, guess whose ass is there working the shows? Jeff Jarrett," Tyrus said in a jaw-dropping revelation. "I was like, 'Bitch, [are] you crazy?!?' Who does that?"
The questionable business practices didn't sit well with Tyrus. The man who previously competed as the WWE's fun-loving "Funkasaurus" Brodus Clay had choice words for Jarrett's seeming betrayal.
"Check it: If I would have quit and taken money out of my family's mouths, went and worked there and then, 'Oh, we're going to have to go work Impact…' How would that have gone?!" asked the 6'9" former bodyguard for rapper Snoop Dogg.
Soon a Jarrett-led GFW "invasion" headlined Impact Wrestling's weekly Thursday night broadcasts. Tyrus sidestepped the company's primary angle (story) to avoid Jarrett – "I don't play the 'Fool me once…' stuff," he said – and "trouble." Instead, he continued his onscreen rivalry with current Impact Global champion Eli Drake, for whom he was once a hired gun.
While shooting feature film SuperCon, Tyrus missed a set of TV tapings. When he returned in June, things had gone from bad to worse, the star said. During his absence, Impact and GFW merged, with Jarrett once again on the company's senior management team.
"I was like, 'Oh, shit! Well, I'm out,'" shared the multi-faceted performer, a featured analyst on more than 55 episodes of Fox News favorite The Greg Gutfield Show.
"Unless [Jarrett] and I were going to have a sitdown, which just wasn't going to happen, I knew this was not going to be a spot for me," he said. "I just wasn't comfortable with it."
Though able to laugh at the memory now — and he did — the unforeseen wrench in his plan came at a terrible time overall, said the big man. Impact allowed him to continue wrestling as other onscreen credits multiplied.
While with the company, Tyrus logged two episodes of Netflix series GLOW, based around the campy '80s era women's wrestling show of the same name. Preacher, a DC Comics-inspired series where he is a recurring character, returns to cable's AMC for a third season in 2018. Various other big and small screen projects are in the works, he said.
"The way my acting career is going right now, and the success I'm having with Fox News, it's not like I can go wrestle in Japan for a year outside the States," he pointed out. "Impact was really cool for me in terms of scheduling."
Suddenly facing a tough decision regarding his wrestling career, friends like former WWE and Impact star "Hurricane" Shane Helms encouraged him to "stick it out." Though he "was going back-and-forth" on what to do, when Impact failed to give definitive answers about his character's creative direction – "It was bullshit," he said, "Just keeping it real!" -- the writing was on the wall.
That's when he took the conversation to Ed Nordholm, an executive with Impact owners Anthem Sports & Entertainment. Confident in the abilities of the promotion's new Vice President of Creative and Talent Relations – "Impact's in good hands," said Tyrus – he parted with the company, warning Nordholm as he did.
"I can't fix my situation with Jeff," he told the man in charge of Impact TV, "But basically you just need to be careful with these guys."
Two weeks after his final television taping and quiet egress from Impact, Tyrus asserted, Jarrett was ousted in far more spectacular fashion. The star's intoxicated performance in Mexico jeopardized the brand's coveted working relationship with partner company Lucha Libre AAA Worldwide.
Impact immediately severed ties with Jarrett and Global Force. The ring veteran entered an alcohol dependence recovery program soon after.
"I have no ill will toward Jeff…Hopefully he's taking care of himself now," said Tyrus, "But, for me, it was just a wrap."
At least where Impact is concerned, he points out. For the time being, he's getting in the best physical condition of his life and taking time off after "going hard for seven years."
"I love wrestling; it's part of who I am," said the star, whose competitive career started in 2006 as part of WWE developmental territory Deep South Wrestling before progressing to Florida Championship Wrestling (now NXT) and Season 4 of the WWE competition series after which NXT was named.
"Most of my success in acting and TV comes from my work in wrestling, so I'm very loyal," he continued. "I would wrestle until I don't physically think I can any more."
And eventually he will, Tyrus assured fans. Until then, he's booking more acting gigs – including upcoming movie The Doorman starring Katie Holmes – and plans "to do Fox News until [he] can't remember any more."
All of which, he hopes, will make him even more marketable for any future pro wrestling home. While he thought that would be Impact, he said, common sense eventually won out.
"I've never really quit anything," Tyrus concluded, "[But] sometimes it's better to take your ball and go home than mess around and end up getting in trouble for throwing someone in the crowd."
Follow Arm Drag Takedown with Pollo Del Mar on Twitter.
"Like" Arm Drag Takedown with Pollo Del Mar on Facebook.
LISTEN: Tyrus Talks "Funkasaurus," Advice From Dusty Rhodes, Memories of Sasha Banks
Calling all HuffPost superfans!
Sign up for membership to become a founding member and help shape HuffPost's next chapter
This post was published on the now-closed HuffPost Contributor platform. Contributors control their own work and posted freely to our site. If you need to flag this entry as abusive,
send us an email
.