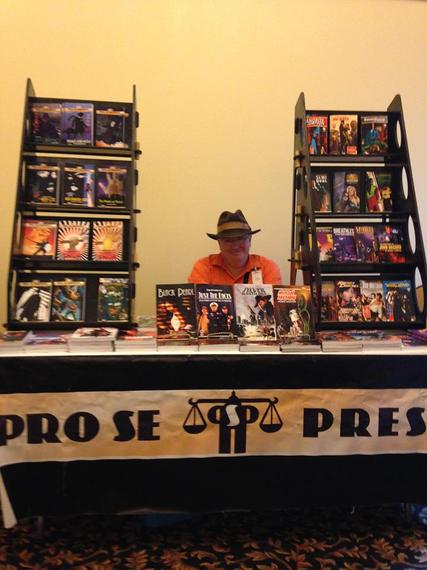 My exclusive interrogation of Tommy Hancock, high-end pulp pusher and head of the Pro Se Productions pulp cartel, comes to a dramatic end...
You've been revered and sometimes reviled as putting a new addictive product on the street called New Pulp. Considering the never ending argument between purists and progressives, what is your reaction to the term and how do you define it?
Well, I always answer this sort of question with a disclaimer. I am not the guy who invented New Pulp, not anywhere close. Nor am I the pioneer who ventured into these waters first. In my opinion, New Pulp started almost immediately after the classic pulp magazines ceased publication. Writers from those venues moved on to paperbacks, TV, radio, movies, and took the style they'd developed with them. Also, fans of the classic pulp stories began writing their own stuff - putting it out there in every possible form from self-produced fanzines to actually submitting their own characters to publishing houses, magazines, and more.
As for where New Pulp is today, I fully believe the first spark came when Joe Gentile started Moonstone Books. Focused on great pulpy tales and even licensed characters like Kolchak and The Phantom, Joe really brought the style of what I call New Pulp to comic books, and then to prose collections. Not long after Moonstone, other companies popped up, like Ron Hanna's Wild Cat Books, who began publishing new characters by great authors, most notably Barry Reese and the aforementioned Ron Fortier. Then Ron went off on his own to form Airship 27, and other companies popped such as Pulpwork Press (which has a great collection of authors, including Derrick Ferguson), and White Rocket Books, manned by Van Allen Plexico. Then Pro Se came into the mix. So, I didn't create or start New Pulp in any way. I just got to be involved in taking New Pulp to the next level and beyond.
As for how I define New Pulp, I see it as a style of writing owing a lot to the classic pulp stories written in the early 20th Century. It is typically fast paced and plot oriented, with over the top larger than life characters. But New Pulp is also about the language, how the story is written. New Pulp is heavy with description, even purple to a point as long as it's done right and not to bruise like some illegal fight club match. New Pulp is creative with its manipulation and even mangling of words, sentences, grammar, and presentation of all the things that make a story.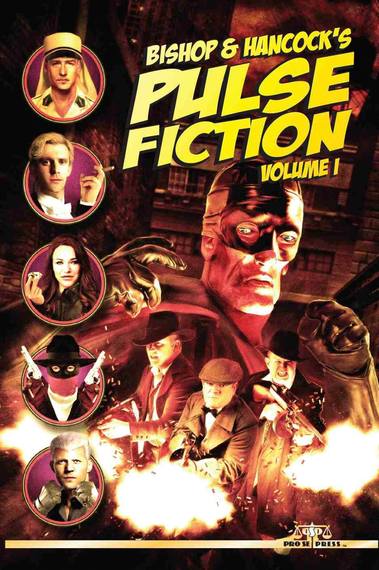 A number of your authors regularly appear at the top of many pulp fans Most Wanted lists. How does that make you feel as you imitate Sisyphus pushing pulp up the mountain again and again toward a successful tipping point?
I am just glad to be able to be the guy who can say he knew many of the best future writers of genre fiction when. To be in at the start, or to have a hand in great careers like Nancy Hansen's, Nikki Nelson-Hicks', Logan L. Masterson's, Nick Piers', Chuck Miller's, J. H. Fleming's, Frank Schildiner's, and so many others, that's my passion in this.
To also be known as a publisher and a publishing house which allows writers to write what they want - what other venues won't let them write - is icing on the cake. Making money is great, but I have found there are writers who will write just to get the tales they want to tell out to people who want to read them - a list of people who have always wanted to write to names which have dotted best seller lists for years.
I catch a lot of flak from some because I am hesitant to say I am only in this for the money. Don't get me wrong. This is now my full paying job and I want it to stay that way. I want all our writers to one day be able to do nothing but wordsmithing to put food on the table. But the real drive in this for me, the real reason I hammer away at what sometimes seems a series of impenetrable titanium walls, is to see creators get to tell their stories, to watch as readers uncover new worlds and find themselves in new dimensions. To be able to say that happens and the Pro Se logo is attached to it, there's the payoff.
What is the future of Pro Se - where do you see the imprint in five years from now, ten years from now?
Following our second and third five year plans, that's really about all I can say...or they'll have to kill me. And not a specific them, but rather the shadowy, ubiquitous them...
Thankfully, Pro Se has built a broad foundation, which gives us a lot of opportunity to grow and go even further. What those who watch will see in the next little bit will be a focusing of sorts, less of a narrowing, more of a targeting on certain aspects. Business practices that work, authors who have an impact, stories and concepts that both entice readers to return, and risk taking to bring in even more fans. We've made a strong move into licensed concepts and will continue to do so. Pro Se has also opened up a new door by entering into an agreement with Radio Archives to produce audio books of our catalog. Essentially, we are taking all the pieces that have worked so far and focusing on how to make them work even better.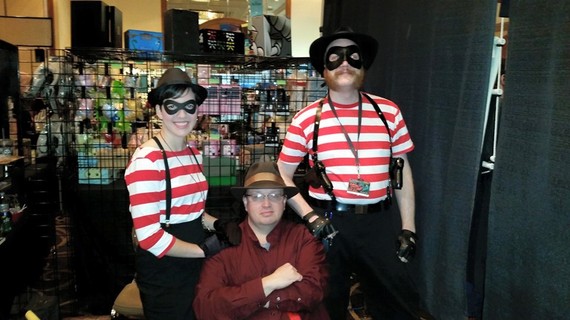 What can we look forward to from Pro Se Productions in the immediate future?
That answer might require a whole other grilling session. To get into what we have coming up - with Pro Se having the potential to produce anywhere from four to ten titles a month - would be a laundry list of wonderful fiction. It could turn into me being put on a hit list if I left someone off who was totally deserving of being mentioned. Let's just say, the books coming from Pro Se between now and the end of the year literally relate to every genre one can probably imagine and a couple we've invented...
And finally...Tommy? Tommy? Drat! Sound the alarm, the King of Pulp has just escaped down a tunnel hidden under his chair...
ABOUT THE INTERVIEWER: Novelist, screenwriter, and television personality, Paul Bishop spent 35 years with the Los Angeles Police Department, where he was twice honored as Detective of the Year. He continues to work privately as an expert in deception and interrogation. His fifteen novels include five in his LAPD Homicide Detective Fey Croaker series. His latest novel, LIE CATCHERS, begins a new series featuring LAPD interrogators Ray Pagan and Calamity Jane Randall.
* WEBSITE * TWITTER * FACEBOOK * AMAZON *
REAL LIFE. REAL NEWS. REAL VOICES.
Help us tell more of the stories that matter from voices that too often remain unheard.