Truth be told I nearly skipped watching the film. The words "performance artist" remain incredibly loaded for me. Flashbacks to incomprehensible, humorously earnest college productions are sparked by that phrase. Yet so too are memories of seeing Miranda July practice her craft.
Denny's film debut-- which I'll call Pants On for short-- has something in common with July's The Future. Both were drawn from performance art pieces. In the case of Pants On the performance was a work that centered on a recent, dark episode in Denny's life.
"The performance was about taking care of my dad as he died of pancreatic cancer," Denny told me. "But it was hilarious. I sort of took a look at the performance as an artwork and it featured projections and pre-recorded score and live performance music. A narrative that involved some fun audience participation and once I took a step back from it, having done it, I said 'this sort of wants to be a film'."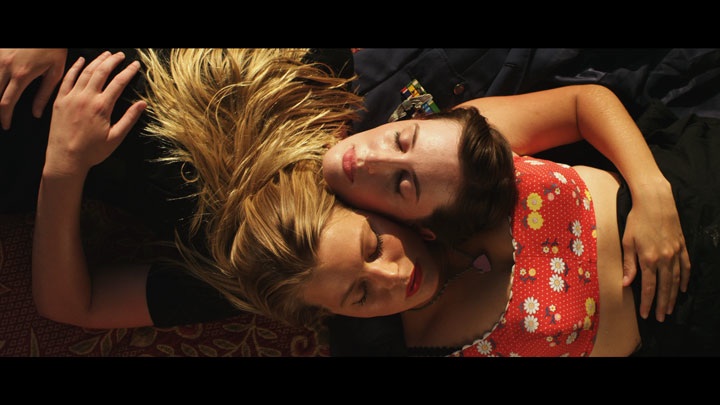 "Hilarious" is a strange word to associate with pancreatic cancer. Denny says that there is "this thing about life that it can be absurd and painful sometimes and that's hilarious. My whole goal I guess as a human being is to ceate opportunities for surprise and joy."
The film excels at just that: it converts the most personal of experiences into something that illuminates a shared part of the human experience. Pants On is about more than Denny's loss, it's about the way that we reach out to the people around us to find an anchor when we are suddenly cast adrift. It is a film that manages to be alternativly funny, touching, sexy and in awe of nature.
The National Parks system provided much of that awe, as it was the source of the film's gorgeous backdrops.
"One idea that I sort of wanted to represent in the film visually is that I think people are animals and that we're pretty tiny and the world is pretty big and so I love having these vast landscapes," said Denny.
"We'd set up the camera and choose our spots. We had no time in these locations, in most cases we weren't allowed to be there and if we were allowed to be there we definitely weren't allowed to be making a movie there and we had a crew of between two and six people on any given day.
"So we'd just get there, look and it and I'd be like: 'Okay guys we're gonna be really small and I'm gonna come up this rock and then we're gonna pan on it and come down and then steadicam over the rocks, and then when the lightning strikes then we cut."
Her collaborators on the film included long term friends who she had studied with as an undergraduate at USC, and with whom she had kept up with when her studies took her to CalArts. She notes that cinematographer Will Basanta and her have a "shared appreciation for natural landscapes" and that there was an understanding on set "that the weather was directing us as much as I was."
After watching the film I needed to know: what kind of person is Drew Denny?
I'll let the transcript do some of the talking here. Last month Denny took Pants On to the Mill Valley Film Festival (for whom I just happened to have spent two happy seasons being a staff member years ago).
Drew Denny: They asked me to do a performance after the film. This was sort of my dream scenario: we presented the film and then afterwards I did a performance that involved music, projection and a surprise appearance by a talking vagina that made fun of Mitt Romney. That was amazing.

Noah Nelson: I hear they do that.

DD: They hate him. But...you can quote me on that. Vaginas hate Mitt Romney. Um. No... so...

NN: Don't be surprised if that's the lead quote.

DD: I'm a fan of those kinds... you understand my sense of humor. You watched the film. I ate my dad's ashes as the opening joke of the film. So in my next film there's... is about a theatre inside of a loony bin for ladies in West Texas. So performance is incorporated into the context of the film. and that's very exciting for me.

NN: Very Marat/Sade.

DD: Thank you. So I'm looking for ways to combine my interests, but you know the material determines what the form should be in my mind. And I get ideas all the time that become either songs or texts or films or performance. And I'm just gonna continue following whichever ones motavate me to follow them.
It was this turn in the conversation where my particular interests really began coming to the fore. If you follow Turnstyle you know I have a thing for pieces of work that blend media-- call it transmedia or whatever you want-- and so Denny and I began trading notes on what we both have found out on the fringes of the creative landscape.
"It's becoming a genre. I find more and more people who know what I'm talking about when I try and describe my work and I'm like 'YEAH! There's someone else is doing this? Great.' It's very exiting and then we can innovate upon the genre."
Denny remains open to exploring whatever form her muse dictates to her.
"I actually organize my entrie life around being able to do what I want, profesionaly. To be able to leave at any moment and then living very simply. Not having a lot of stuff and not really caring about money."
At the moment, however, she is avidly pursuing film as her medium. She has two screenplays in the works. One which will be her follow up to Pants On, which she will write, direct and act in and another which will be her first script for another director. A project she says is a "hyper realist slow tragedy. It;s really intense and based on a true story so it's extrememly educational and emotional process that's sort of driving me insane and I love it."
The Most Fun I Ever Had With My Pants On screened this month at the AFI Fest 2012 presented by Audi.
Originally published on Turnstylenews.com, a digital information service surfacing emerging stories in news, entertainment, art and culture; powered by award-winning journalists.
Related
Popular in the Community