Sadia Ash is the best-selling author of Juniper Smoke, a contemporary romance novel. Not only was Juniper Smoke Sadia's debut into the romance world, but the novel is being optioned for film and has already picked up producers and backing—a world Sadia Ash is familiar with as a former screenplay editor. Her foray into the romance genre paid off, not only do we get a stunning novel, but a feature film to go with it.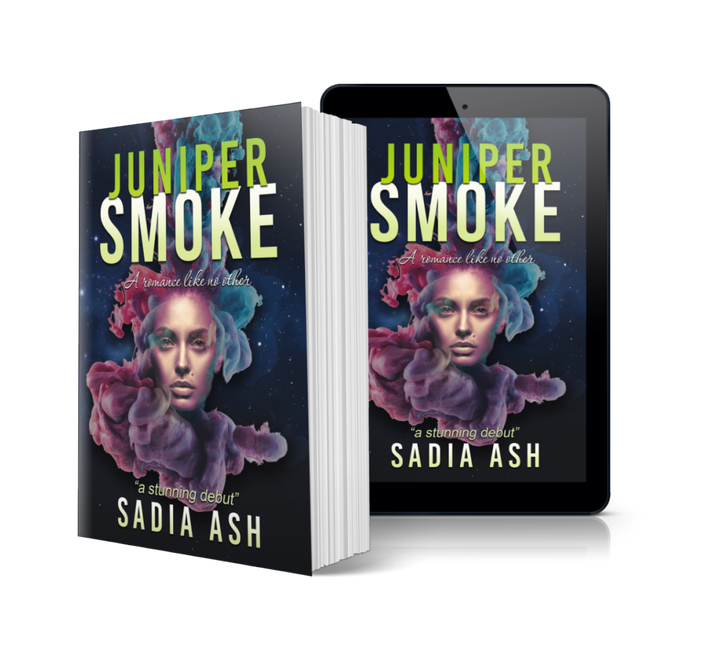 MW: Before moving into romance you edited screenplays and worked in entertainment publicity. How did you make the move to romance and were there any specific works or authors who inspired you to do so?
SA: I studied female novelists in grad school. My influences were the Bronte sisters, George Eliot and George Sand—all women with male pen names. A few years ago, I wrote Harbor Haven, a political thriller script about an out of work journalist who works in a Chicago laundromat and takes on a corrupt senator. It went nowhere. Then, I wrote Time and Tide, about a Victorian artist. Before I finished it, my editor suggested I write a contemporary romance first, a genre with a big audience. She was spot on, and Juniper Smoke built up a fan base in six months. Plus, I love all romances. As a teen, I hid Victoria Holt novels in my Physics and Math textbooks and binged.
MW: Juniper Smoke is two novels in one and will be optioned for film. The final book in the trilogy has yet to be released. Will the screenplay consist of a three-in-one or will it likely be made into three separate productions?
SA: The Juniper Trilogy is being optioned by Clover entertainment and Cinespots, and several other producers are gradually joining the project. One of the producers wants to do one film per novel. Another, who does action films, suggests three-in-one. This way the plot is tight and the film is fast and fluid. Sometimes, it's hard to translate dense novels into script material, as there are too many gaps and lulls.
MW: Will you have any creative control in the process?
SA: If I come on as a producer, I will have some creative control. However, I respect the process and would defer to the expertise of the director and producers. It's different when you're a lone ranger novelist. Filmmaking is a collaborative process with lots of moving parts, and sometimes hundreds of people involved.
One thing I really want is more of a female crew. MPAA data says women are 52% of filmgoers, but only 15% movies star women. I love that Me Before You was directed by Thea Sharrock and I've admired the cinematography of Mandy Walker since I saw Jane's Got a Gun.
MW: And I have to ask, do you have a dream cast you can share with us?
SA: I think Bella Heathcote would make a great Juniper. A couple of years ago, I saw her in Dark Shadows (Johnny Depp) and liked her. In the music video, Shot at the Night (The Killers), I feel she just transforms into Juniper.
For Kyle's role, I heard Ryan Gosling, Matt Bomer and Henry Cavill's names being tossed around. Knowing Ryan is super busy, IDK. Knowing Henry only does action, I doubt he'd do it. They have some pretty stellar actors in the film deck, though. It's very exciting! But I know getting talent is not the first order of film development. There's a lot of pre-development steps so we'll see what happens!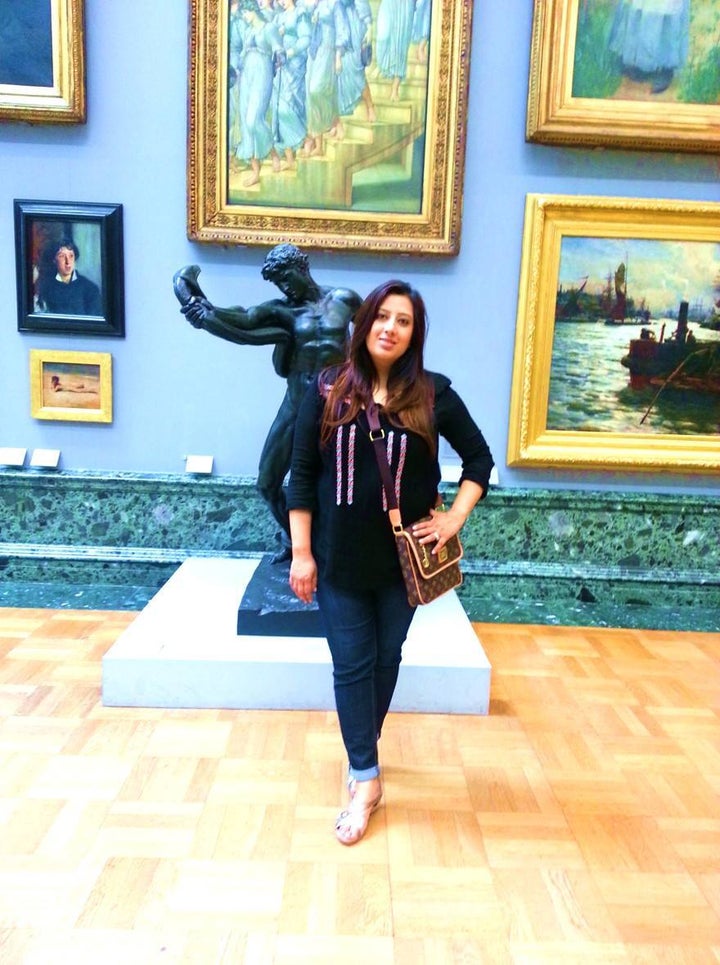 MW: You dabbled in historical romance as well as thrillers before writing Juniper Smoke, what pulled you to this story line?
SA: I fell into this novel by accident—literally. Last year, I fell down, tore a few of my right foot ligaments. I was on crutches for months. One day, I was frustrated at not being able to walk and drive. I was at the bargaining stage: It could have been worse—I could have fallen off a museum scaffolding. Instantly, I wrote the first chapter. That's how the novel took shape. Also it's hard to drag me away from museums, so Juniper became a nerdy, Celtic curator. I grew up in North Africa, which is a short flight to Paris, and my parents took us to the Louvre quite a bit.
MW: Was it characters first or were the characters born from the plot?
SA: Juniper was a ghost in my head for a while. I see her in a lot of girls I personally know who are self-sacrificing and slide under the radar of attention. Yet, they silently run the world. At times, they endure mental and physical abuse, but they are trained to minimize and even justify it.
Kyle is stiff, robotic and clinically detached. He was interesting, because I try to imagine characters that are my opposites. All my life, I struggled with math and science. And schedules. And I thought—what if his mind was numbers and his life scheduled. Also, I am married to an engineer and inventor. To him, the world is a box of broken toys. He wants to fix everything like Kyle. Broken things and broken people. Kyle has a clockwork mind but inside, he runs deep and is slowly unwrapped in his POV.
Like America, the rest of the cast is diverse and multicultural. Red and Blue, Latino, Black, Lebanese, gay, young, old, poor and filthy rich. Then there is Cypress, Juniper's twin who is on the autism spectrum…and some moms of autistic kids say they'd like a book on him.
MW: In a contemporary romance world that is fairly well saturated, how is Juniper Smoke different?
SA: Most romances blur the line of erotica. And most romance authors write it so well, but it's not my forte. I wrote a romance without graphic details, ha—the kiss of death. I was sure romance readers would run after me with pitchforks and torches. But no complaints yet.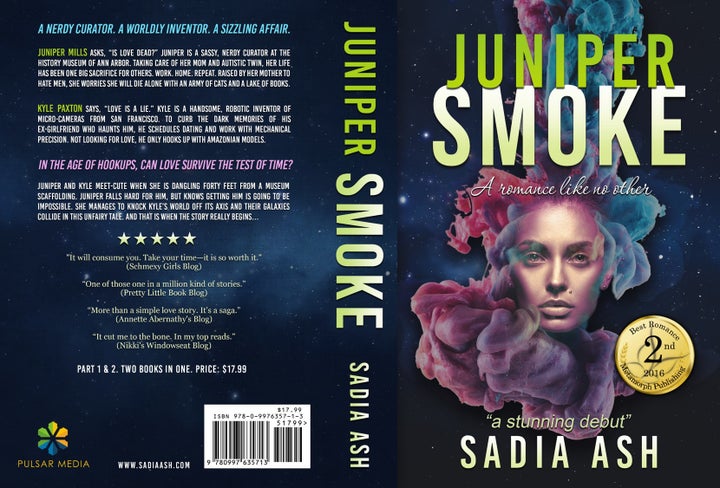 Juniper Smoke is also the journey of a girl with a thousand faces. A bildungsroman of Juniper coming of age late in her twenties and fighting her circumstances—by herself.
MW: What is it about the couple that has captured the attention and the hearts of so many readers?
SA: I think Juniper and Kyle, like all of us, are weirdos. They seem conformists at first, but they are misunderstood and bullied and learned to roll with the punches. Can't speak for the readers…hmmm. Many read the book six months ago. And I hear from some on a daily basis…they can't get Kyle out of their minds. Some relate to Juniper. They feel her clash with love, family and work. A few say they are real-life Junipers. Some of them reread the novels monthly. They have secret reader groups to discuss the book, but mostly to ask me when the book three is coming!
MW: Having your debut novel optioned for film seems like it could be daunting when it comes to moving forward and starting something new. Where do you go from here?
SA: I'd love to finish Time and Tide, a project I am tangled up in. It is the story of two tortured artists in two centuries. One of them has an HEA, and one a tragic ending. It's about why we have gender inequality in art. Only 4% of installed and museum art is by women—today. I wanted to tell the stories of talented women and why they were not allowed to paint.
I think women build their own spaces, when they are pushed out of official creative spaces. Compare romance to comic book movies. Both are escapist fun. Men in tights saving the world from green aliens is eulogized as a genre, yet chick lit is sneered at. This is ingrained patriarchy. And it's so subliminal, many women also look down on romance, even though, it single-handedly holds up the big publishers and most Amazon bestsellers are romance. This needs to stop, now.
MW: Have you started your next project?
SA: On the back burner, I've been working with a screenwriter friend on a TV series about a South Asian girl living in Chicago who has a tragi-comedy life. It's just a matter of finding time to work around our current projects.
MW: Will you keep writing in the same genre or should we expect the unexpected from you?
SA: After Juniper Smoke and Time and Tide, I have a mystery novel lined up about a New York personal chef to a CEO, who sees too much one day. She disappears and wakes up on a different continent, alone. I think, what is common in all the genres I am interested in—is a side or central love story. And the uncorking of human behavior. I love to see what's inside our wormhole heads and hearts.
Support HuffPost
The Stakes Have Never Been Higher
Related
Popular in the Community