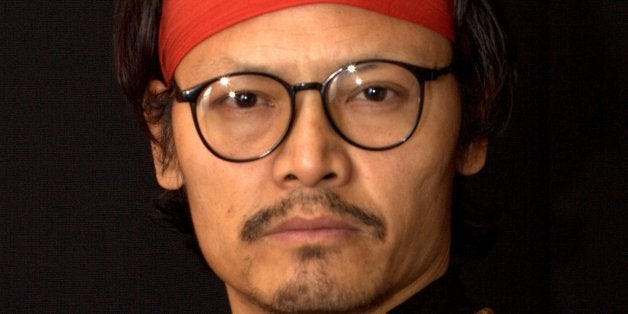 This is the sixth in a series of interviews I conducted while working last summer in Dharamsala, India. I talked with leading members of the Tibetan exile community about the freedom movement and the future of Tibet.
With his red bandana, round glasses and shoulder-length hair, activist, poet and writer Tenzin Tsundue is often referred to as the "Tibetan Johnny Depp." He's one of the most recognizable faces in the Tibetan freedom movement, staging bold protests against the Chinese government and named one of India's most stylish people by the Indian edition of Elle magazine. Born in India in the 1970s to Tibetan refugee parents, he has published books of poetry and fiction and his nonfiction won the 2001 Outlook-Picador Award.
Although the Dalai Lama and the government-in-exile favor autonomy for Tibet, Tenzin advocates independence. "You cannot live in a guesthouse forever," he says. "At the end of the day, you have to enter your own home." Bringing art into his political efforts, he's forging his own approach to exile and the freedom struggle.
To put all my focus on the Tibetan struggle. To maintain internal strength, which comes from unity and purpose. And especially, to get youngsters inspired by the struggle, so they do not look at it just as a legacy, or something for their own career, but as a noble work which can free a people from occupation.
How does living in exile affect you?
The idea of working from exile is to return to your country. This red band that I always wear around my head symbolizes my commitment to the freedom struggle. Once Tibet is independent, I'll take it off and live as a free citizen of Tibet.
But real freedom is also in the process of fighting for freedom. It's important that I not get disappointed or frustrated. And though there are people who really appreciate me, I shouldn't get carried away by praise. It's important to maintain equanimity and commitment.
Living as a refugee, not living in your country but not belonging in the country you are living in, being in between, is a unique opportunity. It has made us resourceful and resilient. A huge sense of humor has come into our lives, and we always remain inspired. And we are adaptive: we not only know our own language and culture, we know other languages and cultures. Yet our identity is very strong. This flexibility and willingness to learn, without losing your identity, is a great power. So living in exile, with the dream of going home to my country, has been an opportunity to really grow as a human being.
I learned in school that a free Tibet can never happen by killing Chinese. I educated myself, prepared myself to be worthy of the freedom struggle. I wanted to be able to reasonably argue for a free Tibet. I never lose a debate, though I do it compassionately. And I realized that writing is also a way to spread awareness, gain supporters and have justice prevail.
When I was a boy, I felt that the world didn't know what had happened. I only had to inform the world and then Tibet would be free. But I realized that it's not that the world doesn't know, it's that the world is playing politics. Everybody is trading with China and benefiting from our pain and suffering. That's why today, my writing is to argue for Tibet. To raise our voice where it matters. And most importantly, to make sure that the voice of Tibet is forever there.
Why do you insist on independence over autonomy?
Without independence, the nation and the people have no future. You cannot live in a guesthouse forever. At the end of the day, you have to enter your own home.
How do you feel about being labeled radical because of your stance?
When I speak my heart, about my belief in a free Tibet, if people say that I'm radical, I don't mind. Because this is who I am. As an activist, you are in search of truth. A truth that you find conviction in is what you are going to fight for. And even if people hate me, or try to portray me as anti-Dalai Lama, it doesn't matter to me.
I think people tag me as radical because I've been an activist for 20 years and they've seen my commitment. Nobody spends 20 years without a salary or office or personal benefits. In a way, the "radical" tag is positive. It means you're so radically moved by your conviction that you are willing to spend your life on it. And even risk your life.
Where do you see the Tibet movement going in the next two decades?
The most important challenge is to necessitate Tibet's independence to neighboring Asian countries. And to other powerful countries like the United States and the European Union nations, who will be competing with China. Their relationships are going to change a lot. The challenge for Tibetan activists is to take advantage of this change. And we have to see that we may win independence for Tibet.
What's the most difficult decision you've ever made?
I went to Tibet in 1997 to live among the nomads. But I got arrested, beaten up, put in jail. After three months, when they could not prove any charges, I was thrown out. But my dream was to go back to Tibet and work from there. I had no interest in sloganeering activism in India. I tried to return for two years, going to the Chinese Embassy, asking them to let me go back. When that didn't work, I had to make a very important decision, which was to settle for the second best option. Telling myself: because I am born and brought up here, using my education in India and my familiarity with it, I should be working from here as a second best option. And that has been my most difficult decision.
From home you have reached
the Horizon here.
From here to another
here you go.
From there to the next
next to the next
horizon to horizon
every step is a horizon.
Count the steps
and keep the number.
Pick the white pebbles
and the funny strange leaves.
Mark the curves
and cliffs around
for you may need
to come home again.
(from Kora, by Tenzin Tsundue)
Related
Popular in the Community