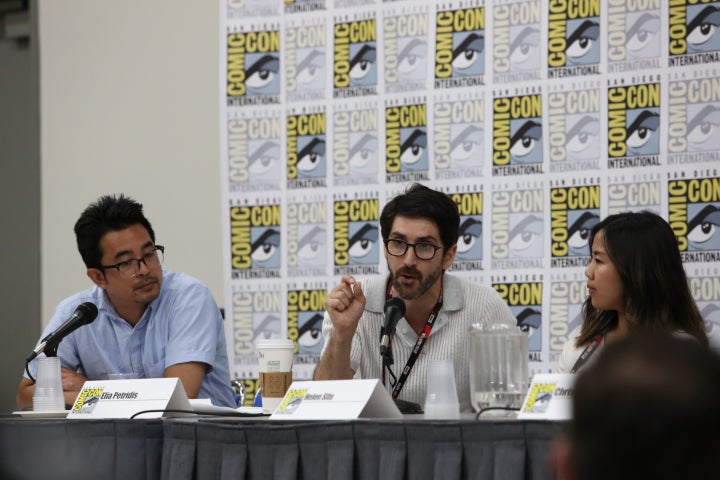 I had a great opportunity to check out the virtual reality film "Eye for an Eye: A Séance in Virtual Reality" and then chat with the film's multi-talented writer, director and transmedia expert Elia Petridis. Elia transitioned from the film world to the exciting wild west of entertainment: virtual reality and immersive storytelling. We discussed his past history and career, as well as his vision for the future of this industry.
I highly recommend checking out Eye for an Eye, now available on Wevr Transport — a content marketplace for VR stories and games. The film echoes the classic teen horror/thriller genre, and is a welcome fresh addition to this tried-and-true genre. As I am primarily a musician and music blogger myself, I was particularly drawn to the rich score of their composer Ruy Folguera, who nicely teed up the dramatic and scary moments. In addition, I found the production design to be a beautiful compliment to the film, and an important tool in fully immersing us in Henrietta's eerie chamber. Henrietta (played by Pam Heffler) and Marcus (played by Erich Riegelmann) stand out in their performances, spooking the audience (read: me) and contributing invaluably to the Eye for an Eye 360 experience.
I also learned that Elia and his company Filmatics are leaders in the fight for equality and inclusion in the burgeoning AR/VR industry. They produced a panel at Comic-Con 2016 titled, "Di-VR-sity," which included some of the biggest and brightest names in virtual reality, brought together for a discussion about opportunities and challenges in this space for women and minorities. Among others, the impressive panel featured Christina Heller of VR Playhouse and Maureen Fan of Baobab VR, who recently closed an incredible series B round of funding.
After reading our discussion below, be sure to follow Elia and his company, Filmatics, on the following social media platforms: Twitter / Facebook / Instagram - @gofilmatics
I am very excited to see their next offering in VR & 360 video. For now, whet your palette with this fun Q&A:
1. Tell me a bit about your background in filmmaking and VR. How did you first get into making films and telling stories?
I got into filmmaking at a very young age, around 11. I made my first film at 16, then went to the New York Film Academy. I got into USC Film and Television as an undergrad as Critical Studies then did my MFA in Production at USC. That was all that until my first serious foray into film - when I wrote and directed a feature and it turned out being Ernest Borgnine's last film before he died (Editor's note: The Man Who Shook the Hand of Vicente Fernandez). That was really cool, a really momentous occasion for me, because of his pedigree. It was a real honor to work with him and we had these wonderful players around us - just really a good post-master class on directing good actors and learning and working with the old guard, and how much he meant to us and the generations before us.
It was really special, we shot on 35mm. It was a Western and took place in a nursing home. That came out, did its thing, it got distribution domestic and international, was on Showtime for a while. I went off after that, I was repped as a writer for a while, I did some branded content with Uber and MacLaren, did a bunch of music videos along the way.
One fine day, I got a call from a producer, and he said you need to sit in with Ben Miller over at Wevr - he wants to show you something. They have a bit of a creative mandate. We hit it off and he said we'd like to do something - a horror wouldn't be a bad idea. I went away with my team and put together a script for them and it got approved. I had to figure out how to write a 360 screenplay. He read our script and he thought it was one of the coolest scripts he read since we color-coded the segments. That way, you can get an idea where each thing is taking place in 360 as you read it. They told us to go make it, they put a little bit of financing in it. I kind of caught the bug from there.
2. What were some of the challenges and nuances of working in VR? How do you need to think differently as a director in that medium?
We stopped using the term "user" for VR and use the word audience - you have to go back to the warm terms that the art should be embracing to keep everyone in on the conversation. It can't be a purely tech conversation. I'll tell you as an artist, there is a wonderful opportunity with the audience to grant them what we call agency, to really make them feel like it is their experience in particular, and it's unique with them. You have to marry that with turning plot - they are supported by the fundamentals of the experience rather than the fundamentals of the story. Even if they miss a plot point, you can cover your bases with another turn later. You craft the narrative section of the screenplay to cater to that. You can steer the eye through the ear with positional audio.
Just because you have four quadrants, you don't have to use them all. You can use them to create suspense. You don't always have to go for the "wow". Sometimes you have to go for the story too, and spread your wings through quadrants as the plot demands it. As long as the segments coming in and out are motivated through the story, there is a lot of fun to be had there. I think it's exciting because now people can start to think of it as a palette to use rather than a handcuff of 360 degrees to be confined to. When you embrace it as the final platform, it gets really exciting.
The key is to simplify - what I'll do when I'm writing something new is I'll put on the Gear VR without a phone in it at all and I'll play pretend through the experience. I'll "ghost" through it, and think, what do I want to feel? What are the emotional turns here? I try to distill it down to purely an emotion. I'll make an "emotional screenplay" of the experience. That's something that comes from UX and experience with design. That's why VR is exciting, because I believe that a generation that's raised on VR will be so used to a type of grammar in VR that you'll start to see it feedback into traditional filmmaking. We are chasing an immersive experience - there are three or four experience I've had where I've thought: "Oh man, I'm gone. Elia is out of the building." Things like Pearl - it's an animated piece, and you come out of there without a dry eye. It's easy to do that with empathy footage. To do that with delight is almost like flying - when VR is good it is so very, very good. When it's bad, it's so very, very average. If you've got bad VR, you want to take that thing off your head.
3. Something that pops out to me when watching your film is the use of audio as an immersive device. Tell me about some of the choices you made here.
Positional audio and horror or sci-fi is a match made in heaven. They give you the freedom to play with it. It's very simple - it's eye choreography but done through sound. We had an awesome sound designer and mixer on Eye for an Eye. I think that positional audio will quickly become the standard - it will be the 5.1 of VR. It is going to have so much more merit because the screenplay phase will have to include that. It's an exciting tool to tell the story. It works with things like you being on rails, or you being volumetric. I start to think of audio from day one now, instead of after I've shot the film. It helps me interrogate whether the experience is worthy of 360 or not. Are there fun things we can do with sound in this 360 experience? It's one of the litmus tests that the content has to pass. Does it have exciting sound design? Does it really enhance the experience? Or is none of this predicated on any audio contributions.
4. I noticed at the end of Eye for an Eye there is a tie-in with social media. Do you see social media as being a great way to tell or continue stories? I know you are into the idea of transmedia.
The sharing tie-in was an idea by Wevr - we'll see if that initiative takes off. Transmedia is exciting because you can do it in all sorts of lengths. There are bits of the Eye for an Eye world that are just picture, and bits that are a VR experience. The beautiful thing about social media, and things that are prone toward more short delivery, you can take a little corner of your world and put it out on social. Instead of advertising people to come see the VR experience, you can start telling a story to intrigue them and follow narrative breadcrumbs to come see your bigger tentpole aspects of the world. The more breadcrumbs they have, the more rich their experience will be. We took all of our social media pictures and we made a graphic novel out of them. One of the spreads of the graphic novel was that birds die around that house that Henrietta lived in all the time. If you are in the VR experience, the first bump you get is that a bird crashes into the window. If you have that little piece of social media that you've been following, that will be a little bit more of a kicker for you. You are going for that emotional kill. If you've already fallen in love with the world before you enter the VR and your anticipation builds, the more likely you are to invest in the experience, and feel that it's something that's unique to yourself. That's what excites us about transmedia. Social media is one of the umbrellas we have to tell stories. You can also measure social media communities and start to put your finger on the pulse and see if they want more.
5. What's next for the Eye for an Eye saga?
If it gets a community to it and people want to know more - I do have a third act that I'm excited about. I'd love to tell that story. It's a story about Henrietta's first day in that house alone after Dylan is dead.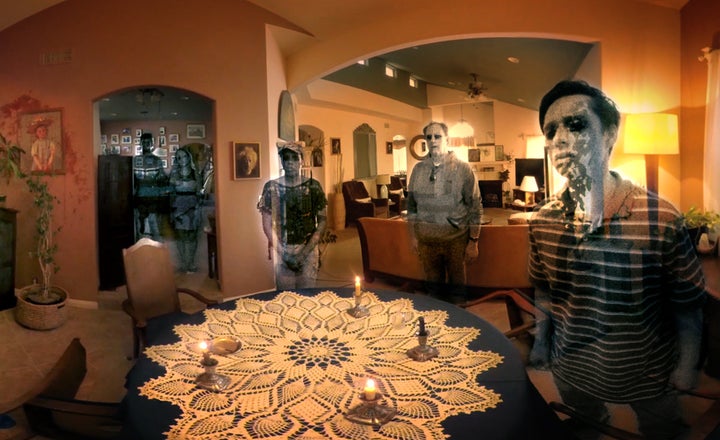 Popular in the Community