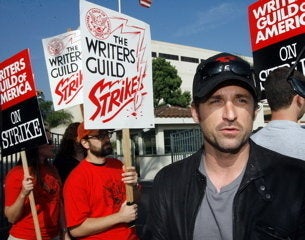 I just received this email, and it's clear the WGA has thrown down the gauntlet. They are definitely playing old school hardball. They're circulating a list of scab writers who crossed the 100-day strike picket line; that is, writers who decided they would cash in while their fellow scribes marched and went without checks. One of the names may be familiar to Huff Posters, it's John Ridley. John, what's up with that?
Friends of the Hollywood Community,

To keep you updated on the WGA Contract news, here's the latest news from the presidents of the WGA East and West about those who went financial core during the strike and the list of scabs writers is below their statement.

David W.

_____
April 18, 2008


Dear Fellow Members of the Writers Guilds East and West:

During our 100-day strike, the extraordinary solidarity you demonstrated on the picket lines and the courage and dedication with which you committed yourselves to our cause were not only an inspiration but also the key to making our actions successful.

In the face of enormous personal and financial hardship on the part of many, you sacrificed in the knowledge that your refusal to work would reap benefits not only for yourselves but countless others in the creative community, now and in the future. Your stalwart resolve paid off.

Yet among the many there were a puny few who chose to do otherwise, who consciously and selfishly decided to place their own narrow interests over the greater good. Extreme exceptions to the rule, perhaps, but this handful of members who went financial core, resigning from the union yet continuing to receive the benefits of a union contract, must be held at arm's length by the rest of us and judged accountable for what they are - strikebreakers whose actions placed everything for which we fought so hard at risk.

While others forfeited paychecks to stand in unity with their fellow Guild members, many who went financial core continued to collect salaries. Without concern for their colleagues, they turned their backs and tossed the burden of collective action onto the rest of us, taking jobs, reducing our leverage and damaging the Guilds for their own advantage.

Even in cases of deep financial distress, there were other options, including generous no-interest loans from our strike funds, which would have sustained them until the end of the strike and beyond. That's what unions are for.

Those who went financial core did not share in the adversity; and should not share in our victory. They cannot vote in our elections, run for Guild office, attend Guild meetings and other events, or participate in the Writers Guild Awards. Further, it has been determined by the National Council of the Guilds West and East, and affirmed by Guild East Council and the Guild West Board, that we send this joint letter with a link to a list on respective websites of those who went financial core during the strike. To view it now and for future reference, you can find it at: http://www.wga.org/subpage_member.aspx?id=2828.

The rest of us are all in this together.

Sincerely,

Patric M. Verrone
President, WGAW

Michael Winship
President, WGAE

Members who elected financial core

Arena, Maria

Clark, Marlene Poulter

Cosgrove, John F.

Cwikly, Paula F.

Egan, Clem

Esensten, Barbara J.

Grunwell, Jeanne M.

Higley, Dena

Higley, Mark Christopher

Kelly, Meg

Lisanti, Michelle Poteet

Meurer, Terry A.

Morrison, Shawn

Reilly, James E

Ridley, John

Sheffer, Hogan

Smith, John F.

Thomas, Darrell R. Jr.

Tomlin, Gary

Vogelaar, Janeen A.

Wolf, Garin
Calling all HuffPost superfans!
Sign up for membership to become a founding member and help shape HuffPost's next chapter