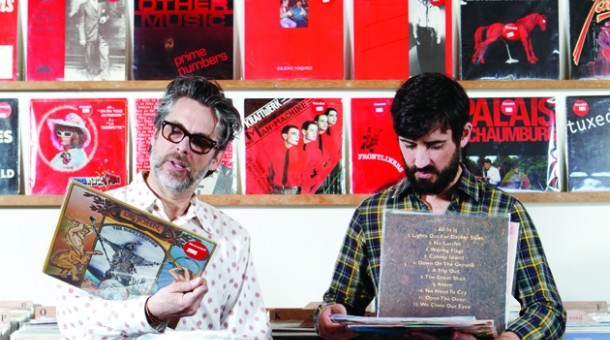 Scott Hutchins hangs out in Brokeland with Michael Chabon.
I'm at Pizzaiolo on Telegraph Avenue, in the Temescal district of Oakland. It's 8 a.m. -- the exact minute the restaurant opens -- and Michael Chabon apologizes profusely for the early hour. I tell him not to worry as I shed my bag, scarf, coat, sweater. I left San Francisco dressed as a San Franciscan, and the huff from the MacArthur BART station and the ticking East Bay sun has me pulling at my collar, overheated. If it were allowed, I'd take off my shoes.
Chabon is comfortable in loose jeans and a cowboy snap shirt. It's his town, after all. He's just dropped his two younger kids off at their nearby school (the older two attend Lick-Wilmerding in San Francisco). The employees in the restaurant know him and greet him warmly. He still feels bad about how early it is. "But they have the best doughnuts here," he says. "And great coffee."
Behind his geek-chic glasses with a fleur-de-lis on either arm are large, blue eyes that -- for all his genuine affability -- watch you closely. I again assure him that the early hour is no matter for me, but I don't tell him the full truth: I owe this guy. And I owe him big. Some years ago, I was bottoming out, as a person and as an artist. I was broke. I couldn't see a day in front of myself. Even more than a writer, I'm a reader, and I wandered the aisles of the library looking for signs. The Mysteries of Pittsburgh -- I checked it out and read it in one sitting. Then Wonder Boys. Then The Amazing Adventures of Kavalier & Clay. I ate those books. In my dark and disconnected life, I had come across worlds of effortless delight, of cosmic warmheartedness. I was high, I was low. I was entertained. I was enthralled. I was, above everything, alive. That's what great books can do, and it was my honor to meet their author. Eight a.m.? I would have been here at five.
So I ask for the famous doughnut and coffee, but Chabon pulls a little breakfast jujitsu. He orders an austere bowl of granola (his "usual") and milkless black tea. As we dig into the food (the doughnut is fantastic), I wonder if I've just witnessed a metaphor for his fictional technique. He talks dessert, sugar, pleasure, but at the core, he offers something more sustaining. Maybe even good for you.
Michael Chabon is the author of five critically acclaimed, bestselling novels, as well as novellas, short stories, TV pilots, books for younger readers, and a serial novel...
REAL LIFE. REAL NEWS. REAL VOICES.
Help us tell more of the stories that matter from voices that too often remain unheard.