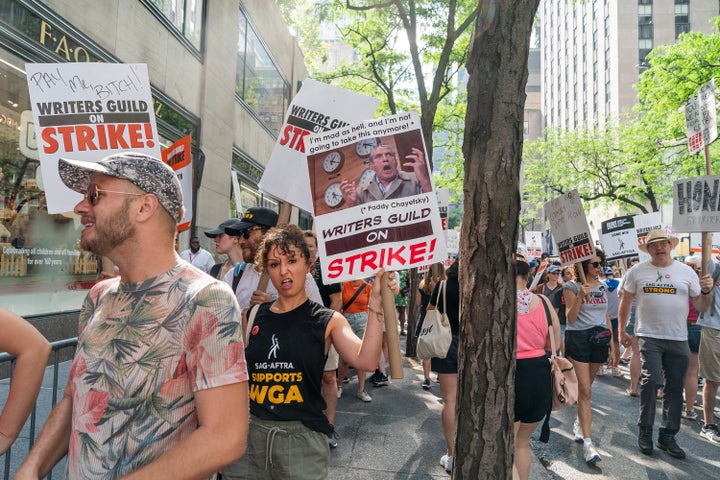 Since May, writers have been waiting for studio and streaming executives, represented by the Alliance of Motion Picture and Television Producers industry group, to return to the bargaining table and arrive at a fair deal.
The WGA said in an email update that AMPTP negotiator Carol Lombardini had reached out earlier Tuesday and "requested a meeting this Friday to discuss negotiations."
"We'll be back in communication with you sometime after the meeting with further information," added the update. "As we've said before, be wary of rumors. Whenever there is important news to share, you will hear it directly from us."
The writers have been on strike over key issues facing the entertainment industry, such as getting a fair share of streaming profits, ensuring better paths to career advancement and setting guardrails around the use of artificial intelligence. (HuffPost's unionized staff members are also represented by the WGA East.)
In mid-July, more than 160,000 actors represented by the Screen Actors Guild-American Federation of Television and Radio Artists began striking over similar issues. Together, the two unions have effectively shut down nearly all film and TV production, sending a firm message to studios.
While the writers and actors have been picketing in New York and Los Angeles almost daily, studio executives have remained largely silent, aside from several out-of-touch comments. During a conference for millionaire and billionaire business leaders last month, Disney CEO Bob Iger — who makes about $27 million a year — complained in an interview that the two simultaneous strikes were "very disturbing to me."
On the picket lines, writers and actors have drawn particular attention to the huge wealth gap between executives and the workers who make the shows and movies that generate studio revenues.
The writers and actors have repeatedly characterized their demands as necessary for preserving their livelihoods. Many of the issues taking center stage in the two strikes, such as corporate greed and the encroachment of AI on creative work, have broad implications for various industries.
Support HuffPost
The Stakes Have Never Been Higher
Popular in the Community