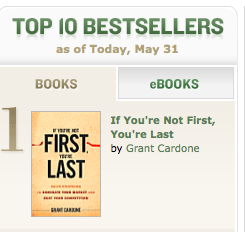 Getting a book published and then to hit the Best Sellers list takes a lot of guts, even more determination, tremendous amounts of creative networking and even more persistence. Have you ever wondered how to get your book to be a best seller? I have and now have a book #1 at Barnes and #1 Business Books at Amazon. This is my first published book, Wiley and by working closely with the publishing company, hammering social media and then inspiring my customers, friends and associates it looks like we will hit the NY Times Best Sellers List this upcoming week.
Here is what I have learned:
1) Don't believe anyone when they tell you it can not be done.
2) Remember it is best selling book, not best written.
3) It will require a lot of energy, effort and creativity.
The first thing I did was decide that I could do it despite all the naysayers. The second thing, was write about a book that is personal to me and relevant to many. And then I did everything I could to make sure everyone knew about it.
The book is about the importance of dominating in business and the idea that competition is NOT healthy. This was inspired as a result of the recent economic contraction. This contraction was so severe it terrified me into the reality that individuals and companies are only protected against economic uncertainty by being the dominant player in their market or sector! And don't kid yourself the same thing holds true for book sales, dominant the charts or no one will know you exist!
As we redefined our business over the last 18 months I started writing this most recent book about what I was learning as I recreated and rebuilt my business so that I could get it into a more dominant position with the hopes of being immune from economic conditions. The first title I had was, Screw The Economy, Create Your Own and then I changed it to, Don't Be a Little Bitch but Wiley convinced me those titles might be too aggressive, even offensive to some, so we ended up with, If You Aren't First, You're Last.
I don't pretend to know the exact formula for getting your book to #1 but no one else seems to know the formula either. I can tell you, the most important thing is you have to get people to know about you and your book. Quality of content is critical but getting people to know about the book is senior! This is where a lot of writers seem to err, spending too much time on content and too little time on selling and promotion. In the real world, the quality of the product is meaningless if no one knows the product exist.
The days of going on tour and promoting at book stores are over. The margins for the stores are so small that they can't make sense of the energy it takes to put together book signings. I actually offered to do this at my own expense nationwide and there were no takers! It seems like TV is almost impossible to get without taking your clothes off, cheating on your spouse or overdosing. Today you must utilize social media, blogging and then inspire existing clients, friends and those that could benefit from getting your book sold.
Two years ago I went to my first book fair and walked into McGraw Hill's booth and introduced myself with the hopes of having them publish a book for me. I actually got them interested but because of other commitments to similar books they elected to pass. I went ahead and self-published my first book, Sell to Survive, which sold over 20,000 copies in two years. Only a small amount of these were sold on Amazon and only one book store, One Stoppe Shop in Clearwater carried the book. It's interesting book stores don't seem to like self published books even if they sell - no wonder traditional book stores are having problems. This book was successful because of the efforts of my company selling directly to our clients and at my seminars and then catching on by word of mouth.
I later hooked up with a niche publishing company that focuses on business books. I ended the relationship before we went to press because it just didn't feel right. Some thought I was crazy because I finally had a publishing deal but the same day I canceled our arrangement, Wiley Publications called me. They saw me there writing and liked was I was doing and asked me if I would be interested in them publishing my next book. We made a deal and I got busy selling books.
Here are some things I learned that may help you get your book to be a best seller:
1) Go where bloggers go and write as many articles as you can about the topic of your book.
2) Survey other authors about what they have done successfully in hopes that you can get them to review, comment or involved with your book's release.
3) Consider joint ventures where others promoting your book may benefit them.
4) Build your platform that you are going to sell the book to. Publishing companies want to see that you have a way of selling this book.
5) Build your social media and start talking about the books and then hammer it to levels others would consider unreasonable!
In the three months before the book came out we added almost 10,000 fans to my Facebook page, 3000 or so on LinkedIn and Twitter and starting making entries to inspire this public about the concepts of the book. This was building our platform. The day of the book's release I literally made entries sometimes every ten minutes for 18 hours of where the book was in the rankings as it fell from obscurity to 98,000, to 287 and then to #1 on Amazon Business and #1 overall at Barnes. This spurred more interest and had my clients and friends interested in helping the book move to #1. Understand that a few entries on social networks annoy people and seems self promoting. A consistent and unreasonable pounding of social media will get your audience intrigued and involved in moving your book to #1.

Grant Cardone, Author and International Sales Expert