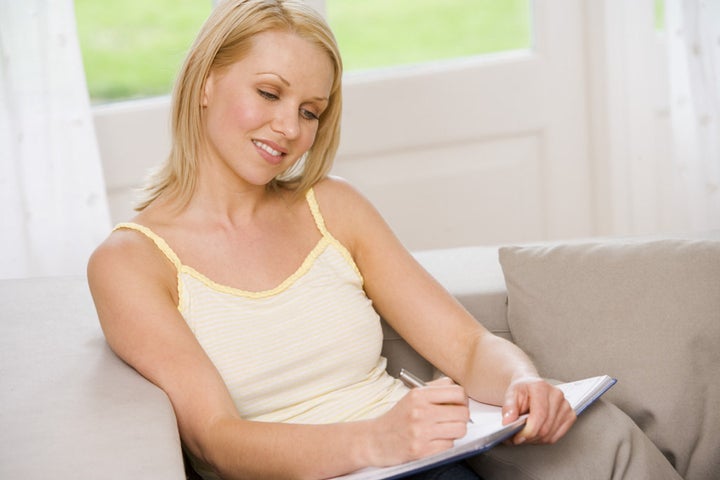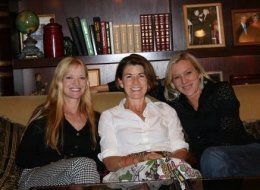 It's a fortunate coincidence that I have THREE good friends who have written best-selling memoirs. Well, two for sure: Amy Dickinson's The Mighty Queens of Freeville and Lee Woodruff's In an Instant were NY Times bestsellers, and my friend Wendy Burden's memoir "Dead End Gene Pool" - comes out next spring and has already been selected as #1 non-fiction pick by Penguin sales reps across the company. I think it's going to be huge.
I met Amy when our daughters, now 21, started kindergarten at St. Patrick's Episcopal Day School in Washington. Amy had arrived in DC a newly single parent and stayed here 9 years until she left in 2002 to become "Ask Amy" for the Chicago Tribune.
I met Lee when both our husbands (John Palmer and Bob Woodruff) worked as network correspondents at the White House during the Clinton administration. We became close after the untimely death of NBC correspondent David Bloom - I eventually wrote a piece for O Magazine about the friendship between David's widow Melanie and Lee - a friendship that was forged when David died and later when Bob received a life-threatening head injury covering the war in Iraq in 2006.
And I've known Wendy since fourth grade at National Cathedral School in Washington when we were both routinely sent to detention for very bad behavior.
All three of these women have gone through significant and profound loss and all three are seriously the funniest people I know. Hard to pull off, but they do, in person and in their books.
Amy's book is about her return to her tiny hometown in upstate NY after the abrupt end of her first marriage. Amy's own father abandoned his family when Amy was very young, and the book highlights the strength and love of the women in her large, extended family who help put her life back together again. Amy received a multi-million dollar advance from Hyperion for this book and a sequel she is currently writing.
was co-written with Bob and chronicles their lives before, during and after an improvised explosive device went off near the tank Bob was riding in and caused a traumatic brain injury that nearly killed him. Her second book, "Perfectly Imperfect" is a series of essays on a range of subjects including teenage sons, her husband's curious taste in gifts, how to help someone in crisis, dealing with a parent's Alzheimer's and her saggy knees.
Wendy is the great-great-great-great granddaughter of Cornelius Vanderbilt and for many years the Burdens were one of the wealthiest families in New York.
Her book examines the alcoholic dysfunction of these ultimately doomed bluebloods on the verge of financial and moral decline and details her own childhood of privilege and profound neglect with a Charles Addams-like take. Think Wednesday Addams all grown up and wearing Prada.
It struck me as I read their emails and spoke to them this past year that all three have not only made the transformative journey of writing about themselves and what happened to them, but also had the singular experience of having a book come out in what can only be described as the New Reality of Publishing. Never before have authors been so involved with the sales, marketing and promotion of their work. Tours, blogs, websites, tweets, videos - it's a lot of sales and a lot of ME.
I got the three of them together in New York City on a Friday in late September for lunch at the Regency Hotel. Here is what they had to say:

Writing habits: Memoirs While Driving & Dunkin Donuts
Nancy: Describe your writing regime...
Amy: I write a daily column so I have this schedule completely imposed on me which is actually helpful. On Sunday, Monday, Tuesday and Wednesday until noon I do ASK AMY, then from Wednesday afternoon until Friday I do other stuff - traveling, speeches, other media, Saturdays are Wait, Wait, Don't Tell me,. I almost can't believe I found time to write the book but I really try to be organized and carve out time. I write early in the morning until about noon, never at night. And I submitted the book chapter by chapter.
Wendy: I write at the Lake Oswego Public Library - I live in Portland and I drive out to this library outside of town. I used to go to another library which had a lot more homeless people until I started getting stalked by a well-dressed paranoid schizophrenic there.
Amy: - I hate it when that happens.
Wendy: Because then I can't do anything else! It's a ritual, I drive out to the library, I get my big cup of coffee from Peets, and they all know what I do and they all ask me how my book us going and then I try to get the library in time to get my favorite little table in the corner. Of course I screw around for the first hour and if I get bored I look at the magazines.
Its wireless and I have all the reference I want and librarians who know everything. I had to do a lot of research on my family - say the part where my stepfather was an arms dealer and he had all these guns in the house and I don't remember what they are all called so I had to go and look up those times and what he would have been supplying to Israeli army, etc...it really helped being in the library.
Lee: Well, I think I have the youngest children here - I still have two 9 year olds and my life is like sections of an orange. There is the mom part, there is the work I do for the Foundation (The Bob Woodruff Foundation for wounded veterans - http://remind.org/) and I can't seem to stem the tide of the voluminous emails from people who need things. I'm not one of those people with a personal assistant so I'm the person saying 'ok, I'm coming to speak in North Carolina' and setting up my own flights.
It's a lot of work so my writing is sporadic; I'm not in any kind of a schedule, although I aspire to be. I tried to be this summer a little bit when the kids were at camp but "Dementia Dad" as I call him, would knock on the door wanting to have a cup of coffee, and as I write in Perfectly Imperfect about his decline - that's more important right now - to have that cup of coffee with my Dad while he is still present. I can't say "I'm sorry Dad, can you please come back I just have two hours to write."
Most of Perfectly Imperfect was written on airplanes and in hotel rooms on the book tour for the first book, at least the guts of it, the thinking part, the quiet part. But I've also learned how to be a really ADD writer - I can have a brilliant idea for something and want to get to the computer but then have somebody saying 'Mom! Make me oatmeal' so I finish the sentence and run in and heat up the milk and come back and finish.
Nancy: Do any of you use an auto pad to write stuff down in the car?
Lee: I wish I were smart enough to keep the pad - it keeps disappearing - so I finally got one of those little Dictaphones.
Wendy: I write on my lap in the car while I'm driving out to the barn to go riding.
Nancy: Wendy! You are going to get arrested.
Wendy: I can't help it - you know why? I don't LOOK at it - it's because you're not employing that side of your brain. In other words because you're doing something else I find I have completely different thoughts from when I'm sitting and writing.
Amy: Sometimes I just get in the car and drive somewhere - in my case it's Dunkin Donuts. The pattern, for me anyway, is that first I actively think about something, mull it over and do the head work and then it hits me later, usually when I'm relaxed. I couldn't get there without the really active headwork but it's like I'll do a lot of thinking and then I'll stop and change locations and bing..there it is.
Lee: I do that when I'm swimming, there's a whole chapter about it in Perfectly Imperfect.
Amy: My whole schedule got messed up after I got married last year. I always jumped out of bed at 5 am but now I really want to stay in bed with this guy.
Lee: I've got a little dog who wakes me up and I have to take out before I go swimming, so that's MY lover these days.


Your Stories: The Happy Sisters

Nancy: So here's my theory: All three of you wrote your books because of a couple of things. First, none of you is just anybody. Amy is a syndicated advice columnist, writer and radio personality. Lee, besides doing your own free-lance articles and video pieces you were married to the newly named anchor of ABC World News tonight at the time of Bob's injury, and Wendy, as you've clarified from your book jacket- you're a recognized artist and the great, great, great, great granddaughter of Cornelius Vanderbilt.
So there is the fact of WHO you are and the fact that something HAPPENED to you.
In Amy's memoir, her father deserted the family when she was very young, and then later her husband left her and their two-year old daughter...
Lee: There's definitely a catalyst factor here...
Amy: I was having dinner in Greenwich, Connecticut once with this really old friend and her father had this WASPY way of being really super mean and after a few drinks says to me, "SO Amy, your father left, and your husband left, ...do you ever see any connection? Ever think it's YOU?"
I said, "Why no, that's never occurred to me until now."

Nancy: So everyone left Amy, and Wendy lost her father when she was six...
Wendy: VERY sudden - he killed himself.
Nancy: Wendy also lost her husband Tiger Warren and his three young sons in a plane crash 10 years ago...and Lee's husband of course had a terrible accident in Iraq...
Wendy: Ok do you think there's a connection with all of this?
Lee: Like is there a relationship between people dying and being a bitch? I can see the headline of this piece right now "It's the Happy Sisters" It's funny and tragic!

Nancy: Wait, let me finish my theory - so we add these two factors, you are somebodies and something happened to you and ADD to that the fact you're all great writers and we get the first person memoir. Really, I think everybody thinks they've got a book in them but I think you need this combination - otherwise you're like that woman who just got that scathing NY Times review...
Lee: What happened?
Wendy: She wrote this very "ordinary" memoir, talking about taking the kids in carpool...and how 'bad' things happen to her to, like she needed a new catalytic converter for the car and had to take it to inspection.
WRITING AS THERAPY: Reading Aloud
Nancy: I know you wrote your books just to write them, but without sounding facile is it ok to suggest that the process was also therapeutic?
Amy: I don't think writing the book was therapeutic, but I'll tell you what WAS therapeutic - therapy. I had entered therapy because of job stress - and I ended up with a therapist who had actually worked with a lot of artists and writers. Once the book was published I sent her one and later asked her if anything in the book surprised her and she said 'no, not a thing...it came out exactly as I had expected from getting to know you and it sounded exactly like you" and mind you, she knew what I had left out!
But the act of writing my story, no, it wasn't therapeutic.
Wendy: Well, I'm not a writer by profession...
Wendy: ...and it constantly amazes me....I started writing this book as a cookbook because I had a restaurant and I was married and living in Portland and I had a studio to paint in and I would just sit at the desk and think about food and I started writing about food and my family had always had French chefs and had always really been into food so I started researching recipes and that led to researching my family and then I read my grandfather's (William A.M. Burden) memoir. Then I started getting more into family history and soon what I started out with wasn't what I ended up writing about ---I ended up writing about my parents. But once I was into the middle of this original manuscript in Portland my husband and his three sons went off on his airplane to go shoot a goose - which I was terrified about having to pluck - and the plane went into the river and they died and it was this horrible thing...and eventually I came to write about that.
It became a story that went from the beginning through the move of a New Yorker to Portland and forming this blended family that took all the energy I had - moving with my own two kids to Oregon and yes, it became therapeutic when I wrote about the subjects I came to be writing about. But it didn't hurt to write about it.
And this will eventually be the subject of my second book - a New Yorker moving to Portland and changing mid-stream and also learning how to fly, which was a huge thing for me. I have a fear of flying and learning to fly was hilarious and I learned to fly in case my husband had a heart attack with we were flying so I could fly the plane.

Lee: Writing my book was totally 100 percent therapeutic - because my book never started out as a book. I began to write - as I always have - through times of difficulty - because it enabled me to make sense out of a sort of senseless world.
During times of tragedy and trauma I think the world becomes very senseless -and looking for meaning in things - why did this happen - why did he get injured - constantly trying to make order out of chaos - so my writing was something that I did when I got back to my hotel room after a long day in the ICU.
When someone is in a coma they tell you to talk to the person so what I was doing with Bob was going back and telling him about what happened when we met and telling him things -so the first book takes place on two levels - the present and the past -and it's Bob's voice and my voice - which sounds very confusing but it isn't and somehow it works.
I certainly wasn't writing all that in the hotel and hospital for a book but then people at ABC were getting lots of requests for our story but at that point in time I was writing because I needed to be creating something - I needed to be sort of giving birth to something while everything around me seemed to be, not dying, but certainly was a very slow heal.
So I didn't want to shop it around, but I did meet with Susan Mercandetti at Random House while Bob was still an out-patient for therapy.
I drove him to therapy, sneaked out to have lunch what whom would become my editor, ordered the tuna and violently threw up that night which should have been a sign! Not Susan, she's a great editor - she said when you are comfortable send me something ...no pressure.
I didn't want to feel like I had a book hanging over my head -I had four little chickens and a man who was very, very broken - but I realized that whatever happened I wanted a record of it for our family, for our kids someday and kind of just kept writing and it turned into a 900 page Megillah...
Wendy: Mine was 900 pages too.
Lee: And as these great stories got cut away I then knew exactly what I wanted the next book to be - the wonderful moments in life that hew us together and they were all cut out of this book so I decided to pick up all the broken pieces and recreate this other book.

Amy: What you two really have in common is how you came to write your books and your reasons are very personal - I was pursued by publishers for years - when I got the column everybody tried to get me to write an advice book - and I tried for a year to write an advice book -but in the course of doing that I had this whole life inside my head outside of that.
And then my mother was very ill and I would say the therapeutic part of it for me was that because this book is not about my divorce but really about these women in my life - it became a way off sort of bringing my mother back to life.
There were times when she was in the hospital and my sisters and I would sob and sob in the snowstorms in the parking lot in the middle of the night.
So I came to read it aloud to my mother in the hospital as I wrote it - I read two things to her while she was in the hospital - I read James Joyce's THE DEAD and my chapters. That's what she wanted to hear and later she "you know I'm really surprised by a couple of things, first of all, you're so funny ...I know you're funny but I didn't know you wrote so funny...and the second thing is...it's so sad!
My mother also said that I was a better writer than she realized.
And Lee, just like you're saying, I was trying to make order or sense of what we were going through.
PRIVACY: You own your story - But we're Episcopalian
Nancy: Did any of you struggle with this sense of privacy in writing a memoir and what you share and don't and the conflicts that come from that?

Wendy: I was clear to my two brothers - because basically everyone else in the book is dead - that this is MY story and it's how I remember it and it's not anybody else's but if you think such and such didn't happen this way, well, for me it did, and that's what I remember.
And as far as my children go - I wrote a chapter that's now saved for the next book about my oldest daughter Charlotte when she was at Hotchkiss. I got a call one night and she said 'Mom, I'm cutting myself' and I drove up there and realized she was also anorexic and cutting herself and it ended up that she was out of school for three months on medical leave. So there we were in this little house in Connecticut -it was after Tiger and the boys had died - it was just this HORRIBLE year - I was underweight, she was underweight and she decided to start baking. She sat down with a cookbook and started baking and baked solidly for a month and a half and she would just bake all night long and she's start another recipe as soon as the first one ended and everything she made was perfect -and she kind of cured herself, went on and graduated....
Nancy: What's the chapter called?
Wendy: "The Unhappy Happy Baker". And when I told her I had written this chapter and that it was pretty explicit she said "absolutely".
And then there's my other daughter Celeste - when this book came out in the bound manuscript she read it, and she read it around me - physically - and she LOVED it. She got to know about her family and she had no problem because it takes place at a time that doesn't concern her...
There was only person I had anticipated any problems with. My mother, who had no friends really because she was such a dreadful woman, had this one friend Greta whom she had known her entire life. She's Belgian and she's kind of like a yes-man and ever since my mother died about ten years ago Greta will send me something - a poem my mother wrote, or a picture of my mother - and just say how much she misses her, And I'm just sort of laughing thinking how could you have liked her? I was so afraid of Greta reading this book, so I emailed her and I said "I know you think my mother was a saint...and I have written a book about my mother and my father and it is NOT flattering" and went on to explain. And she sent me back this email , that just said,....now I'm going to cry ...She just said "I totally understand, I know what your mother was and I'm so proud of you for doing this".
Like I said before, I didn't start out as a writer. I first wrote this in the third person - I was "The Daughter" or "The Granddaughter" and my mother was "The Mother" and everyone had a title and as it went along people who read it would say you need to say how you felt about x, y and z but good WASP that I am it was like God Forbid! Our name should be in the papers for the birth, wedding and death announcement and that's it.

Amy: My daughter Emily read anything having to do with her.
I had a very clear idea of what I wanted to share with people and it came from going to a book signing with Dave Eggers who wrote A Heartbreaking Work of Staggering Genius. I'm a huge fan of his and what he does - and he was asked a great question - which was if you were to do it all again would you do it differently. And this guy, who found great things and fame and much wealth as a writer and has put it to great use, he answered "Absolutely not - it's not worth it because I ruined relationships" and the message I remember from that is one ruined relationship is NOT worth writing a best-selling book. I think about that constantly...
Nancy: Did that happen at all with your book?
Amy: Yeah, a little bit, I feel like I put a bunch of relationships at risk but
Nora Ephron gave me the best advice when she said "You have your own story and you own that." As long as you write your own story that's great and it's your story, and when it intersects with other people it also belongs to you. But when you write Emily's story then you are stealing from her -so get her consent, get her permission. It's so obvious, and it's so logical and it's so the right thing to do but that's not how I would have done it and hearing that advice from her right before I started this project really gave me the courage to steam ahead with it. When I started this book Emily was 18 and I had not ever told her the story of my breakup with her father.
Lee: Didn't she ask lots of questions?
Amy: We're Episcopalians! We don't talk like that.

Lee: I get asked that question a lot and I call it "Where is the line and how do you find it?" And I say I feel it with my toes, and very often if I've written something I'll go back the next day and wait a tick and then decide.
It's so interesting to me that of my four children NONE of them have read either book. I think they don't want to read the first book because they don't want to know - they lived through it. Also, it's like they're so not impressed because it's what they grew up with, I did a lot of TV spots with my kids in it - craft-making, birthdays, things that didn't cross the line so by the time the books came along it was like "oh, Mom's writing about us again' only this was different - this was talking about feelings and it was very intimate. Not so much with In An Instant but with Perfectly Imperfect - different vignettes of my kids come into it - there was a lot that I excised - one of the things I remember most vividly was writing about a story of mothers and sons - about growing up with all girls and I can't believe I finally have this boy and I've always wanted to know what this MALE thing is like - and he'll talk to me and he'll be this sensitive man. And of course he says NOTHING - throughout the entire 18 years of any value -and there was a part in the chapter where I wrote about what it felt like to be a mother when you watch your child's heart get broken and the next day I just went back and hit delete - you know, that's not my story.
Yet there is another chapter about my daughter who is hearing impaired and I write very honestly and openly - I was very careful to make that chapter be about my journey - about discovering that your child is NOT perfect, that there is something wrong -fill in the blank - autism, whatever it may be - and it's definitely NOT so much about her as it is about me.
Nancy: Remember in the movie "Little Women" when Jo March finally finishes her book and wraps it up in twine and sends it to the publisher - did you have a moment like that?
Wendy: I've had multiple moments.
Amy: It took me exactly nine months and I felt like I pushed that sucker out like a baby!
Lee: It's a triumphant moment.
Amy: It is, for anyone who likes books and likes to read - I came to this as a reader.
Nancy: Wendy, I remember when you sent me an email that you had your own Library of Congress number.
Wendy: They sent me the bound manuscript and I saw they even had that right there I was beside myself. And real typeface and acknowledgments and dedication.
Amy: I've been around a number of really successful book writers and you go to their homes and their shelves full of their own books and I think you get a little blasé after a while but, not yet for me - I mean my book was translated into Japanese.

Adding the Funny: Tears of a Clown
Nancy: The other key thing with the three of you, and I've known all of you for a long time, is that you're all just really funny. You're all three writing about very difficult things - but it's the funny and I know it's really not about that....
Lee: I have a quote taped over my desk I found recently, and it says "there are very few things in life that humor cannot be a balm for" and I agree so absolutely.
Amy: Look, my father abandoned my family - left us literally destitute and my mother, every once in a while, would turn to us and say, "So, girls, do you think Dad's ever going to come home with that loaf of bread?" So I grew up with someone who was doing that and it was ok to laugh about this stuff.
Wendy: But you know what? It's really hard to be funny - to write funny.
Nancy: Lee, didn't you get Ali Wentworth to your place to add some humor to your second book?
Lee: My book was done, and I thought it was good and my editor said, "It needs to be 17 percent more funny". Not 15, not 20 but 17 percent more funny. And she sent it to a guy and essentially it was awful - like "ba da bing - snare drum" humor and I said wait, I know someone with my sense of humor. So I brought my friend Ali Wentworth in and said let's just sit in a room and I can read it aloud and we can try to make it funnier and that is exactly what we did and it was so much fun, it took exactly four hours.

Wendy: I studied it. I was in the library; I went to the how-to section, with How to Write Romance, How to Write Comedy....
Amy: You know what they say, comedy is a formula.
Wendy: There ARE formulas - like saying things in three. And I would read stuff by Annie Lamott or Steve Martin and just try to figure it out...
Lee: I haven't read Wendy's book but I have read Amy's and I think one of the major keys to really good humor is something that I know our two books have and that is to throw in a little self-deprecation.

Nancy: That's the other thing I know about all three of you and that's that EACH of you right now thinks you are the biggest loser at the table.
Amy: It's like I told my now-husband when we were dating - because he knew my parents, my father, the whole story and it's like, "Yeah, my father, what a jackass" and then I said, "And I have news for you Bruno, I've got the jackass gene big time" and he said "yeah, I know."

Tales from the Tours: I'm in Sales
Nancy: I recently went to an event Amy did at an Eileen Fisher store in Washington and Amy, you opened by saying, "I thought I was an author? ...
Amy: ... Ladies, I'm in sales.
Nancy: Kelly Corrigan, author of The Middle Place has become somewhat of a publishing sensation by taking matters into her own hands and creating her own webpage with a video of herself reading from her book that went viral. Commenting on the new trend of authors overseeing their own marketing and promotion, she said, "You emerge from this place of solitude in writing and then switch into the hot glare of 'market yourself now.' It's very uncomfortable and you try to get past it with some sort of sophistication." Amy and Lee have been there, Wendy, this is coming your way...

Wendy: Now I'm going to take notes.
Amy: I thought because I had this really high-profile book deal and this really wonderful story and great publisher that I was ready to go work that perfume counter at Bloomingdales....turns out it was TJ Maxx. It's retail and it's very basic. Now I have this vision of me with tube sox and a carton of my books going to flea markets. You will do anything to sell your book and you have to do everything to sell your book.
Lee: I had such a hard time with it with the first book and still a hard time with it with the second book. I hide behind the Foundation because proceeds from the first book went to them - and that helps me stand up and tell my story ONE MORE time because it helps the soldiers and the Bob Woodruff Foundation. Not so with the second book.
(she starts to sing) "everything you read in the book is right here and get the book right here and the cover looks good and I'll have a little sex with you and I AM for sale!!"
Because a good publisher makes you think like you are their second coming.
Wendy: Don't burst my bubble yet!
Lee: I remember Dan Rather telling me at a dinner not long ago that 120 thousand books are published a year - and that back in 1970 or so it was only about 20 thousand...so when you come out of the gate...
Amy: ....and then you hustle. There is a limited period with your book when your publisher is interested in you and then one day...
Lee: Ring...ring...ring...
Amy: It's like they stop taking your calls.
Lee: Another thing is how fast your book goes from the front of the store to the back. You're right up there for two weeks at Barnes and Noble and then you go in to find your book and they say "Uh, go look in the W's...and sorry, are you fiction or non-fiction...what's the title again" And you're like really? I thought I made a big splash. Not.
Amy: Paula Poundstone told me she goes into bookstores and literally tells them "your books will go there and MY books will go here"
Lee: I switch mine all the time, you don't do that?
Lee: And Bob does it. He goes into Barnes and Noble and moves them to the front of the store.
Amy: Bruno does it all the time too - he acts like he works there, gets a dolly and loads it up with books and moves them around.
Wendy: Do I have to do that?
Lee: We'll do it for you!
Amy: There was this great piece in the Atlantic by Ann Patchett about tales from the book tour, including changing her clothes in the McDonalds bathroom.
Lee: I've got a version of this for my next book, my take on "you think this is glamorous?" Here I am with toilet paper on my shoe in yet another airport and my favorite moment was with this security guy at the checkpoint and he's already stopping me because of some liquid eyeliner and I've got one of those free sample maxi-pads in my suitcase and he's rifling through and pulls it out and is examining it and I just snapped - if one more person tries to frisk me or touch me or my stuff so I just yell at him "I've had it with you people! It's a MAXI-PAD. It's for MENSTRUATION!" and he drops it like it's on fire.

Amy: The week of my book launch on Monday I'm on Good Morning America, Tuesday I'm on The View and Wednesday I go on tour. On Thursday I'm in Dayton, Ohio and mind you it's February and I'm being driven by an escort to a show called "Book Talk". We pull up to the local high school and she informs me Book Talk is on the public access channel and the host of the show is the English teacher. She drops me off and I'm face to face with what I know immediately is the AV club - it's five 15 year old boys with cameras and they look at me and say, basically "Whaaat?" and I say, "I'm here for Book Talk, is Mrs. Stone here?" and again, they say"Whaat? Oh yeah, she's out sick". So I said "C'mon guys, let's do it anyway" and they're like "Yeah, no, I don't think so."
So I go back outside to the parking lot but the escort is gone and it's snowing and I call my mother and say "I'm not sure but I think I just got dumped by the AV Club" and she says, "Again?"

Wendy: I am not happy about this stuff.
Amy: Embrace it - you meet the nicest people and you meet book lovers!
Lee: - Everybody is so nice -
Amy:And they're dying to tell you their own story -
Lee: You need to act as if it's 400 hundred people even if it's four and act like you've never heard their questions before.
Nancy: With book tours becoming more rare and the internet marketing on the rise are you doing more online? Do you blog?

Lee: I do and I hate it that it takes away from my writing time - I have a little piece I write on my web site and it's been up there about two weeks now because I'm behind with any updates...I do get comments on it, though and make a point of answering everybody.
Amy: I had a meeting yesterday at my publisher. When my book came out in February we didn't have any social networking plan in place...
Lee: It wasn't even a year ago that this started.
Amy: Right, two things happened, publishing fell apart and social networking took off. So the publishers are asking my "why aren't you viral?" and we had this hilarious meeting about creating a viral campaign, but I was saying "doesn't the term viral mean you can't control or create it?"
But everything is moving so quickly - it has to be 'something from the heart' but it also has to be really professional.
Nancy: Wendy, has this been suggested this to you?
Wendy: I only met my agent for the first time last week and only met everyone else two days later and the person who does the PR sent me an email about the things I should be doing and the links - and I told them about the movie I want to do, too.
Amy: After you try everything you can think of and you're begging your friends and sending mass emails and the publisher has turned their attention to the next best thing, here's what happened to me - you get your book back, it's mine again, it's my thing I made - it's my art.
Lee: Like getting your art project released again at the end of the year in fourth grade.
Amy: For me it's personal again, in the selling you forget to love your book because you are pitching and promoting and I commoditized it so. I knew I was getting into trouble when a friend offered to host a book party for me and I was like 'how many books are we going to sell" - I was like "I don't cross the street unless I can sell books!"
Lee: You learn to fight for it - to keep that analogy, I never let my book stay with the art teacher, because it was connecting with the people on the road that kept me connected with the book - I know that sounds cheesy.
Happiness: Whistling past the graveyard
Nancy: Last month in the Huffington Post Arianna wrote a piece about how studies are showing women are becoming less and less happy - did you see that?

Lee: I've never felt more productive and creative in my life as I enter my 50s. We get out from under the kid stuff and the career and figuring out who we are and we can train ourselves to focus in on what's most important and learn to prioritize and I think the middle years can be so rich - we give up the physical thing - people stop noticing us on the street and we find a richer inner life.
Amy: This is really what I think my book is about - starting over. I think women excel at starting over - we have these very definite chapters in our lives: we're daughters, we get fucked up in romantic entanglements when we're young, we go to college, we have a career. I don't think the men I know see their lives in chapters like that - it seems more seamless.
For most women I know, and I hope this doesn't sound sexist, but their lives becomes transformed when they have children. When they become mothers -its like CHAPTER!
None of the men I know would say I saw my life in a completely different way when I became a father. I think we've become more adept at starting over - it's certainly what the women in my world did, over and over. I grew up watching that model: pick up, start over, new chapter - it makes us more nimble and more happy.
I don't know a lot of women who would say "if only I had 50,000 more dollars -I'd be happier."
Wendy: I think we're living on borrowed time. I think in the natural world back when your hormones stopped basically you'd be dead. Once you've had children that's kind of it - there's a natural genetic thing that allows us to start over - it's a second chance at life.
Lee: I call it my second act
Amy: I got to fall in love at age 50 and have a new marriage and a new family and grandchildren and I that's where I've always derived the joy in my life from these relationships and I think women are more oriented towards that.
Nancy: All three of you have made incredible achievements - and yet I know you don't really think so...
Wendy: We're whistling past the graveyards....I'm still so in shock that I've done this and my children are so proud of me.
Lee: That's so nice -mine aren't - they just want me home! I'll tell you the moment that it changes, though, and that's when you buy into your own PR - look at what I've accomplished! You can pat yourself on the back on the day your book comes out -only - unless you're me. The day Perfectly Imperfect came out I was giving a speech to a group of women in New Jersey and when I was done and got in the car I had three messages. One was there was a problem at our Foundation; the second was that my mom was going into the hospital and the third was someone was suing me over the rights to the title "Perfectly Imperfect". So basically I'd had about three hours earlier that day to feel "YAY"!
Amy: Remember my story about being in the parking lot of the high school after being rejected by the AV club? That's when my phone rang and my publisher told me I'd made the New York Times bestseller list.
Lee: I hope you went back in and got it on with the AV club....