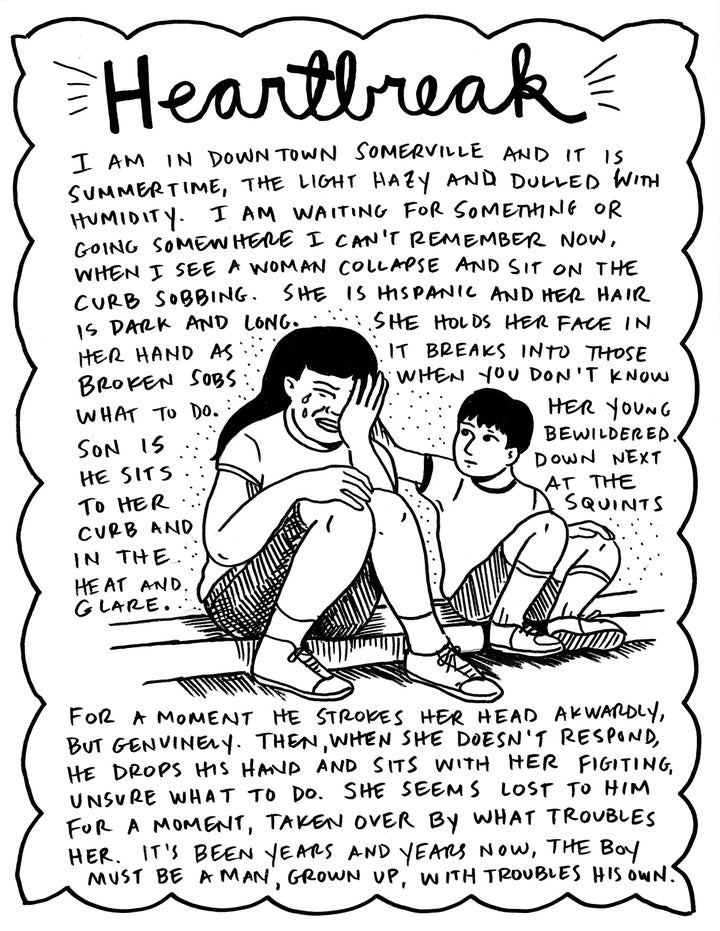 For about six years I've been making a zine of one-page illustrated stories called Forgive Me.
I make these stories by pulling a noun from a stack of index cards and writing and drawing the first memory that comes to me. It sounds sort of vague and unkempt, but it's actually--dare I say the word?--a practice that has become something so essential to keeping me grounded and focused as an artist.
The method was initially inspired by the cartoonist and writer Lynda Barry's idea of how a single word can illicit powerful memory associations and therefore specific stories. I remember Barry asking the question, "If you could only tell your life story through the couches you have known--what would that story be?" My mind buzzed with this question (and still does).
In practice though I never felt I had enough time to give the whole process that Barry teaches a consistent try. I got impatient and I ended up stripping it down to two essential rules: when I pull a card I create from the first memory that comes and I don't edit.
I use ink every time to ensure that I keep going once I start--no erasing or second-guessing. What comes is what stays. That's why the stories sometimes have spelling errors or grammatical issues, but I think it's also why they are so honest. For years I was very religious about the rule of no editing. It taught me to trust my voice and imagination more than anything I've ever done. More recently I have started to come around to editing. After so many years of making these stories, I am starting to feel confident enough that I can trust the process--and sometimes make it better later.
I do a lot of other artistic things as an illustrator and writer, but this is the process, the project, the endeavor I always return to. I return to making these stories because they are both easy and powerful to make.
Since I started, I've made maybe 1000 stories and I never get tired of finding out what will emerge from a word I pick from the index cards. It's like getting one of those pellets you drop in a bowl of water and watch expand into a shape. What will it be? A camel or a flower? Or, in my case, an ex boyfriend or a pair of boots?
In these tiny memory windows I can talk about all the weird people I grew up around: the hippies, the artists, the roadies, and the burnouts. I can talk about the ways I have failed or succeeded, and who I loved and didn't love.
This isn't just my autobiography, it's my world. I plan on making them until the day I die.
(Click "Full Screen" to see larger images)