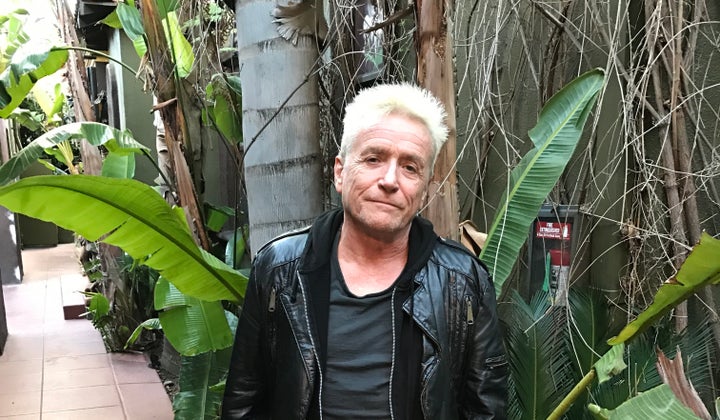 Patrick O'Neil is the author of the memoir Gun, Needle, Spoon (Dzanc Books). His writing has appeared in numerous publications, including Juxtapoz, Salon, The Nervous Breakdown, After Party Magazine, and Razorcake. O'Neil is a contributing editor for Sensitive Skin Magazine, a Pushcart nominee, a two time nominee for Best Of The Net, and a PEN Center USA Professional and former Mentor. He holds an MFA from Antioch University Los Angeles where he is an instructor for the inspiration2publication program. Most days you can find him teaching some form of creative writing at various rehabs, correctional facilities, institutions, and workshops, and he is the co-coordinator for the Why There Are Words Los Angeles reading series. O'Neil currently lives in L.A.'s monument to broken dreams, the über hip downtown district, with his fiancé and two giant Maine Coons. For more information, please visit: patrick-oneil.com.
In today's "interview," I asked him what advice he would give aspiring authors.
Learn how to write, trust your editors and don't give up, he said. Send your stuff out to literary magazines that will edit for you. Get used to working with somebody who can help make your writing better. Join a writer's group, have other people read your work, send your stuff out to literary magazines or magazines you don't think would ever publish you. Take chances, go out there, get your work out there. Get a blog, get people reading, just get as involved as you possibly can. Use Facebook and other social media. Push, advertise it. Authors have to promote ourselves these days anyway. And so get on Twitter, get on…I don't know what else these kids are doing these days and just do it.
I recommend writing every day. My practice is I get up, I start writing, and whatever I get done that day is good. And so if I get 100 words that day I am cool. If I get 20 pages a day I am ecstatic, but what I used to do is was beat myself for only having a 100 words. Turns out the books still gets written with a 100 words a day.
And read everything you can get your hands on because the only way you're going to a good writer is by learning and stealing from other people.
Related
Popular in the Community