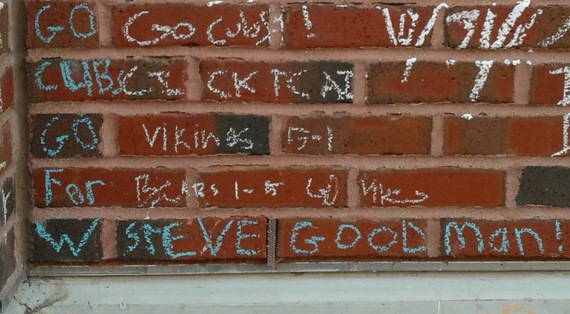 Still think it's just about the baseball? Just north of Wrigley Field is Graceland Cemetery. And under the wild grey skies of November, on a tiny peaceful lake near the grave of the great ballet dancer Ruth Page, is the grave of Mr. Cub--Ernie Banks. And you know, as the Cubs take the stage tonight, tonight with only two teams left playing, tonight there will be spirits of all shapes and sizes dancing.
Still think its just about the team or the baseball? Tonight it's about spirits dancing down through the generations. Heroes and grandmothers and fathers and a life force that connects us all. And when the spirits dance, you gotta look real, real hard because often it only lasts for a moment. Or it might be hidden in such plain sight that you don't even see it. You don't realize, this is different. Because this could be for everyone.
Like when the Cubs scattered pieces of chalk outside the walls of Wrigley Field and invited one and all to write their messages to the team.
Write whatever you want. Go ahead and write your stories on these walls.
Most of us don't have the money to get inside the park. Many don't have the cost of cable tv needed for the playoffs. Most times the money matters.
But it didn't cost a dime to go write on those walls. To share what it means to carry on hope. To share your respect. Maybe a message to the team. Maybe not. And if your choice is to share hate, you can even do that too.
Her choice, as she picked up the piece of blue chalk was to share a spiritual shout out to the great Chicago music man Steve Goodman. She just felt that his name should be up there too. Him being so much a heartfelt part of this ongoing song.
And that W you see in the corner? There was one square left. So what better message on this brick wall love letter? She wrote that W and it didn't cost a dime.
As if the spirit dancers sang to us all like we were winners.
Calling all HuffPost superfans!
Sign up for membership to become a founding member and help shape HuffPost's next chapter