I was appointed director of the Bronx Writers Center, the literary wing of the Bronx Council on the Arts, in January 2014, based on my experience with Puerto Rico's Festival de la Palabra, an international literary celebration, and for an East Village reading series I curated for three years called HISPANIC/PANIC! (2008-2011)--in addition to being a published author and freelance editor for Latino and Latina writers.
This new life journey deepened my relationships with organizations such as the New York City Latina Writers Group, founded by Alicia Anabel Santos. This remarkable collective of women of different diasporic origins and of diverse sexual orientations, left deep impressions on me from the first time I attended one of their readings at Camaradas El Barrio back in 2010. Many were the first in their families to defy gender conventions and turned to writing to heal wounds brought on by various traumas.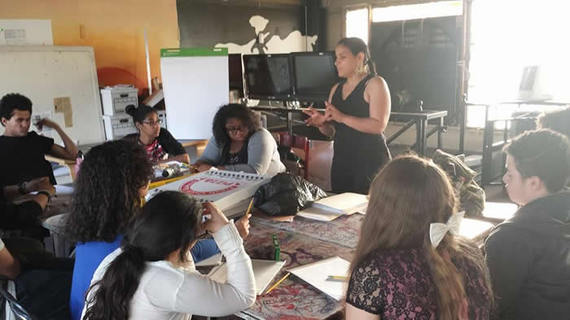 Author and writing teacher Vanessa Mártir facilitating a teen writing group at The Point in Hunts Point
The Bronx Council on the Arts launched the Bronx Memoir Project in March 2014, an NEA-funded initiative that presented established Latino/Latina writers and poets such as Vanessa Mártir, Urayoán Noel, Alicia Anabel Santos, Rich Villar, Orlando Ferrand and others to the people of the Bronx, in collaboration with the Bronx Documentary Center, Bronx Library Center, Poe Park Visitor Center, Mindbuilders and other cultural institutions.
The result was Bronx Memoir Project - Volume 1, an anthology of over fifty submissions received from participants of the twenty-five workshops the Bronx Council on the Arts created, the majority submitted by Latinos. This editorial experience reinforced my belief that writing about painful experiences--whether losing a loved one or escaping a burning apartment building fire with a two-week-old infant in hand--can promote healing.
Banishing pain to the past, to heal in the present.
The National Center for Biotechnology Information--in conjunction with the U.S. National Library of Medicine--reported in 2010 that "there is evidence that engagement with artistic activities, either as an observer of the creative efforts of others or as an initiator of one's own creative efforts, can enhance one's mood, emotions, and other psychological states, as well as have an impact on important physiological parameters."
Artists and writers are familiar with the trance state that can be experienced during creation--when large blocks of time pass unnoticed. These meditative respites from the stress of urban life can be achieved through visual art, movement and writing, and their cathartic and curative benefits have become central to the missions of organizations such as the Bronx Council on the Arts, which programs creative writing sessions to at-risk teens in detention and homeless shelters through its Bronx WritersCorps program.
Bronx WritersCorps sends mentors from the independent hip-hop and spoken word communities, such as Earl Majette, Bonafide Rojas and Rafael Divine Torres, to work with imperiled youth and strives to get teens to write about their life challenges, to encourage internal bonding and understanding, to forge friendships and support. Program director Sharon Little reported that the three most recurrent themes in the writing produced at these sessions are growing up without a father, homelessness/transience and being bullied.
Bronx-based writer and teaching artist Latanya Devaughn runs a weekly writing group, The Full Circle Ensemble, which meets on weekends at El Fogón in the South Bronx. The Full Circle Ensemble, a membership-based collective of over twenty individuals, serves as a forum for deep emotional release, where participants revisit difficult memories and write about them, mining straight into their pain for deeper understanding and closure.
This Latino-majority gathering--which I was kindly invited to write with recently--builds community by the creation and sharing of personal texts, seguing from the tragic to the comedic in seconds, as experienced when performer and actor Andrés "Chulisi" Rodríguez took over to orchestrate an improvised performance collaboration exercise, which delivered an equal dose of comic relief and mischief after more hurtful work had been shared.
I witnessed a similar dynamic at several Bronx Memoir Project workshops as well, where many participants--who were free to choose to write about whatever they wanted to--opted to tackle memoir fragments focusing on traumatizing experiences such as domestic, sexual, substance and child abuse, the sorrows of growing up and leaving home, the sudden death of a loved one--tales of loss and longing.
The Bronx is the only county in New York State with a Latino majority, at around 54%, as well as New York City's poorest borough, with around 30% of its residents living at or below the poverty line. These challenges affect the wellbeing of our people, combined with the negative stigma we've contended with for decades, perpetuated by the mainstream media in a society obsessed with superficial materialism and status, a nation plagued by classism and racism.
All we need to do, to forget it all for a little while, is to sit and write a letter to a dearly departed relative, to tell them the things we never had a chance to tell them. Or to draw something for them. To write about the day's challenges or sketch an image representing what it is we'd like tomorrow to bring. Sometimes all it takes is a break from the grind to look deeper inside, to find all the beauty and wonder people seem to think we live without.
Popular in the Community