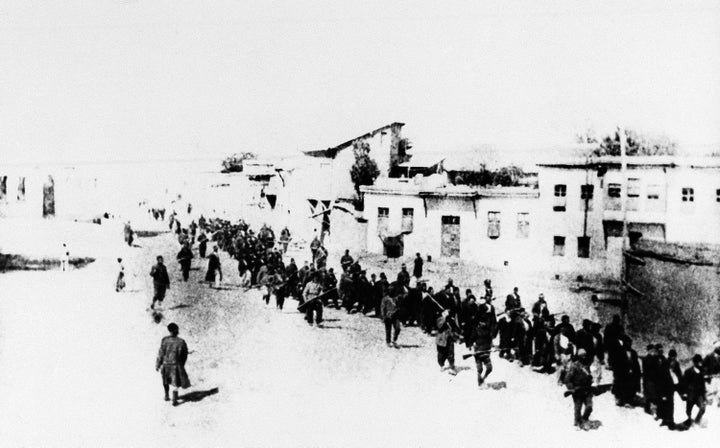 The Wall Street Journal on Wednesday encountered a backlash for publishing a full-page advertisement from a group denying the genocide of Armenians during World War I.
The ad was placed by Fact Check Armenia, an arm of a group that says its goal is "to preserve and protect Turkish national identity and culture." Fact Check Armenia's website explicitly refutes evidence that Armenians were systematically killed en masse by the Ottoman Empire, the predecessor to modern-day Turkey. But the ad sent a subtler message implying Armenians shared responsibility for the historically fraught relationship between Turks and Armenians.
The ad said "Truth = Peace" and included a quotation from a former Armenian prime minister expressing regret for not using "peaceful language" with the Turks. In the upper right corner it reads "Stop the allegations," referring to the group's objection to the narrative that Armenians disproportionately suffered during World War I. Its website notes that large numbers of Turks, Arabs and Kurds were also killed in the war and related fighting.
In a statement to The Huffington Post, the Wall Street Journal distanced itself from the controversy.
"We accept a wide range of advertisements, including those with provocative viewpoints. While we review ad copy for issues of taste, the varied and divergent views expressed belong to the advertisers," the statement said.
Estimates vary, but historians believe the Ottomans killed roughly 600,000 to 1.5 million Armenians in the genocide, beginning in 1915. The Vatican, France and Germany are among the countries that have officially recognized the atrocities as a genocide, but Turkey does not. Nor does the United States, saying the recognition would harm diplomatic relations with a key NATO ally. Congress introduced a resolution last year to acknowledge the massacres on their 100th anniversary, but it ultimately went nowhere.
Fact Check Armenia did not respond to HuffPost requests for comment.
Related
Popular in the Community