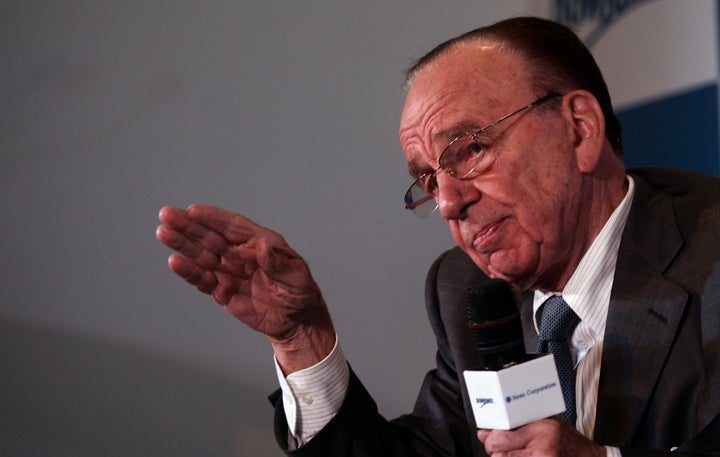 NEW YORK -- The Wall Street Journal may want to consider some editorial input from its advertisers.
Such a thing would be journalistic sacrilege. But the full-page that ran last week in the country's biggest newspaper by circulation -- a call from nearly 70 big-name companies for a strong deal to curb greenhouse gas emissions -- seems more in touch with scientific reason than much of anything found on the editorial and opinion pages.
In the wake of the historic climate deal struck in Paris last week -- in which 195 countries agreed to a framework for weaning the world off fossil fuels -- the opinions of the editorial board of the country's business newspaper of record seem to be as toxic as pollutants they seem OK with spewing into the atmosphere.
Economist Jeffrey Sachs wrote in a blog post that appeared in The Huffington Post on Monday that the job of business leaders is to look ahead and around corners, to see what is coming next.
"Taking The Wall Street Journal editorials as fact would cost the U.S. its global leadership in the era of the high-tech, low-carbon world economy," he wrote.
Two spokespeople for the WSJ did not respond to requests for comment.
But the board spoke loud and clear in Sunday's lead editorial.
"Forgive us for looking through the legacy of smoke, but if climate change really does imperil the Earth, and we doubt it does, nothing coming out of a gaggle of governments and the United Nations will save it," the board wrote.
"The editorial page is going to get less attention on that issue because it's really failing those readers and it's not dealing with reality."
To be sure, the paper has always had a more stoic, pro-business bent than its fellow national broadsheets. Until fairly recently, big businesses were wary of strong action to curb climate change. It just wasn't economical. Oil, coal and gas are cheap, in part due to government subsidies, and easily accessible. Solar, wind and other renewable energy sources, by contrast, have been historically scarcer and more expensive. Not to mention that the fossil-fuel industry has put up a fierce fight.
That has begun to change. The prices of solar panels are rapidly declining. Though fossil fuels remain fairly inexpensive, the deal in Paris will likely prompt more aggressive crackdowns on emissions -- including, as many have called for, a tax that puts a price on carbon. Major corporate players from an array of sectors have pledged to convert their operations to use 100 percent renewable energy within the next two decades.
Therein lies the most significant change here -- big business is behind the deal. That's what made the 21st Conference of the Parties, or COP21, so different from similar global gatherings in Kyoto in 2001 or Copenhagen in 2009. Corporations realized that the extreme and increasingly unpredictable weather and climate changes that come of global warming were bad for business.
"Serious businesses need serious help with analysis because these are complicated issues," Sachs, who teaches at Columbia University, told HuffPost by phone on Tuesday. "It has really done a disservice to businesses."
But the 17 members of the WSJ's editorial board didn't seem to get the message, even when it was printed on prime real estate in their newspaper's pages. Full-page, forward-facing ads in the national edition alone can sell for more than $680,000.
"They're behind their own readers on that issue," Ken Doctor, a veteran media analyst who runs the site Newsonomics, told HuffPost. "To that extent, the editorial page is going to get less attention on that issue because it's really failing those readers and it's not dealing with reality."
The editorial board's view sets it apart from just about every major intellectual institution with the exception of one: the Grand Old Party -- the only major political party in the world that denies climate change outright or that it's a problem that should be addressed, according to Eric Roston, the sustainability editor at Bloomberg.
"It's an anomaly that's so weird, and it's been going on for so long," he said during a segment on Minnesota Public Radio last Thursday.
For Rupert Murdoch, the Fox News founder who bought the WSJ eight years ago, partisanship pays. The right-wing opinions spewed on his cable news channel, as riddled with bigotry and factual inaccuracies as they often are, generate huge viewerships that turn into massive profits. Just last month, Fox News had its highest monthly ratings in a year.
"If you're zigging when everyone else is zagging, and that's a big enough audience to support your cost structure, it makes sense, especially if no one else goes there," Ava Seave, an analyst at the market research firm Quantum Media, told HuffPost. "From a strategic standpoint, that could look like a good area."
The biggest problem is that the editorial board may be influencing the news coverage.
A study published in August by researchers at Rutgers University, the University of Michigan and the University of Oslo found that -- from 2006 to 2011 -- the WSJ's news reporting rarely mentioned the threats or effects of climate change, compared to the country's other leading broadsheet newspapers.
The WSJ mentioned the impacts of climate change on the environmental, public health, national security or economy in just 21.6 percent of climate stories, the study found. That compares to 40.3 percent at The New York Times, 48.8 percent at The Washington Post and 58.2 percent at USA Today.
The WSJ appeared to be less likely to cover climate change as a looming threat. The study found that the paper mentioned present-day threats from climate change in just 12.7 percent of stories. Put that against 28.3 at the Times, 39.5 at the Post and 40.3 at USA Today.
By those measures, it seems, as The New York Times columnist Joe Nocera wrote in 2011, has been "Fox-ified."
Still, that may not be a sign of overt editorial bias, Doctor said. It may just demonstrate the paper's priorities.
"The question isn't just tilt on these kinds of things, it's more nuanced," Doctor said. "How much of its resources does a news organization put into its coverage of a particular topic? Of course, the Journal is going to cover a major world event. However, the volume, depth and breadth of news coverage is going to vary from what The New York Times, The Guardian, the BBC and The Washington Post are doing."
Related
Popular in the Community