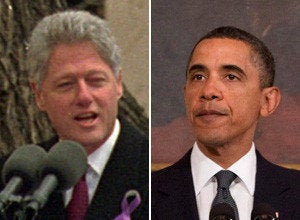 WASHINGTON -- We don't yet know the extent to which the Tucson murders were about politics per se, though the alleged killer apparently did deliberately target a member of Congress. But violent national tragedies such as this one can profoundly affect the temper of the times--and the fate of the presidents who are in office when they happen.
The most vivid and obvious occurred almost a decade ago, when Al Qaeda attacked on September 11, 2001. President George W. Bush, his presidency until that point largely adrift, spoke amid the rubble of the World Trade Center four days later.
He made many mistakes thereafter. We are living with the consequences of them. But it is hard not to conclude that his bullhorn moment in New York--capturing Bush at his ardent best--all but insured his re-election three years later.
Bill Clinton had an analogous moment. In the spring of 1995, he was being widely dismissed as a political irrelevancy. Newt Gingrich had swept into power with an anti-federal agenda that dominated Washington.
But then, on April 19 of that year, Timothy McVeigh blew up the Murrah Federal Building in Oklahoma City, killing 168, including 19 children under the age of six. Horrifyingly vivid pictures of infants being carried from the rubble were broadcast worldwide.
Clinton's political resurrection began four days later. It had nothing to do with McVeigh, a former soldier who had taken a murderous turn from anti-authoritarianism to racist paranoia. The president was careful, as well he should have been, to avoid suggesting any link between his political foes and the event.
Rather, in a short but eloquent address--now regarded as a classic of modern presidential rhetoric--he recalled his own roots in nearby Arkansas, invoked God and the Bible, and called not only for justice but also for tolerance, forbearance and love.
The tone was brotherly, preacherly: In other words, Clinton at his empathetic best. It reminded the public of what they liked about Bubba, and that--more than any ideological "triangulation"--is what set him on the road to reelection the next year.
Now comes Tucson. The deaths there are not about politics, ideology or party. From what we know, Jared Loughner's acts were those of a madman divorced from reality, let alone from public debate.
But that doesn't make Tucson politically meaningless. The president need not, and should not, speak of ideas or programs or parties. What he can speak about, and what perhaps he will speak about, is civility.
Arizona has become a ferociously divided and dangerous place, in which our indispensable need to argue--arguing is, after all, who we are as a people--seems at times to veer into an abyss.
Rep. Gabrielle Giffords--"centrist" Democrat, survivor in a district with more Republicans than Democrats and more independent voters than either--has prospered in Congress by crossing lines and doing so with a sense of earnestness and good will.
Like her, the president has been attacked harshly of late from both sides: by progressives who regard him as a sellout, by Tea Partiers who regard him as a power-mad socialist usurper.
He and Giffords think of themselves as fellow travelers on a middle path of civility and compromise in a dangerous world. The president will likely argue that, implicitly if not explicitly.
Fate works in strange ways. This event is the first on the watch of Obama's new chief of staff, and a deal-making, turn-the-heat-down approach to politics is what Bill Daley is all about.
As was the case with Clinton, Obama may be able to remind voters of what they like best about him: his sensible demeanor. Amid the din and ferocity of our political culture, he respectfully keeps his voice down, his emotions in check and his mind open.
That is the pitch, at least. The trick is to make it without seeming to be trying to make it. He will, after all, be speaking at a funeral.
Popular in the Community