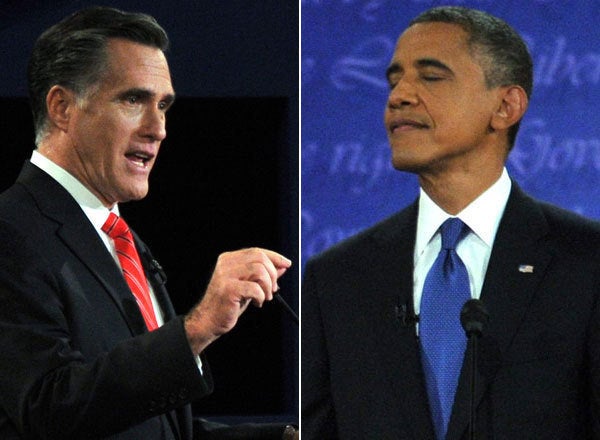 The host of last week's presidential debate, the University of Denver, either doesn't understand how to support American workers or doesn't care.

The University's souvenir bag, given to all campus visitors, had a series of "presidential debate 2012" items that were "made in China." That's right. At the very site of one of the most important and symbolic political events this year -- the host campus gave U.S. textile and manufacturing workers the shaft. The baseball cap sporting a mountain/university logo and the words "Presidential Debate 2012 -- University of Denver" has a label inside that says "Made in China." The water bottle featuring that same University/debate logo also says "Made in China." The reporter's notebook doesn't say where it was produced but features the debate logo and a quote from Benjamin Franklin that says, "Where liberty dwells, there is my country."
Liberty doesn't dwell in China. Workers in that nation are exploited and denied basic human rights. Furthermore, Chinese companies rarely show any concern for the environment. But even if Chinese companies were required to provide the same wages, standards, and conditions that we demand in the United States, wouldn't we still prefer to support the American worker? American workers are part of our communities -- they are our family members, neighbors, and friends. And one of the easiest ways we can support our own communities and bolster the U.S. economy is to buy products that are "Made in the USA."
I suspect the University of Denver didn't consciously or deliberately choose Chinese manufacturers over their American counterparts. It appears the university's publicity and souvenir efforts were handed over to a "subcontractor/vendor" who decided to buy the products on the university's behalf as cheaply as possible.
However, none of us -- whether we are a university or an individual -- can continue to stay "uninvolved," or look the other way about where we are spending and investing. Over the last 12 years, the American textile industry has lost over a million jobs, thanks primarily to American consumers seeking out comparatively cheaper clothes made overseas. While it's less expensive to make something by exploiting workers, as textile companies do in places like China and Malaysia, that's not our standard in America. We stand for basic human decency and dignity. And we should be supporting our fellow citizens, not undermining them
All of us have an opportunity to make a difference, whether you are a university choosing a debate souvenir vendor or a broadcast journalist buying a suit jacket to wear that night on TV. As I've discussed on my show Take Action News (sign up for the podcast here), I buy my suits from high quality U.S. manufacturers that proudly sport a label inside that says "Made in the USA" and "UNITE" (Union of Needlepoint and Industrial Textile Employees.)
The fact is our purchasing power has an impact on products across the spectrum. Whether we are choosing clothes, food, gasoline, or toothpaste -- we have the opportunity every day to make a difference. And it's now easier than ever to learn which products and companies stand for corporate and social responsibility and which do not.
It may be too late for the debate hosts the next two weeks to make sure their logos are plastered on hats, bottles, notebooks, and pens that were "made in the USA." Still, it's never too late for all of us to stand up, take action, and declare that buying products made in the U.S. matters.
Popular in the Community