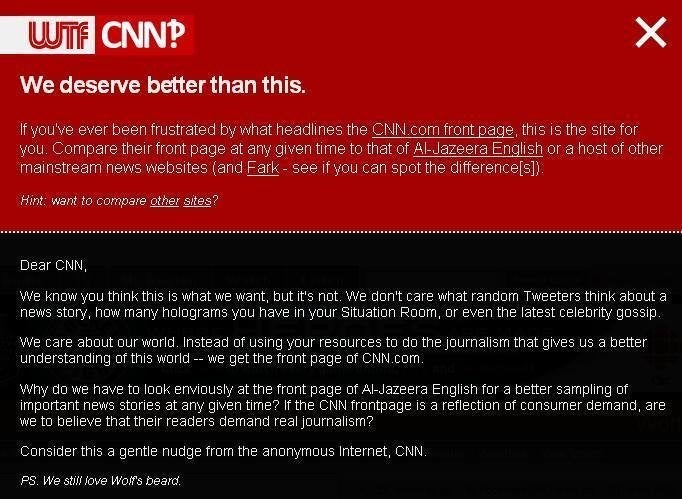 Remember a couple of weeks ago, when CNN's frontpage directed visitors to explore "Two sides of the Confederacy debate" -- you know? The "debate" that was actually settled by a whole big war? This has been a long time coming.
Visitors to the site are greeted by a message from its anonymous founder:
Dear CNN,

We know you think this is what we want, but it's not. We don't care what random Tweeters think about a news story, how many holograms you have in your Situation Room, or even the latest celebrity gossip.

We care about our world. Instead of using your resources to do the journalism that gives us a better understanding of this world -- we get the front page of CNN.com.

Why do we have to look enviously at the front page of Al-Jazeera English for a better sampling of important news stories at any given time? If the CNN frontpage is a reflection of consumer demand, are we to believe that their readers demand real journalism?

Consider this a gentle nudge from the anonymous Internet, CNN.

PS. We still love Wolf's beard.
Despite the fact that it name-checks two prominent bugaboos of mine -- the holograms and the network's crazed, institutional commitment to reading Twitter aloud to people on teevee -- I am not responsible for this website, okay? I would have also mentioned that time Richard Quest was arrested in Central Park with a pocket full of methamphetamine and a length of rope tied to his junk and was only suspended by the network. Obviously this is precisely the sort of H.R. policies that make CNN a great place to work, but seriously, y'all: WTF?
Users may then click through to the site itself, which allows users to compare the offerings at CNN to other news sites -- such as Al Jazeera, the BBC, the CBC, NPR and Fark -- in real time.
Popular in the Community