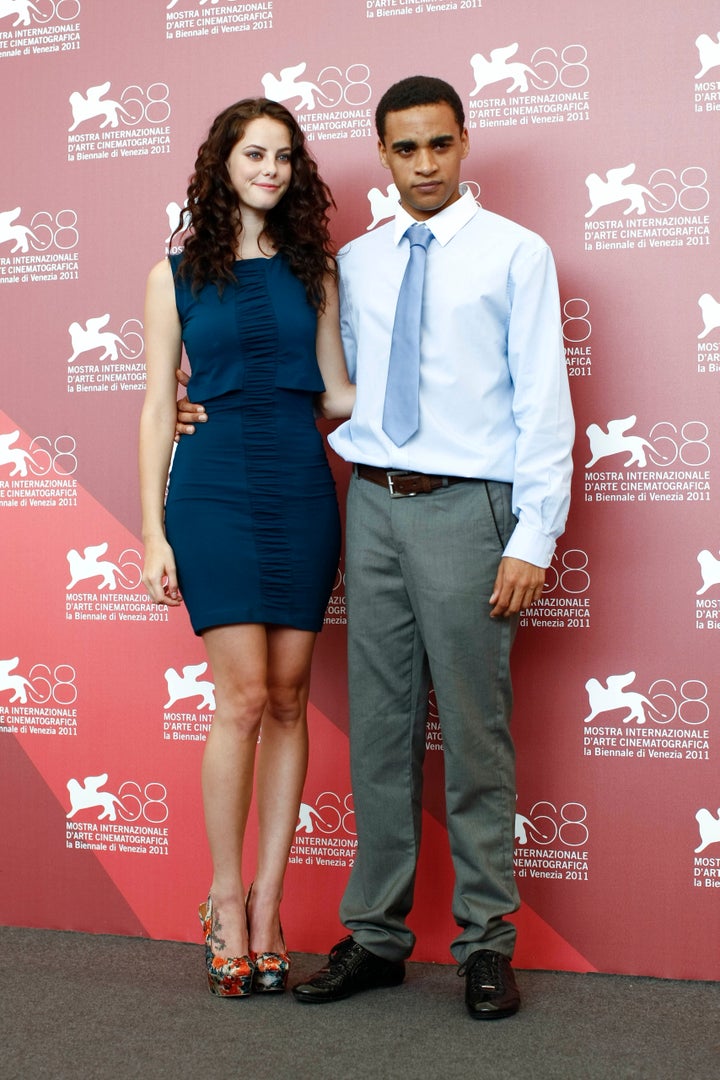 Andrea Arnold switches out the modern urban grit of her last indie darling "Red Road" for the classic rural grit of what's sure to be her next indie darling, "Wuthering Heights." So far, the critics agree there is something ingenious about Arnold's bare-bones, naturalistic take on the Gothic romance. Her decision to cast relatively unknown actors and actresses seems to have paid off too, with most critics paying kudos to the pair manning the young Heathcliff and Cathy (first-timers Shannon Beer and Solomon Glave). The biggest surprise windfall: her unorthodox Heathcliff, who for the first time in adaptation history, is black. Glowing praise aside, there's some who find it slightly too austere, too filmic and too modern for its own good.
Screen Daily: "Andrea Arnold's adaptation of Emily Bronte's literary classic Wuthering Heights is not a loveable film, but it is a courageous and impressive one. What makes it is also what mars it: a poetic, intensely auteurish take on the material that more than once comes between us and the story. Paradoxically, for all the explosive emotion of its source material, this is a curiously poised and dry-eyed film."
Playlist: "While Brontë purists might take issue with some of Arnold's creative decisions, they also manage to make it a radical, but entirely successful, version, one that might be her most uncompromising film yet. Arnold might misstep a little at the last with the use of a new song, "The Enemy," by Mumford & Sons, but for 99% of the running time the 2011 version of "Wuthering Heights" is a model of how to bring a classic novel kicking and screaming into the twenty-first century." Grade: A
Variety: Andrea Arnold's first period feature and first adaptation of another writer's work is unfortunately more interesting in theory than it is to watch. Working with mostly non-professional thesps whose inexperience drains away much of the material's intrinsic passion, pic is dramatically flat and almost stylized in its austere excision of dialogue, non-source music and, strangest of all given the book's romantic rep, overt love scenes. The dragginess is due to not only Nicolas Chaudeurge's unvaried rhythms but also the monotony of some of the performances; young Glave and Beer as deliver every line in the same flat, affectless way, and although at first it's interesting to see a version of the story with so much less screaming and crying, it sort of lacks a point after a while."
Xan Brooks for The Guardian: "It pushes the story all the way back to its original 1847 incarnation and then beyond, up-river, into primordial sludge. What comes back is a beautiful rough beast of a movie, a costume drama like no other. This might not be warm, or even approachable, but it is never less than bullishly impressive. Even if the casting of a black actor as Heathcliff makes the tale more about race than class, the seething rage that drives him might just as easily have been sparked by one form of oppression as the other. What I found more of a problem was the faint stiffness and self-consciousness of the acting and the crucial lack of chemistry between the adult Heathcliff and Cathy." Score: 3/5 stars
The Telegraph: "Nature is the true star of Andrea Arnold's Wuthering Heights, a raw and affecting adaptation that will bring a new audience to the Brontë story. Windswept moors have never looked as bleak as they do here, nor as rain-sodden. Solomon Glave is a find as the young Heathcliff, wordlessly conveying the character's pain as he suffers beatings and humiliations. A scene in which Cathy (Shannon Beer) tends his wounds after he has been whipped is extraordinarily moving. The second half is weak by comparison, as the adult Heathcliff (James Howson) returns to find Cathy married." Score: 3/5 stars
AFP: "Fierce devotion and raw passion bind together novelist Emily Bronte's well loved characters Cathy and Heathcliff, captured by Arnold through intimate, sensual hand-held camera shots and a visceral display of the forces of nature."
The Hollywood Reporter: "So audaciously cutting-edge does it feel – which could perhaps draw comparisons with France's reigning female auteur Claire Denis, and even Catalan experimentalist Albert Serra – that it suddenly makes Cary Fukunaga's current (Charlotte) Brontë adaptation, the solidly respectable Jane Eyre, look almost as old-fashioned as Robert Stevenson's 1943 version starring Orson Welles and Joan Fontaine. Arnold's only real misstep is the inclusion of a newly-commissioned, unmistakably modern sounding song by popular British neo-folk band Mumford & Sons during the final moments and over the closing credits. What Arnold doesn't include, however, is the second half of the book. Like almost all screen adaptations, the action ends shortly after Cathy's death."
Stephanie Zacharek for Movieline: "The earthiness of Arnold's approach — she cowrote this adaptation with Olivia Hetreed — does amount to a degree of pretension: Her choices are so bold and definitive that you're always aware of them as filmic choices. And in the end, I didn't get the emotional charge from Wuthering Heights that I was waiting for, hoping for. But it's certainly one of the thorniest and most thought-provoking films of the festival. As literary adaptations go, it's both doggedly faithful and willfully untamed — a movie that's hard, maybe, to love, but easy to respect."
"Wuthering Heights" does not currently have a U.S. release date.
WATCH clips from the movie:
Calling all HuffPost superfans!
Sign up for membership to become a founding member and help shape HuffPost's next chapter