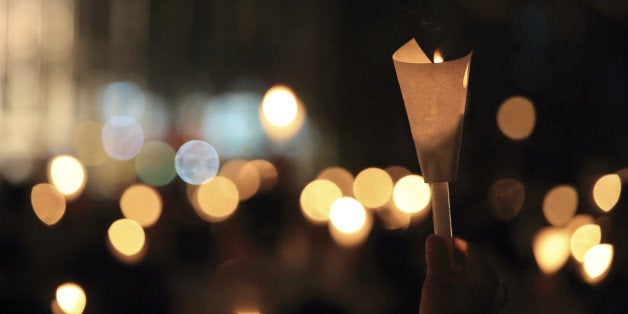 In response to the recent events at the University of Missouri, West Virginia University students, faculty, and administration stood in solidarity Thursday night. Organized by the NAACP chapter at WVU and other diversity groups on campus, demonstrators showcased their ability to support the necessary dialogue of campus culture while doing so in a peaceful manner.
WVU NAACP chapter President, Jihad Dixon, expressed the need for this demonstration because WVU has students of all colors, and he wished to create a further discussion of campus diversity in that all students are diverse in some respect. This is not an issue only facing the University of Missouri but a fundamental human rights issue. These were some of the reasons why Dixon and other student leaders around campus felt the need for the demonstration. Dixon had very positive remarks for the University's attention to diversity stating, "I think people of color are definitely fortunate to be attending school where we are right now.
"They are making great strides in the Office of Diversity Equity and Inclusion to make sure we are comfortable here," Dixon added.
Though organized and largely attended by students, those in attendance were not just students. Nearly 100 students, faculty, and administrators attended Thursday night's demonstration with attendance from West Virginia University's Dean of Student, Vice President of Diversity, Equity, and Inclusion, and University President, E. Gordon Gee.
Vice President of Diversity, Equity, and Inclusion, David Fryson, applauded the student-led demonstration. Vice President Fryson poignantly stated, "Not only can racism happen anywhere, but the solutions can happen anywhere. West Virginia University is one of these places where we are on the forefront of coming together with positive solutions, not just when something negative happens."
University President E. Gordon Gee echoed Vice President Fryson's sentiments. "I am very grateful to be here, and our students are on the same side as university administration," Gee explained. We are not divided; we are together."
President Gee acknowledges that universities would seize to exist without students. As such, students need to be treated with respect and have their voices heard. "Unless we do that, we are going to have a constantly fracturing activity within universities," Gee asserted.
Given his extensive background in academia, Gee's approach to listening and engaging students is worth noting. E. Gordon Gee has held more university presidencies than any other American. Gee has served as a University President for almost half of his life at various institutions including: West Virginia University, University of Colorado, Ohio State University, Brown University, and Vanderbilt University.
Hopefully this demonstration communicates the importance of the student and their opinions. Failure to listen to students about their experiences, both positive and negative, will further perpetuate these types of issues on college campuses. Students should attend a university or college where they feel comfortable in their surrounding and expressing any issues to faculty and administrators. In short, the collective impact of students and university faculty and administrators working together far outweighs these groups opposing each other.
Calling all HuffPost superfans!
Sign up for membership to become a founding member and help shape HuffPost's next chapter