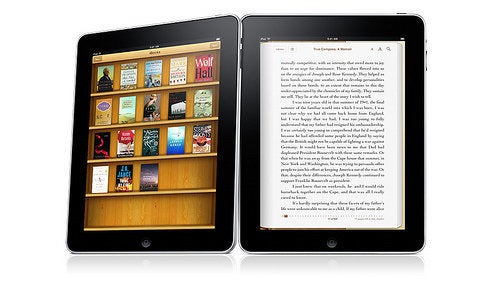 The tech world is buzzing today with news from Steve Jobs's speech at 2010's WWDC -- Worldwide Developers Conference -- but the new iPhone isn't the only thing to be excited about. Jobs started out his presentation with some updates about the iPad, including some cool new stats and updates for iBooks, the iPad's eBook app.
First, Jobs commented on the success of iBooks so far. He noted that publishers have reported that, already, 22% of eBook sales are through iBooks. gdgt quotes Jobs: "[F]ive of the six biggest publishers in the US tell us that the share of iBooks is up to about 22% -- in about 8 weeks!" Jobs also announced that since the launch of the iBookstore 65 days ago, "users have downloaded over 5 million books" -- about 2.5 books per iPad, he said.
In light of this success, Jobs announced some major new improvements for the app. First, Apple has added a Stickies-like note-taking feature, and has a new bookmarking tool. The biggest news, however, is that iBooks will now allow users to read PDF files just like they would eBooks. Engadget quotes Jobs: "We're also adding PDF viewing in the app. We've put a selector right up top, you can select PDFs, you get a whole new bookshelf. They just look gorgeous." The updates will be out later this month, and could be huge for book editors who want to use the iPad for reading manuscripts, as well as anyone who needs to read PDFs on a regular basis -- most other eReaders currently available make it very difficult to read PDFs, if not impossible.
Apple's other big iBooks news is that the iBookstore will soon be available for iPhones, and that users will be able to sync their books across all of their Apple devices. Engadget quotes Jobs: "We'll have it on the iPhone, the iPad, and the iPod touch. What can we do with these together? First, you can purchase and download a book. It will download wirelessly. You can download the same book to all your devices at no extra charge. Buy it on your iPad, download to your iPhone. And iBooks will automatically and wirelessly sync your current place, all your bookmarks, and all your notes."
We think that these updates make the iBookstore even more exciting for publishing people and book lovers alike -- the eBooks future is looking good for Apple. What do you think? Let us know in the comments section!
Popular in the Community