According to Trish Stratus, her upcoming film Gridlocked "is an homage to old-school action flicks." While the movie was influenced by Lethal Weapon and Die Hard, Stratus drew on something more personal for her onscreen portrayal: The seven years the Hall of Famer spent with World Wrestling Entertainment.
"I play a female who's trying to make her mark in a male-dominated world," says the legendary professional wrestler of her Gridlocked character. "She's proven herself, and through her work, she's earned her spot in the boy's club."
Premiering Sept. 26 at the Austin, Texas at Fantastic Fest, the action movie stars Stratus as "Gina." She is the lone female among law enforcement agents working to secure a police training facility under attack from a band of armed mercenaries.
"The environment she is in is very much like with my wrestling days, very much like my [WWE] Trish Stratus character," shared the grappler-turned-actress during a telephone interview. Then with a laugh, she said: "A strong-willed female who kicks some serious ass -- sounds familiar, right?"
Widely considered among -- if not the -- most successful female competitor in sports entertainment history, Stratus had a historic WWE career. She joined the pro wrestling juggernaut in 1999, making her on-air debut the following spring accompanying male wrestlers to the ring. Shortly after, she graduated to in-ring competition.
Initially, Stratus admits, women wrestlers were seen only as "eye candy." The Canadian-born superstar remembers her early matches plagued by audiences chanting "puppies" (referring to the women's breasts). However, after she and early opponents put on a series of solid matches, fans began to respond.
"I remember Victoria and I coming back to the dressing room one night and were excited that we had 'Holy shit' chants, rather than chants for 'puppies', a sign that the fans were taking our matches seriously and we were giving them action not expected from the women,'" Stratus reflected.
Lisa Marie Varon, a multiple-time champ in WWE as "Victoria," went on to a succession of titles in rival company Total Nonstop Action under the ring name "Tara." But in 2002, her tug-of-war with Stratus over the Women's title was one of WWE's hottest programs.
Victoria was just one of many legendary opponents for the then-blond bombshell. Stratus traded the WWE Women's title with greats like Jazz, Molly Holly and Mickie James. From 2004 until her retirement in 2006, she engaged in a career-defining, off-and-on feud with Lita, whom she eventually inducted into the WWE Hall of Fame.
"We had the chance to develop the crowd's interest in women's wrestling organically," said Stratus of that generation of competitors. "The women I was working with at the time were just phenomenal. During that time, we had to reeducate the fans on what to expect from women in the ring. It was a very special time where we were appreciated for the athleticism we brought to our performances."
During her career, Stratus held the Women's title for a combined 828 days -- 448 of those consecutively -- to become one of the most recognizable names in professional wrestling, male or female. She even had her own collector's cup available in Seven-11 stores, 13 action figures in her likeness and is the only female to date for which WWE released a life-chronicling DVD. She finally hung up her boots in Sept. '06, a night after winning her seventh and final WWE Women's title in front of a hometown crowd in Toronto.
In the years since, the one-time fitness model has become a wife, mother, small business owner and entrepreneur. After opening Stratusphere Yoga Studio in Toronto, she launched a fitness lifestyle brand of the same name which includes workout DVDs, related fitness products, a line of wellness teas and more available in Canadian retailers and through her popular website TrishStratus.com.
Still, Stratus hasn't left the entertainment industry behind. Her resume boasts several forays into reality television, including producing her own show as the host of Stratusphere on the Travel & Escape Network. Based on the same passion which pushed her to a wrestling career, the series saw Stratus visit locations around the globe to "explore indigenous fighting arts."
"I would work with the local people, and that's how I learned about the cultures and traditions of the cities we visited, as well as the fighting," she explained. "It was a wonderful way for me learn more about our big, beautiful world!"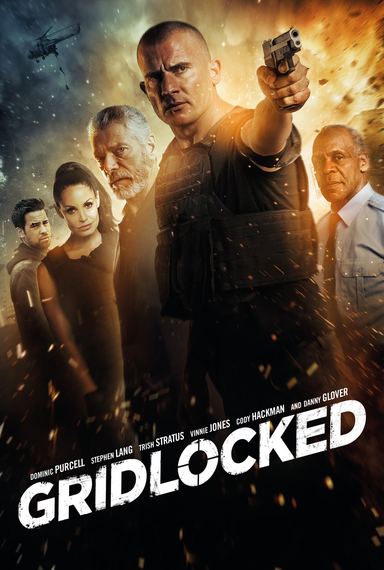 Like that series, Stratus was attracted to Gridlocked because of the film's action-based premise. According to the superstar, she was sold "when I heard I get to do my own stunts."
"Much like my first film (Bounty Hunters, 2011), with this one, I got to explore a new fighting art and work with new fight choreographers," she said. "I love getting the opportunity to mesh different fight styles."
Stratus' Gridlocked stars include Dominic Purcell (TV's Prison Break), Tony-nominated stage actor Stephen Lang (Avatar), Saul Rubinek (Frazier, Warehouse 13) and Vinnie Jones (X-Men: The Last Stand). The addition of Lethal Weapon alum Danny Glover must by considered a coup, considering director Allan Ungar's desire to pay tribute to such films.
"It's a Canadian production, so we're really excited to have its world premiere [in the U.S.]," said Stratus of the film's debut in Austin, where she is slated to hit the opening night red carpet. "Hopefully people will see it and fall in love with the action."
And what of fans who miss seeing her in a WWE ring? Stratus is confident the film can fill the void -- at least for now.
"If you're expecting Trish Stratus action," she said, "You should be very pleased with this film!"
Stratusfaction guaranteed!
Related
Popular in the Community