Recent terrorist attacks on Paris are a call to action, especially for American citizens, says pro wrestling's Bill Goldberg. "It's not if, it's when," the former World Wrestling Entertainment champion said of an imminent assault on U.S. soil, "The threat is real; it's just a matter of time."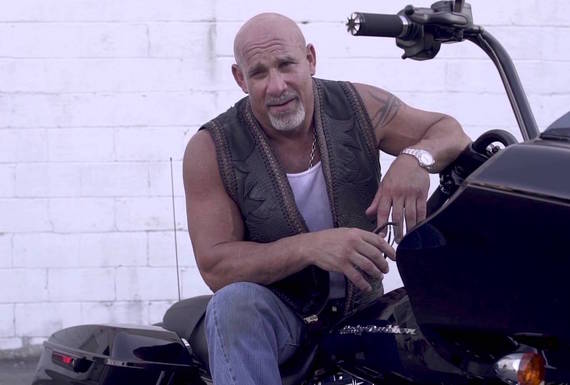 On Fri., Nov. 13, six coordinated attacks on Paris -- most notably mass shootings inside the Bataclan Theatre -- claimed 129 lives and left more than 350 others injured. Attributed to the Islamic State of Iraq and the Levant (ISIL), French President Francois Hollande has declared his country "at war" with the religious extremists.
Leaders throughout Europe are equally on edge, as plans for similar attacks in Germany and other locations - including proposed bombings of major sporting events -- surfaced in the days following the tragedy. Knowing the Western World is ISIL's primary target is a tough pill for the U.S. to swallow, Goldberg opined.
"It is very hard for an American citizen to think something like that could happen here," he acknowledged during a telephone interview even as the global community continued to mourn, "We always think it might happen in Israel, in Russia, in some third world country, somewhere where it's not our home."
A staunch supporter of the U.S. Armed Forces, Goldberg says he might once have agreed with that idea -- but no longer. Saying "the safety of the American citizen is at risk now more so than any other time," he feels it's the responsibility of each individual to "do every single thing you can to protect yourself, your family and your country" -- which starts by accepting the harsh realities we now live in.
"The new age of terrorism isn't on the battlefield, it's in your own backyard," Goldberg pointed out. "Whether it's at a concert in France or a restaurant in the United States, terrorism doesn't have to happen in a military installation by any stretch of the imagination.
"The events over the last weekend have made it clear terrorism is truly a reality for us all," he continued. "It can happen anywhere, in a setting that is not militarized."
Watch: The Trailer for Goldberg's Upcoming Film Check Point.
The former World champion in both WWE and rival World Championship Wrestling concedes this thought has played an important role in his life for nearly a year now. In fact, it's the premise of his upcoming film Check Point, scheduled to hit theatres Memorial Day Weekend 2016.
When Goldberg first received the script, which sees a rag-tag band of U.S. military vets combatting a terrorist cell operating in their own hometown, he thought the idea a bit outlandish. As the film directed by Thomas J. Churchill and featuring Bates Motel star Kenny Johnson, Boardwalk Empire's William Forsythe, former Kansas City Chiefs/Oakland Raiders player Fred Williamson and more moves toward release, however, the concept has begun to feel almost prophetic.
"We want to believe nothing like this can happen in the U.S.," stated the sports entertainment superstar-turned-actor. "I may even have been one of those people who thought like that, but when I read this script, it became clear it's not much of a stretch for something like that to happen."
Indeed, that could prove horrifyingly true sooner rather than later. On Nov. 17, as anxieties ramped up throughout Europe in the wake of the Parisian attacks, ISIL/ISIS radicals released video footage confirming the U.S. capital is an imminent target.
"The threat is as real as it gets," stated Golberg, "It's a scary situation and a scary time."
According to the former grappler, there is only one "responsible" way to act in light of today's global climate and threats against the U.S. -- preparedness. He calls on everyday citizens to have a "game-plan" and strategy, "just in case."
"I'm not saying everybody has to walk around with a six-shooter, but they have to be prepared," said Golberg. "You don't have to be militarized, but you have to be ready."
The former NFL player encourages all to do their best to "not be a victim." From simple acts like noting exits at the movie theatre to being cognizant of those around you, he says "there's not a person on the planet who has an excuse for not being prepared."
"Do one or two things, or ten things, or 50 things that make you feel more mentally equipped for the possibilities," Goldberg went on. "It doesn't mean you're a bad-ass. It doesn't mean you're Clint Eastwood. It doesn't mean you're being someone you're not; it just means you're prepared.
"I'm not suggesting people dig bunkers," he clarified. "I'm not suggesting we militarize, but I am saying be ahead of the game. Have a plan!"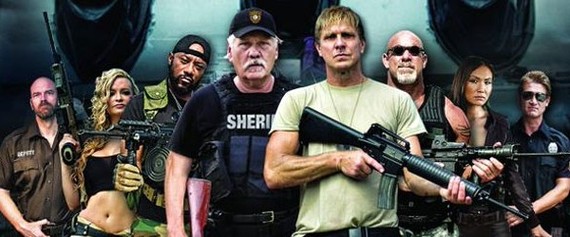 Bill Goldberg's Check Point Hits Theatres Memorial Day Weekend 2016.
Goldberg likens the possibility of terrorist attacks to living on the West Coast, where earthquake preparedness is a way of life. It is common to have a stockpile of necessary supplies, an exit strategy and more in place, just in case. "Prepare for the worst and work backwards," he asserts.
To further illustrate his thoughts, the superstar draws on personal experience gained from living on a 30-acre ranch outside San Diego, CA. Wildfires are a common occurrence, he says, resulting in one or more evacuation notices a year.
"That being the case, do you think I'm a responsible person if I do not have all my papers in order, a trailer backed up to where I can get our three horses, four dogs, two goats, our cat and -- most importantly -- my family out?" he asked. "If I wasn't prepared knowing every year there is a huge chance of a fire that will require me to evacuate my property, then I'm an ignoramus.
"If people at this point don't see that terrorism is a reality, and don't take steps to prepare themselves a little more than they were the day before," he said, "Then they are also an irresponsible ignoramus."
Meanwhile, in an ironic twist, Goldberg admits incidents such as those in France and an attack earlier this year on two U.S. Armed Forces recruiting offices in Tennessee are increasing interest in Check Point. In fact, even before its release, a sequel is scheduled to film Sept. 2016 in Portland.
"In the beginning, it was a small film with something of a far-fetched concept," Goldberg said of the movie's growing profile. "Now people are paying attention because we're seeing it isn't as far-fetched as we thought. I wish that wasn't the case."
Related
Popular in the Community