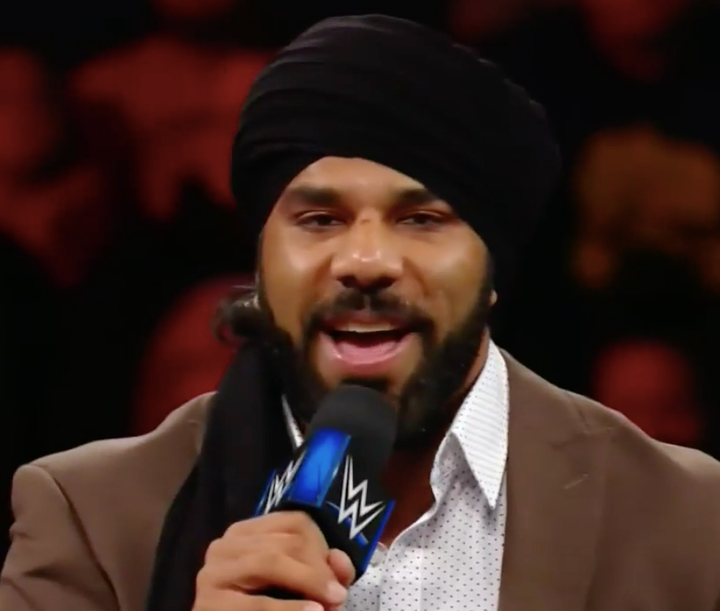 On Tuesday night's episode of "WWE Smackdown," current league champion Jinder Mahal did a promo in which he, well, tried to smack down rival Shinsuke Nakamura. But the crowd didn't take too kindly to the champ's insults, which relied on racist stereotypes for laugh lines.
"You always 'rook' the same," Mahal said during the live telecast. "They call you Mr. Miyagi," he added ― a reference to the karate master in the "Karate Kid" movies.
Mahal's backup goons, the Singh Brothers, mimed martial arts poses from those films while laughing hysterically at their leader's scripted jokes.
Instead, many audience members decided enough is enough. They shouted "That's too far!" in unison. One man could be heard yelling, "That's too racial."
You can see the complete segment below. The crowd gets upset around the 3:16 mark.
Pro wrestlers, especially "heels" like the character Mahal plays, commonly rile up the crowd for effect. But this incident has left a bad taste in the mouths of WWE fans like 15-year-old Noumaan Faiz, who was in the audience.
"WWE should have never approved this," Faiz told The Washington Post. "Racism is definitely an idiotic way to get heat and not necessary."
He added, "It also makes the writers look bad."
Which makes sense, of course, because who other than a 72-year-old billionaire who thinks burritos are called steak wraps would think the best way to deal with sensitive real-world issues is to reference a movie made in 1984?
The rant by Mahal, a Canadian of Indian descent, is also inspiring anger on Twitter: 
However, Sporting News columnist Kevin Eck argues that context is important in understanding Mahal's prewritten rant.
"Mahal is a heel character who has accused American fans of being prejudiced against him because he's Indian," Eck wrote. "Now, in an attempt to get into Nakamura's head before their match at the Hell in a Cell pay-per-view on Oct. 8, Mahal is trying to convince Nakamura that while the fans may cheer him, deep down they are prejudiced against him as well because of his ethnicity."
Eck continued, "Mahal made intentionally bad racist jokes about Nakamura and put the blame on the audience, saying that's how they truly feel, not necessarily how he feels. It's not like Mahal is out there angrily spouting racial epithets in an effort to convey that his character is truly racist."
Still, as a result of the outcry, WWE released this statement to The Washington Post:
Just like many other TV shows or movies, WWE creates programming with fictional personalities that incorporates real world issues and sensitive subjects. 

As a producer of such TV shows, WWE Corporate is committed to embracing and celebrating individuals from all backgrounds as demonstrated by the diversity of our employees, performers and fans worldwide.
The Post noted that the apology is very similar to the one WWE released in 2015 when it canned Hulk Hogan after company executives heard an audiotape of him using the N-word repeatedly.
REAL LIFE. REAL NEWS. REAL VOICES.
Help us tell more of the stories that matter from voices that too often remain unheard.