"The biggest thing holding me back is fear," confessed second-generation World Wrestling Entertainment superstar Charlotte of her in-ring career, "Being afraid to fail and not live up to such a legacy my dad has made."
It seems a logical fear for any young grappler, especially any whose parent achieved even a modicum of success in professional wrestling. But Charlotte isn't just any wrestler -- and neither is her father. The blonde beauty is the daughter of two-time WWE Hall of Famer "Nature Boy" Ric Flair.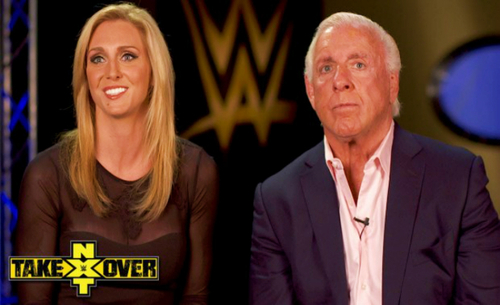 "I do feel the pressure, but I also feel the drive," she said of living up to the elder Flair's iconic career. "My dad was really hard on me as a kid in sports, so this is no different."
By anyone's standards, Flair -- a combined 16-time World Heavyweight champion in WWE, World Championship Wrestling and the National Wrestling Alliance -- left some mighty big footprints. However, since signing a WWE contract in May 2012, the 28-year-old has proven to be, well, a natural.
Her father was quite the topic of conversation when Charlotte appeared at a recent WWE pre-sale ticket event for WrestleMania 31. While promoting wrestling's biggest annual extravaganza, coming March 29, 2015, to the Levi's Stadium in Santa Clara, CA, she spoke enthusiastically about her sports entertainment roots.
"I remember Wahoo McDaniels being my babysitter at some shows," she stated, recalling once starting to cry when the Southern wrestling legend -- one of her father's most intense NWA rivals -- paid her too little attention. Laughing, she said, "My mom was so mad!"
With a love of the spotlight apparent from an early age, Charlotte grew into an athletic youth. In an on-site interview, she acknowledged, "I've been in sports my whole life."
A stand-out high school athlete in the North Carolina hometown from which she took her ring name, Charlotte scored two NCHSAA 4A State volleyball championships before a career as a personal trainer. However, landing in the industry she's been around since birth seemed inevitable.
Charlotte is now proving to be a dominant force in the WWE's Florida-based NXT developmental territory. This past May, with her famous dad at ringside (see video above), she defeated fellow second-generation superstar Natalya -- daughter of multiple-time tag team champ Jim "The Anvil" Neidhardt -- for the company's Woman's championship.
Even with the title draped across her shoulder, Charlotte is still sometimes haunted by others' expectations of what it means to be a "Flair." Finally she had an epiphany.
"One day I realized it's ok to grow, it's ok to fail," she pointed out, "I've only been doing this two years; people forget that...I just want to get better every day."
Rather than living to her father's record-breaking success, Charlotte is more focused on reshaping women's wrestling. Her biggest motivation is "the drive to change the face of the [WWE] Divas division."
"I want it so bad," she shared.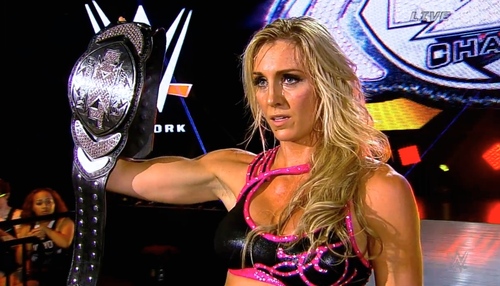 "Obviously NXT's brand, we have a little more time to work. There's a little more Divas focus -- more story lines, more backstage segments," Charlotte explained, "As NXT is the future, I hope as we all come up together, the Divas division will have more depth and be stronger."
"Not to say it's not strong now," Charlotte assured. She gives due credit to current superstars AJ Lee and Paige (presently trading the WWE Divas title), her NXT rival Natalya and the cast of WWE reality series Total Divas. "But I hope with what NXT has to offer," she said, "The division will just be incredible."
In Charlotte's mind, that should certainly include the biggest stage in professional wrestling: WrestleMania. While the event is months away, and she has yet to be called up to the WWE's main roster (necessary to compete on the pay-per-view), promoting the event where he father wrestled his retirement match in 2008 is a dream come true.
"You just can't describe the feelings," Charlotte gushed.
"To know that I am a part of what my dad devoted his life to, and that I can carry on his legacy, it's unbelievable," she cooed. "I never thought I would have this opportunity."
Calling all HuffPost superfans!
Sign up for membership to become a founding member and help shape HuffPost's next chapter