In the ring, Charlotte Flair fearlessly crushes stereotypes and breaks boundaries for female competitors as she rewrites professional wrestling history. Yet writing her own history, the World Wrestling Entertainment superstar confessed, proved much more daunting.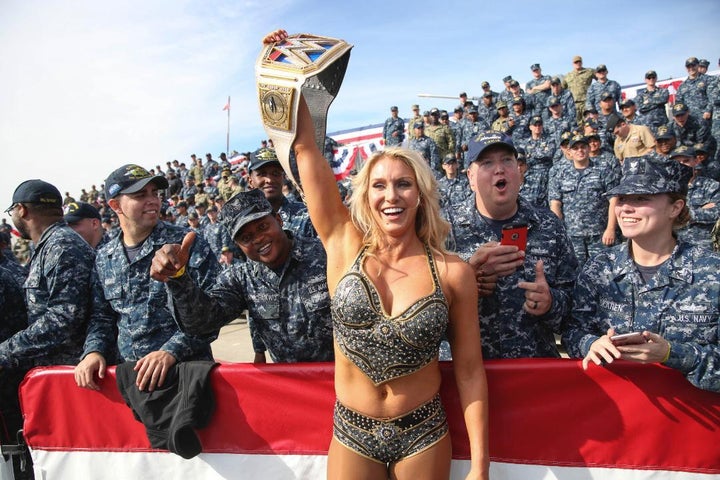 Released by St. Martin's Press earlier this year, Second Nature is a dual biography penned by the reigning WWE Smackdown Women's champion and her legendary father, "The Nature Boy" Ric Flair, with assistance from Brian Shield. The 320-page joint memoir is more than simply a collection of in-ring anecdotes from two generations of professional wrestling royalty.
"Brian and I would have a lot of conversations like we are now, where he would interview me and tape me to use to go back to jot down notes, but I wasn't able to express myself this way," the five-time WWE Women's champion described the two-year period leading to the book's September 2017 release.
"So I had to journal a lot for those two years, and as I was journaling, I started to remember things," she told the weekly pro wrestling-themed podcast. "I was like, 'How do I not remember this? Why do I not think of this? This had such an impact in my life!'"
LISTEN: Charlotte Flair Discusses Second Nature, Chemistry with Natalya
The soul-searching paid off. Declared a "must-read" by the Orlando Sentinel, NPR described Second Nature "like wrestling itself -- raw, cathartic and fun." Divided into two sections, first the elder Flair, then his daughter, share candidly the unscripted realities of life as pro wrestling superstars.
A 16-time World heavyweight champion considered by many the greatest pro wrestler of all-time, "The Nature Boy" holds nothing back in the opening portion. He confesses shortcomings as a father (largely due to a focus on being the character he played on TV), the emotional break brought on by his 2008 retirement, struggles with divorce and financial hardship.
Charlotte, though, acknowledged being much more hesitant. "There were days when I was like, 'I don't want to share this!'" recalled the champ, who defends her title against long-time rival Natalya at the WWE Clash of Champions pay-per-view Sun., Dec. 17. That's when writing the book alongside her father proved especially helpful.
"I know how open and honest my dad is," she stated, "So I thought this was my opportunity to be open and honest."
Though anything but easy for the collegiate volleyball champ who has gone on to become one of the first women in history to headline a major WWE pay-per-view event, Flair laid her truth out for the world to read. Rather than focus on life as the daughter of a legend, she details the tumultuous personal life of her 20s, "the growing pains and how being a WWE superstar changed my life."
Talking about her two, short-lived marriages proved especially uncomfortable, according to the 31-year-old diva. In Second Nature, she describes leaving first husband Riki Johnson just a year into their 2010 marriage, the result of multiple domestic assaults. Her 2013 marriage to Thomas Latimer (former Impact Wrestling star Bram) dissolved after two years.
"It really got to me when I first started in WWE that people would make fun of me being divorced," confessed Charlotte, who conceded: "My dad has been divorced so many times. I don't know why it bothered me.
"I don't know whether it's because I hate failing or I was embarrassed or comparing myself to my female peers -- I don't know," she continued, "But to just get that off my chest, explain what I've been through or what I've learned, [how] I've come out a better person. I think that was the hardest part to share."
Equally emotional, of course, was the letter written to brother Reid. The youngest of Ric's six children – the last four with Charlotte's mother Elizabeth – was also an aspiring pro wrestler. He lost a well-documented battle to addiction in 2013.
"I don't think I'll ever put losing my little brother to rest, because I have so much guilt," said Flair. "Just the fact he has never seen me on the main roster is so hard — like I deal with it every, single day."
Since dedicating her very first WWE main roster championship (the then-Divas title) to her brother, Charlotte has become a cornerstone in the industry's rapidly-changing view of females. Her 2015 arrival on WWE's Monday night flagship broadcast RAW with fellow NXT talents "The Boss" Sasha Banks and Becky Lynch heralded the onset of the "Women's Revolution"
"There are just so many things that have happened in the last two-and-a-half years," said Flair, who now calls Tuesday Smackdown! Live broadcasts home and this Thurs., Dec. 14, competes at the annual WWE Tribute to the Troops special on USA Network.
"I think the biggest thing is just saying the women are main eventing, and you aren't shocked any more," she went on to say, "Because we've done it — and proven time and time again we deliver in that spot."
Charlotte Flair Competes at WWE Tribute to the Troops Thurs., Dec. 14
For Flair, the professional advances in that same period are staggering. In October 2016, Banks and she co-headlined WWE Hell in a Cell, the first women to compete in such a match. That same year, Pro Wrestling Illustrated named Flair "Woman of the Year" while ranking her the No. 1 female pro wrestler in the world today.
Flair recently made history by yet-again upending rival Natalya. "She put me on the map," said Charlotte of the third-generation star she defeated for her first WWE title in NXT and again Nov. 14 for the Smackdown Women's belt. The last active WWE women's title Flair had not held, the victory in front of a hometown audience (Charlotte, NC, natch!) made Flair the company's very first female "Grand Slam Champion."
As the daughter of a two-time WWE Hall-of-Famer, such achievements might be expected of Flair. However, she asserts, Second Nature explains her father's limited role in igniting her passion. She said: "After reading my section, people realize my dad really had nothing to do with my career; it was really all my brother."
While it's "great that I'm attached to him," Charlotte said of her dad, perception the relationship made success easier is far from the case. What it actually did is add layers of increased scrutiny, she noted, starting the day she began training in Florida Championship Wrestling (eventually NXT).
"When you walk out through that curtain, and people know you're Ric Flair's kid, you're not going to get away from it -- either you accept it or you don't," she stated.
"Fans can think what they want," she continued, "But if I was just another 5'10" blonde that was very athletic that stepped through, I don't think I would have dealt with as much criticism as I did."
Then, in a turn truly befitting a Flair, "The Queen" found a silver lining and turned it to gold.
"I think the criticism and pressure is what's gotten me to where I am today," she concluded. "It elevated my game."
Charlotte Flair competes at WWE Tribute to the Troops Thurs., Dec. 14, 8/7 Central on USA Network.
WWE Clash of Champions pay-per-view, featuring Charlotte vs. Natalya for the Smackdown Women's title in a lumberjack match broadcasts Sun., Dec. 17, exclusively on WWE Network.
Follow Arm Drag Takedown with Pollo Del Mar on Twitter.
"Like" Arm Drag Takedown with Pollo Del Mar on Facebook.
LISTEN: Charlotte Talks Tribute to the Troops, Riott Squad, Carmella's Money in the Bank
Related
Popular in the Community