Wrestling with coming out is seldom easy for members of the LGBT community. Fortunately for Dustin Brown, when he finally decided to open up to his family last fall, he had two unexpected allies in his corner -- cast members of World Wrestling Entertainment's Total Divas.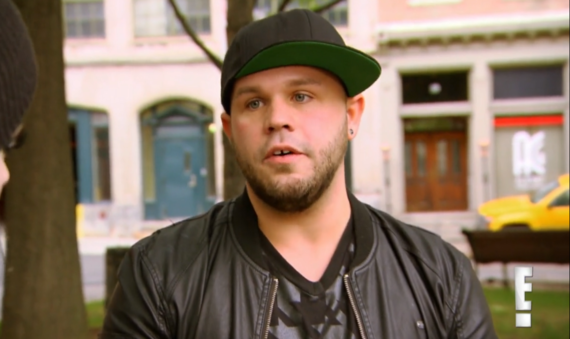 "So many people, I think, are in the position I was -- where, personally they are ready, but they don't have a strong indicator one way or another how their family is going to take it," Brown shared of his decision to share such a private moment with the world, "I wanted to show [others] it was OK to take that leap of faith and you'll be OK on the other side."
On the March 22 "No Retreat" episode of the reality series, Total Divas stars Alicia Fox and Paige joined Brown at his sister's home in Portland, OR. There he disclosed his sexuality to his conservative, religious parents Candy and Carl. Filmed last October, the 27-year-old said watching the experience unfold for millions of television viewers was "very surreal."
"Even though I had been there for all of it, it didn't register how widely seen this was going to be," he shared during a recent interview on the internet's G Radio LGBT. "It is national TV. It has definitely been an experience."
Brown recently spoke with me as a call-in guest on Party Foul Radio with Pollo & Pearl. Following interviews with RuPaul's Drag Race star Kelly Mantle and Juno Award-winning musician Barry Harris of the legendary production duo Thunderpuss, Brown told listeners how he wound up coming out on one of his favorite TV shows.
A life-long fan of sports entertainment -- "Some of my earliest memories are professional wrestling," Brown stated -- he says things unfolded quite unexpectedly via social media. Not only a fan of WWE television, he also keeps up with the product via the internet. Last fall, an Instagram account Brown follows "posted about coming out and how hard it can be."
"I liked [the post] and commented about how much I could really relate to that," he shared.
What the young banking professional did not know, however, is the account belongs to a producer of Total Divas. Soon after, Brown received an offer from the show's stars and crew to help tell his parents.
"Of course I didn't buy it," he recalled with a laugh. "I didn't believe they were who they said, so they started sending me pics from the set, to let me know it was legit."
Listen: Dustin's Interview with 'Party Foul Radio with Pollo & Pearl'
Before long, the Oregonian was flying off to meet with with show-runners and the Total Divas cast to determine whether he wanted to go through with documenting his coming out process for fans. Eventually, Brown says two factors drove him to do so.
"One, I don't want to say the 'pressure,' but with so many people investing so much time and energy into me doing -- and, obviously, two people I idolize like Paige and Alicia Fox being there -- it wouldn't give me another 'out' or chance to bail on it," he shared.
"The other being who knows how many other people are struggling like I was?" he continued. "If I could turn my struggles into strength for somebody else, I had to do that."
Ultimately, after behind-the-scenes scheming to explain why two former WWE Divas Champions and a television crew arrived at a family gathering, the wheels were in motion. Even with his idols by his side and cameras rolling, Brown recalls continuing to struggle with what to say.
"I was trying to find the perfect words," he stated, "Then I realized there were no 'magic words;' I just had to say it."
As tender music plays, his family looking on in what appears to be sheer bewilderment, and Paige stroking his knee in support, a tearful Brown finally shares his truth.
"I just want you to know me for who I am. I don't want to feel like I'm lying or withholding anything from you," he says on the series. "I'm gay."
Watch: Dustin Comes Out to His Family on 'Total Divas'
After what Brown describes as an "awkward silence," his father stands and embraces him as the WWE stars applaud, cry and lean on one-another. It was a huge relief, he recalls, and was followed by a similar response from the rest of his family.
"I feel really bad you went this whole time feeling like you couldn't tell us," says his emotional mother, Candy, before wiping tears and cracking wise, "So you had to meet these girls and bring them here to tell us all this?!"
"I was wondering what would happen when everyone was gone -- whether it would still be the same story," Brown admitted when asked if the family's apparent acceptance was due only to the film crew. "But since then, they've been just as great."
Meanwhile, it was noted that Brown is not alone as an LGBT fan of pro wrestling, and this is the show's first gay-themed storyline. He assured Party Foul Radio listeners, the WWE crew is absolutely genuine in its support of the community.
"Everyone that I met and interacted with was so welcoming and so accepting," he stated. "It definitely wasn't just for the cameras. That really is the culture there."

Now in its fifth season on E! Network, Total Divas follows many of the WWE's top females grapplers. In addition to documenting their professional struggles, it focuses heavily on their personal lives, including romantic relationships between cast members and top male WWE stars like John Cena, Daniel Bryan and more.
Of course, more than ever, Brown remains a fan of the Teen Choice Award-nominated reality series. He suggests others might love it as well.
"It's like the Kardashians meets wrestling," he concluded, "You can't go wrong with that!"
Calling all HuffPost superfans!
Sign up for membership to become a founding member and help shape HuffPost's next chapter