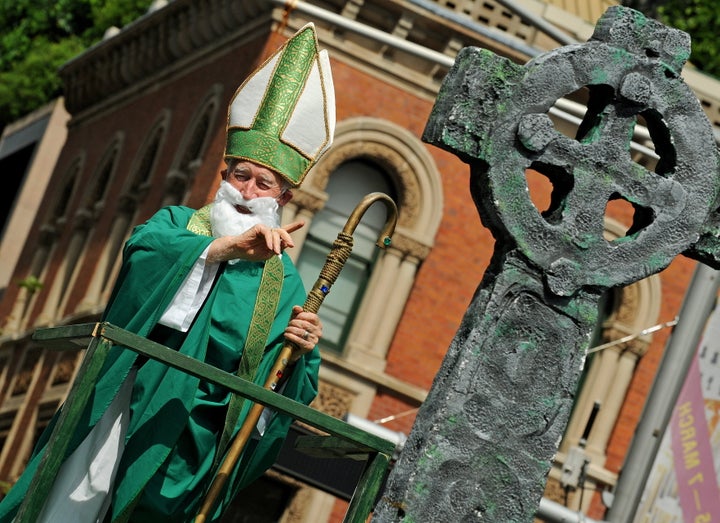 As an American whose entire maternal half of her family tree is of Irish origin, I'm well aware of the ancestral traits that got passed down to me -- everything from my love of tea with milk to the "suck it up, Princess" attitude I inherited for coping when things get tough. So it's not surprising, I suppose, that I'm drawn to topics that illustrate the strong connection that binds the United States and Ireland.
With St. Patrick's Day looming, then, I hope you'll understand that I have no choice but to surrender to my genetic urges and write of yet another link between our two countries: Private Thomas D. Costello. Last July, I told of my experience attending the funeral for Private Costello, who gave his life in World War I on September 16, 1918 in France.
Private Costello was an Irish immigrant whose WWI draft registration card revealed he had been born in County Galway. As it happens, I vacationed in Ireland last year, and as I would learn, had probably walked some of the streets he had as a youth, but it was difficult to find out much more about him because his name was fairly common for an Irishman.
For a variety of reasons, Irish genealogy tends to be quite challenging, but thanks to the Irish government's decision to digitize, index and upload the 1901 and 1911 census online, I realized I now had the means to dig deeper. So I did.
From my earlier research, I knew not only his name, but those of a sister and two brothers. It took some doing, but armed with these details, I was able to zero in on the soldier as a child with his family in his hometown of Tuam. There were more siblings than I had been aware of, so I decided to see if I could locate any relatives remaining in Ireland. Before long, I found myself cold-calling Tom and Nora Costello who live remarkably close to where the soldier once did. They kindly indulged this intrusive Yank and steered me to local genealogy guru, John Joe Higgins.
John Joe's research revealed that Tom was indeed the great-nephew of Thomas D. Costello. Moreover, it turned out that he was also related through his wife, the soldier's first cousin twice removed. John Joe explained that he used mostly church and state records to piece the family together, but also roll books for Sylane National School. Apparently, the soldier and his siblings all attended Sylane, as does John Joe's grandson, Cian, today. As John Joe put it, "Even though Thomas was not married himself, he has a vast number of relatives in our area." I'm hoping that this St. Patrick's Day, at least a few of those relatives will learn of the sacrifice of their cousin, an Irish-born American hero.
Related
Popular in the Community