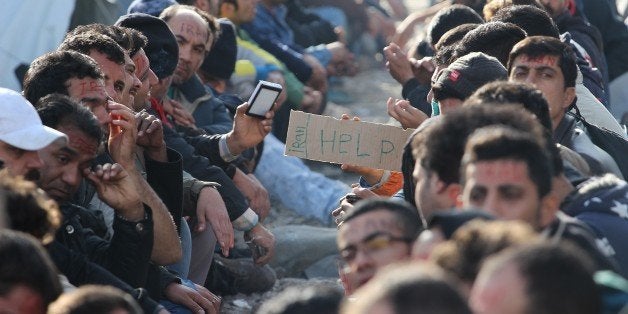 In 1942, in the aftermath of the bombing of Pearl Harbor and the onset of the United States' entry into World War II, 120,000 Japanese-Americans and those of Japanese ancestry were forcibly removed from their homes and incarcerated in relocation camps - a euphemism for concentration camps.
Governors across the western United States raced to proclaim all people of Japanese ancestry as dire threats to national security and personas non gratas. Political cartoons portrayed Japanese Americans as rats; racist graffiti appeared on their stores and homes; countless lost their homes and their jobs; children were forced out of their schools and neighborhoods.
At the time, my father - James C. Purcell - was a young, San Franciscan, Irish American attorney to whom members of the Japanese American Citizenship League turned for help. He often recounted his first visit to Tanforan - a race track converted into a temporary relocation center for thousands of Japanese American families being moved away from the west coast. I remember him saying, "They had placed a family of four into a horse stall that had been whitewashed with paint. They (the US military) hadn't even bothered to remove the horse manure that stuck to the walls."
Mayor Bowers is not alone in his rejection of Syrian refugees and invocation of the internment camps. In the aftermath of the horrific terrorist attacks in France, a rising chorus of U.S. governors and lawmakers are demanding that President Obama shut the door to a whole class of men, women and children who have fled the Syrian Civil War, especially Muslims. Presidential Candidate Ben Carson has likened Syrian refugees to "rabid dogs." Presidential candidate Chris Christie of New Jersey has said he would oppose settling Syrians in his state and that he would not permit "even a 3--year-old orphan's" entry. Rhode Island Republican State Senator Elaine Morgan reportedly sent an email saying "her state should reject Syrian refugees in part because 'the Muslim religion and philosophy is to murder, rape, and decapitate anyone who is non-Muslim.'"
Those who would act out of fear (and in some cases political opportunism and bigotry) have disregarded the lessons of WWII and the world's shame at the treatment of refugees, especially Jewish refugees, who were turned away and sent back to death at the hands of the Nazis.
They have set aside the 1980 US Refugee Act that delineates the criteria and strict procedures for admitting refugees to the United States, including the rigorous screening process which takes an average of 18-24 months. They have glibly set aside the obligations set forth by the United Nations and international law requiring countries to receive those fleeing "persecution or a well-founded fear of persecution on account of race, religion, nationality, membership in a social group or membership in a political group or party."
They are either ignorant or dismissive of the evidence that shows that there has been no incident of a refugee engaging in terrorist activity in the United States (Institute for Policy Studies, Nov. 2015). According to The Economist, "750,000 refugees have been resettled in America since 9/11. Not one has been arrested on domestic terrorism charges."
But there is cause for hope.
More than 20,000 Icelanders have rebuffed their government - who had capped the number of Syrian refugees they would accept at 50 - by signing a petition to open their homes to Syrian refugees.
Pope Francis called upon every parish, congregation and sanctuary across Europe to open their doors to Syrian and Afghani refugees.
Just days after the attacks in Paris, France's President Hollande insisted that the doors will remain open to 30,000 Syrian refugees. He was buoyed by the powerful testimony of a young father who lost his beloved wife in the attack at the Parisian café - insisting that love and joy will prevail over fear and hate.
President Obama has indicated he will veto any attempt by lawmakers to shut the door to the refugees.
California Governor Jerry Brown has reiterated California's commitment to resettle refugees. He is joined by fifteen additional governors, including the democratic governor of Connecticut Daniel Malloy, republican governor of Utah, Gary Herbert, and the democratic governor of Colorado, John Hickenlooper.
Democratic congressman Mike Honda, a child when his family was uprooted and placed in concentration camps, exhorted his colleagues by saying "We cannot allow this to happen again and reverse the progress we have made in the last several decades... I am hopeful we will not allow our anger and outrage towards these terrorists and their cowardly attacks on civilians to turn us away from compassion and generosity."
AFL-CIO Labor Leader Richard Trumka has declared that "We urge unwavering commitment to provide support to those fleeing oppression and violence to build a better life among us. We will continue to call upon our government to live up to its obligation to meet the needs of refugee families, whether they be from Syria or right here in our own hemisphere."
The measure of a great society is how we treat the least among us, the most vulnerable. In virtually every religious and humanist tradition, the principle of solidarity is paramount. Compassion for the stranger and distraught is a central tenant. These are American values as well.
For more information on how to help:
Church World Service
www.churchworldservice.org

Episcopal Migration Ministries
www.episcopalchurch.org/emm

Hebrew Immigrant Aid society
www.hias.org

International Rescue Committee
www.theirc.org

Lutheran Immigrant & Refugee Services
www.LIRS.org

US Committee for Refugees & Immigrants
www.refugees.org

United States Conference of Catholic Bishops/Migration & Refugee Services
www.usccb.org

World Relief
www.WR.org
Calling all HuffPost superfans!
Sign up for membership to become a founding member and help shape HuffPost's next chapter