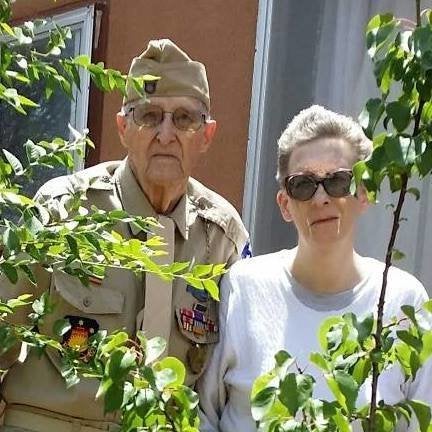 After surviving two World War II battles and earning two bronze stars and three purple hearts, Dennis Ferk is now battling to restore his livelihood.
The 95-year-old retired staff sergeant is recovering emotionally and financially after two former caregivers allegedly stole hundreds of thousands of dollars from him and are now on the run and wanted by police in Santa Fe, New Mexico.
"He lost over $340,000," Ferk's friend Gil Martinez, who is now handling Ferk's finances and running a fundraising campaign on his behalf, told The Huffington Post Tuesday.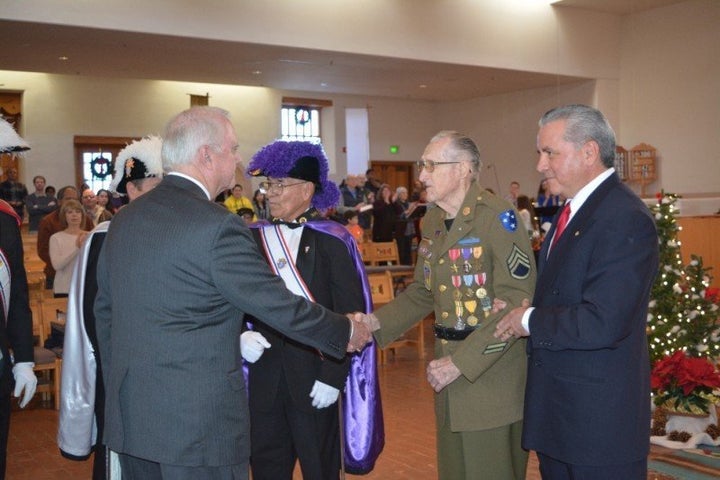 That figure includes the war hero's monthly Social Security and Department of Veterans Affairs checks, as well as accumulated debt from a dozen maxed-out credit cards taken out under Ferk's name, seven life insurance policies that were cashed in and a $50,000 loan against his home. Funds that had been set aside to care for Ferk's handicapped adult daughter after his death were also wiped out, Martinez said.
According to Martinez, this spiraling nightmare began shortly after the death of Ferk's wife in 2010. Ferk hired Dian Zeemin, 69, and Joe Rosko, 62, as caretakers and gave them the legal ability to access his funds. 
Last November, Ferk approached him after services at their Santa Fe church and asked for a ride, Martinez said. Martinez agreed to give him a lift, but when Ferk didn't get up, he asked, "Is there anything else?"
That's when Ferk said he couldn't afford groceries for himself or his daughter. He opened his wallet to show it was empty inside, Martinez recalled.
The two went to Ferk's bank and looked through his account records, Martinez said. There, Martinez uncovered numerous purchases made by Zeemin and Rosko, who had been living on Ferk's property free of charge.
Ferk's accounts had been wiped clean. And Ferk said he was scared for his life after Rosko allegedly physically threatened him, Martinez recalled. 
Ferk also told him the license plate on his car had been removed and his car blocked in by the couple's cars.
"He said to me, 'Gil, will you protect me?'" Martinez recalled. "I said, 'Sarge, no one's ever going to touch you again.'"
He said to me, 'Gil, will you protect me?'"

Gil Martinez
After obtaining power of attorney, Martinez said he confronted Zeemin, who denied any wrongdoing. By late January or February, Martinez said he had the caretakers evicted from Ferk's property. In April, Santa Fe police issued a warrant for their arrest. 
But the couple managed to skip town and remains wanted by local police for three counts each of exploitation and one count each of forgery.
"The two individuals named have fled the city of Santa Fe, however we believe they are still in the state and continue to search for them," Santa Fe Police spokesman Greg Gurule told HuffPost via email.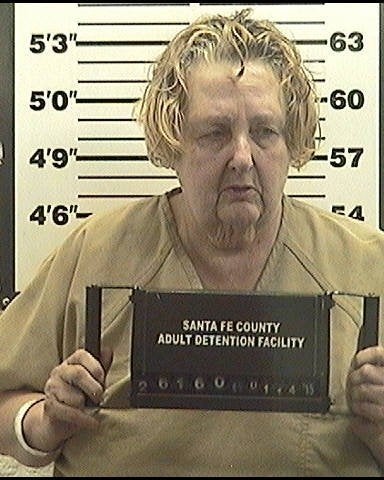 But there has been some good news for the veteran of late.
Martinez has been able to eliminate almost all the debt the couple allegedly racked up, mostly by negotiating the purchases and reporting other ones as fraudulent. He moved Ferk in with his daughter, but is still trying to raise money for her care. As of Wednesday, a GoFundMe page set up for the veteran has raised more than $3,600 of a $50,000 goal.
"People say, how can you do it?" said Martinez, who's a grandfather of nine, "and I tell Sarge that I'm his long-lost son." 
Martinez said he hopes Ferk's story sends a message about the importance of compassion.
"There are people out there that are in need of help. It's just that these people who are in need of help, it's too hard for them to ask for help because they feel too proud," Martinez said. "If you have this inclination of anyone, that you just feel has needs of some kind, go up to them and ask them, 'Are you OK, is there something I can do?' And that's when things will open up."
CORRECTION: This article originally said that Martinez was able to recover almost all the money that was stolen from Ferk; in fact, he has been able to eliminate fraudulent debts under Ferk's name, but has not recovered any funds.
Calling all HuffPost superfans!
Sign up for membership to become a founding member and help shape HuffPost's next chapter
BEFORE YOU GO
PHOTO GALLERY
States Where Veterans Earn The Most Money