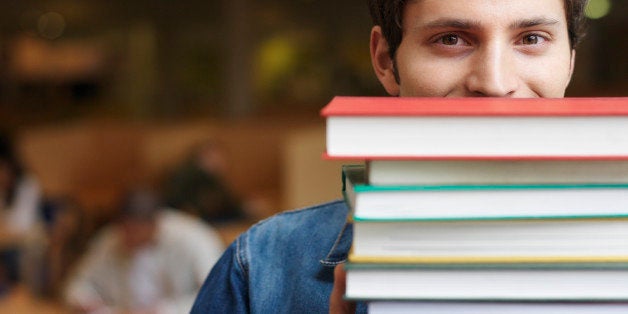 In Welcome to the Monkey House, Kurt Vonnegut creates a society that limits population growth by diminishing human desire. The tale is cast in the future, so -- of course -- birth control exists but its use is forbidden. In the future that Vonnegut constructs, society prefers to address real problems with subjective moralistic therapies.
Welcome to the Monkey House was first published by Playboy Magazine. Playboy Magazine's published countless controversial stories by likewise provocative authors. In spite of this literary contribution, or perhaps because of it, the pinup publication has faced censorship around the world.
If you're a Vonnegut fan, or a Saul Bellow, Ray Bradbury, Alex Haley fan -- to name a very few -- then you won't read some of their great literary originals, in many nations, including China, India and Singapore.
Efforts have been made to keep Playboy out of the hands of U.S. military personnel. Even blind people were denied access to Playboy's literary content when, in 1985, President Ronald Reagan signed a bill halting the production of Braille copies for the visually impaired.
Reagan and his paternalistic colleagues were thwarted in their attempt to save blind people's fingers from the notorious adult magazine when American Council of the Blind, the Blinded Veterans Association, the American Library Association filed suit and prevailed. This upcoming Monday, on the 21st of September, Banned Books Week begins, commemorating this and other victories over censorship.
The Office of Intellectual Freedom recorded 307 instances of banned or challenged books in 2013. Jennifer O'Brien, Serials and Government Documents Librarian for Western Connecticut State University, cautions that this might represent a fraction of the censorship cases actually going on in the United States. O'Brien explained, "Teachers or librarians may just be self-censoring. And not because they don't want to use the material... it's possible that they didn't even purchase a book or periodical because they thought it would be challenged." O'Brien doesn't believe that censorship is necessarily about content; it could be about the books perceived intent. O'Brien uses Harry Potter as an example: "All some people needed to know, to find it objectionable, was that it was about magic. Heaven forbid a kid reads it. Then what? He tries to use magic and finds out it doesn't work?"
O'Brien feels parents may not want their kids exposed to things for which they aren't equipped. O'Brien can understand that. She's read books that were so upsetting that she needed some time to process the content: "I remember reading Walker's The Color Purple, or Morrison's The Bluest Eye, and finding these books so emotionally challenging that I actually had to read them in little bits." But her own difficulty in accepting what she's read doesn't mean O'Brien should be shielding others from what she finds difficult or offensive, "I struggle against my own ideas of what's "icky," but it's not my business to decide if you can access it."
Porn like Playboy is accessed on the computers adults use in libraries all across the United States. Just two weeks ago the legal expenses for Orland Park Library topped $125,000 as the library struggles to maintain unfettered on-line access for its patrons.
O'Brien says that the Internet has changed the discussion of censorship as the methods of accessing information have changed, but the theory is still the same. What role should government agencies or communities play in the accessibility of material "some" people may or may not find offensive?
Julia Whitehead, executive director of the Kurt Vonnegut Memorial Library, defends Vonnegut's admittedly offensive nature, "Vonnegut could be impolite and sometimes vulgar, even subversive." Whitehead expounds, "sometimes subversive is what's called for when you have people killing people to further their area of interest, causing harm in violent and dramatic ways. Vonnegut used words and they were powerful words. He was good at using those words because of his experiences."
Experiences like cleaning up after the World War II Allied fire-bombing of Dresden.
Which brings up another of Vonnegut's banned books: Slaughterhouse Five. In Slaughterhouse Five, Vonnegut recounted, in a fictionalized fashion, his time as a World War II prisoner of war. Vonnegut defended his writing in a letter to Charles McCarthy, head of the Drake, North Dakota, School Board after McCarthy ceremoniously -- not to mention ironically -- burned Vonnegut's book:
"I read in the newspaper that your community is mystified by the outcry from all over the country about what you have done. Well, you have discovered that Drake is a part of American civilization, and your fellow Americans can't stand it that you have behaved in such an uncivilized way. Perhaps you will learn from this that books are sacred to free men for very good reasons, and that wars have been fought against nations which hate books and burn them."
It is that sacred nature of books that Whitehead and her colleagues intend to celebrate at the Vonnegut Memorial Library throughout Banned Books Week. The library website has a list of events and all are open to the public. Whitehead says that their events aren't, "anti-censorship. They are a celebration of reading." Whitehead invites the public to meet Tim Youd, a performance artist who'll be camping out at the library and symbolically retyping Fahrenheit 451, a book about burning books, written by Kurt Vonnegut's friend Ray Bradbury.
Related
Popular in the Community