 Before he bared all to celebrate his 43rd birthday on Thursday, which seemed to help promote his new book, Haitian hip hop star Wyclef Jean was caught not exposing certain facts about his charity.
Last Sunday's New York Times undressed Wyclef's charity, Yéle Haïti. Author Deborah Sontag uncovered numerous excesses within the management, including kickbacks to Wyclef himself for fundraising gigs.
Sontag and the New York Times dared to investigate the abuses of a nonprofit, offering an explanation for why, despite the billions in promised aid to Haiti following the earthquake, little progress seems to be visible 33 months after.
This story is being seized upon as a "smoking gun" -- albeit to different people for different purposes.
The last words of the article uncritically equate a lack of follow through and failure to complete a project begun as "Haitian style." Unfortunately this is all too common. The Google news alerts sent to my inbox since the earthquake, beginning with Pat Robertson and New York Times' David Brooks, is a near constant stream of such narratives that portray Haitians as somehow incapable of improvement.
While this may not be conscious on the part of journalists -- many of whom offer different perspectives -- denigrating Haitians fits into longstanding stereotypes about the nation born of a slave revolt struggling to survive in a world hostile to Black freedom.
To be sure, Sontag's article also aims the blame game at nongovernmental organizations (NGOs), particularly Wyclef's. The decisions of Yéle Haïti seem almost too impossible to believe. This "non-profiteering" taken to the extreme weaves nicely with also opaque accounting, rendering it almost impossible to track.
Some with an ideological axe to grind against NGOs will arm themselves with this story as ammunition. If it is translated and makes its way to the Haitian airwaves it will almost certainly add fuel to the fire of popular frustration at the lack of progress on NGOs' watch.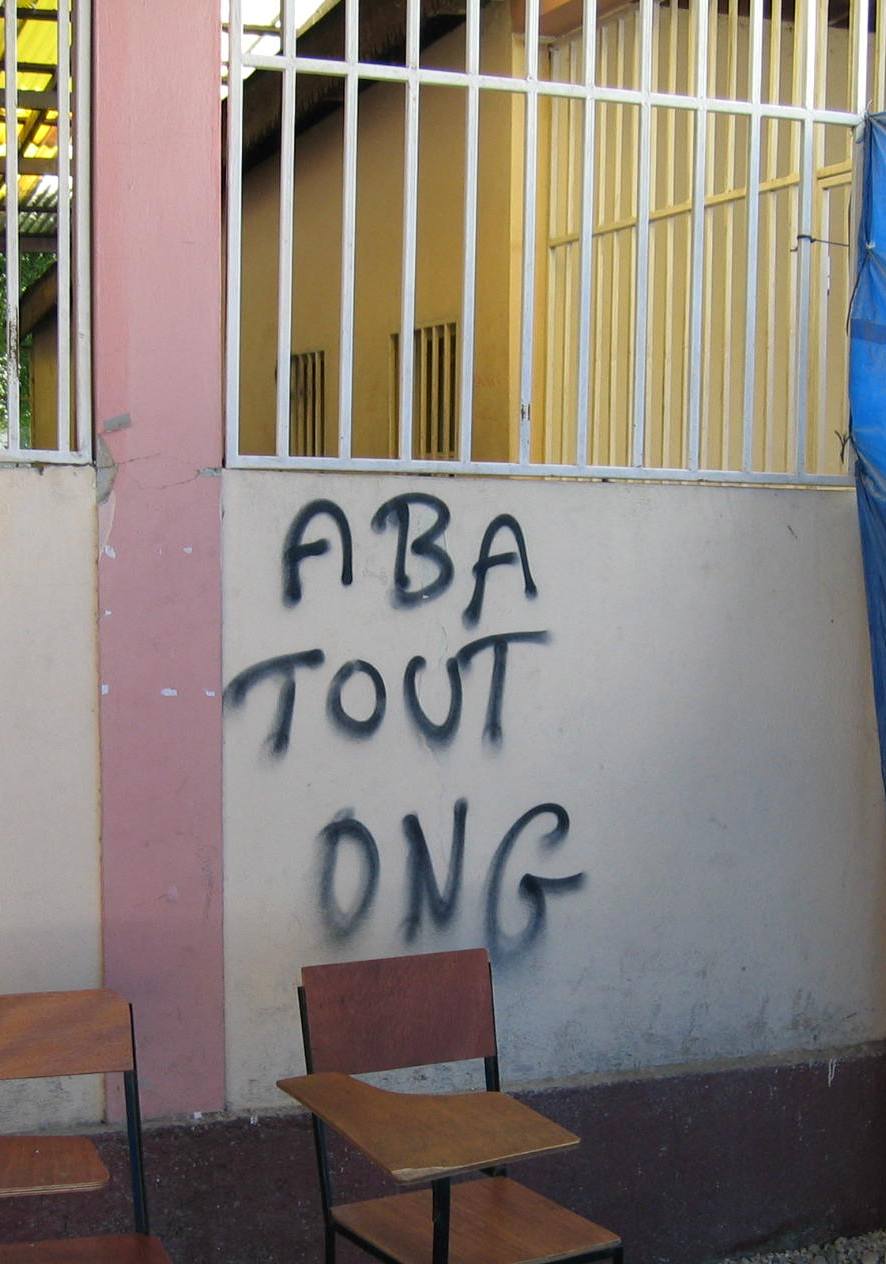 An example of graffiti expressing frustration: "down with all NGOs" (photo by author)
Those whose livelihood depends on financial flows toward NGOs, particularly those who consider themselves to be professional in their enterprise will sharpen their critique against the new, amateur relief efforts. Implicit (and in some cases explicit - I have interviewed over 80 since the earthquake) in some of the refrains of these "Big Ten" (the world's largest and best-funded NGOs) is for small NGOs to simply "get out of the way."
Unfortunately these kinds of stories do not take us very far in understanding NGOs as a system and a structure. These everyday systems and structures may not be catching NGOs with their pants down but they also explain the limited and patchy progress in Haiti without resorting to picking on the beneficiaries. Only through analyzing these systemic deficiencies will we arrive at a solution, doing better with the remaining resources in Haiti and doing better when the next disaster strikes.
While it is tempting to paint Yéle Haïti as a rogue, this concern with transparency is common. The Disaster Accountability Project reported that only one of the 196 agencies surveyed provides an adequate level of information on their website. "Although organizations such as GuideStar and Charity Navigator offer much fiscal information regarding relief groups, making public the details of the actual day-to-day activities and programs of relief groups in Haiti is crucial to achieving greater transparency and effectiveness in aid."
In my study of 791 households in eight camps for internally displaced, fewer than one percent could identify why NGOs selected the aid they did. The aid given did not match residents' priorities. In one camp, Karade, the NGO stopped coming when local people said that while they appreciated the soap they got, they needed something else.
True, the Big Ten have professionalized considerably in the last two decades. Often this professionalism comes at a price, including instrumentalization, being used for ends other than humanitarianism, as a new book edited by veteran humanitarian Antonio Donini details.
The way to regain the public's -- not only Haitians but citizens of donor countries -- trust is not to distance oneself from Yéle Haïti but to address the underlying structural concerns.
Simply put, Yéle Haïti is evidence that NGOs, like mortgage bankers, need regulation. NGOs that are working alongside beneficiary communities need not fear this; it would only be in their interest to be part of a structure that is properly managed with accountability to local populations and government as well as donors. And they would benefit from the added credibility that the NGOs who would otherwise run astray like Wyclef's would be disciplined.
We have responsibility as individual donors who texted to the relief effort, and also as citizens. Immediately following the earthquake I posted a series of questions to ask of groups while considering where to donate, basically what relationship the NGO has with the local community and who makes decisions.
But especially as the election season is upon us we have power as citizens to change how NGOs who receive our tax dollars behave, through reforming the United States Agency for International Development (USAID).
How should our foreign aid be reformed?
For those who have the time and resources to read it, I recently published a case study begun as my doctoral thesis in 2000 of two Haitian women's NGOs, both working on HIV/AIDS prevention (in the interest of disclosure: all my royalties will be donated to grassroots groups in Haiti). For those who don't, here are some policy recommendations that come out of the analysis:
• USAID should strengthen the public sector in recipient countries. • USAID funds should promote a democratic decentralization process. • When it deems necessary to directly fund NGOs, USAID should fund the public regulatory agencies to coordinate this aid. • USAID should demand greater participation of the beneficiary population and local governments in recipient NGO projects. • USAID should amend its procurement requirements to allow local firms to obtain primary contracts. • Local procurement is especially important in food aid. • USAID and partner NGOs need to have greater transparency, particularly to beneficiary populations and local government.
This Monday is the last of the presidential debates before the election, focusing on foreign policy. While Haiti reconstruction -- and the lessons it offers for our foreign aid policy generally -- will probably not be part of the conversation focused on the Middle East and North Africa, exposing Wyclef's NGO can hopefully offer a good peep show into the aid apparatus.
But good policy and real on-the-ground implementation will require an active and educated citizenry flexing our muscles that unlike Clef's pecs we have sadly let atrophy.
I will end here where I end the book, with a quote from a street merchant: "The best way you can help us here in Haiti is to bring democracy back to Washington."
Mark Schuller, assistant professor of Anthropology and NGO Leadership Development at Northern Illinois University and affiliate at the Faculté d'Ethnologie, l'Université d'État d'Haïti, is the author, most recently, of Killing With Kindness: Haiti, International Aid, and NGOs (Rutgers, 2012).
Popular in the Community