After forming in 1992, the Fugees -- made up of Wyclef Jean, Lauryn Hill and Pras Michel -- were one of the most celebrated hip-hop groups of the decade thanks to their socially conscious songs. In 1997, however, The Fugees broke up. Now, Jean has revealed the real reason behind the Fugees breakup: his troublesome relationship with Hill and the fact that she lied about the paternity of her child.
Jean and Hill began dating in the early days of The Fugees, and continued their dalliance after Jean married designer Marie Claudinette. The relationship was rocky, even after the great success of their 1996 album, The Score.
"In that moment something died between us. I was married and Lauryn and I were having an affair, but she led me to believe that the baby was mine, and I couldn't forgive that," the Haitian-born artist writes in Purpose, according to an excerpt from the New York Post. He said that the betrayal led to The Fugees' breakup. "She could no longer be my muse. Our love spell was broken."
Not that Jean and Hill had the best relationship before the paternity lie.
"It was like we were two outlaws in love," Jean writes in an excerpt obtained by the New York Daily News. "We had fights on planes. ... We had huge fights, and a few times when it went down, she started swinging at me right there in the seats. People would scatter. We never got arrested, but we came close a few times in Europe."
Jean admits that this relationship tore The Fugees apart, but he does not feel he damaged Hill, who became reclusive after the split. "If a man is in a relationship with a female and the man leaves the female, and she goes in a relationship with another man and has five children with that guy ... and things start going crazy, can you say, 'Ah, if that first guy never messed up, then everything would have been, you know' ..."
"When she got pregnant, definitely things started goin' on," he told Rolling Stone almost 10 years ago. "Things got crazy." The paternity was not revealed, but Hill had reportedly allowed Jean to think it was his son until the delivery.
"People don't know how calculating she can be," an anonymous friend added to Rolling Stone. "Lauryn used Ro' to pull herself out of the relationship with 'Clef, and she happened to get pregnant. She hoped that baby was Wyclef's, because it would've forced his hand. But it wasn't."
"The Fugees was a conspiracy to control, to manipulate and to encourage dependence," she told Trace magazine at the time. "I took a lot of abuse that many people would not have taken in these circumstances." She also mentioned Jean. "As a young woman, I saw the best in everyone, but I did not see the lust and insecurities of men. I discovered what a lie was, and how lies manifested themselves."
"Two wrongs don't make a right, so I accepted my wrong for that period and being an adolescent, being kind of cocky," he told MTV News, continuing, "This is a period of my life, and that's how I felt. If anything, I just brought closure to a chapter — because at the end of the day, I didn't do Miseducation, so there was no closure in my chapter, but I kept writing and writing. It was important just to be honest. I'm not known to sugarcoat, so it's either yes or no. And for [someone] picking up something and reading it, I don't think that I should've left it as a myth. Because even if I said it or she said, history is gonna say what it is."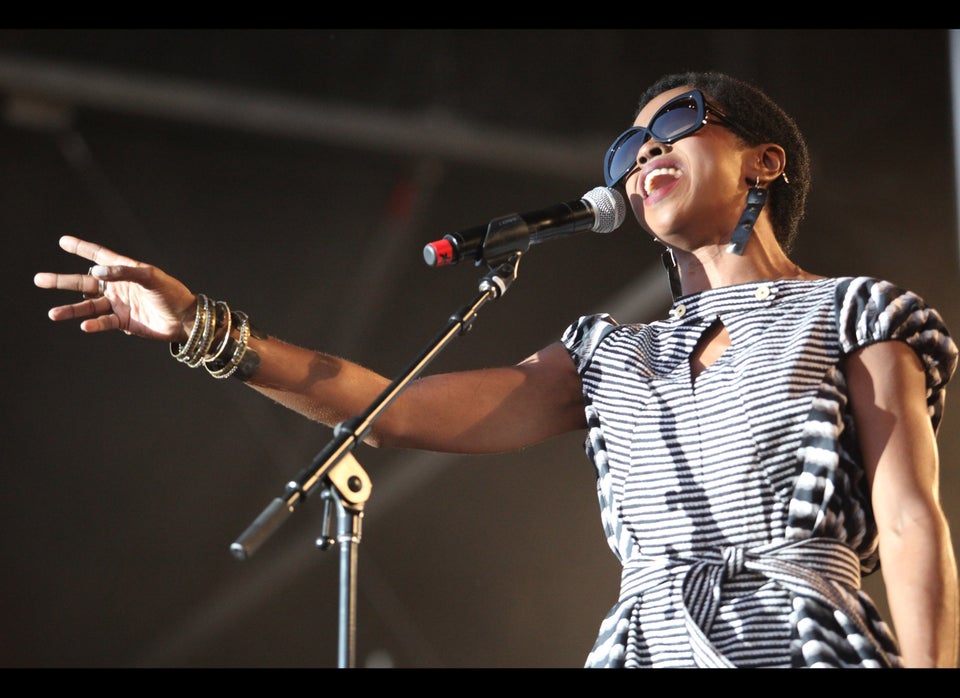 Lauryn Hill and the Fugees
CORRECTION: Several Getty captions for photos in the slideshow above erroneously stated that the [Such-and-Such] concert in 2006 was the Fugees first together in 10 years. This is not the case. They also performed together in 2004.
Popular in the Community