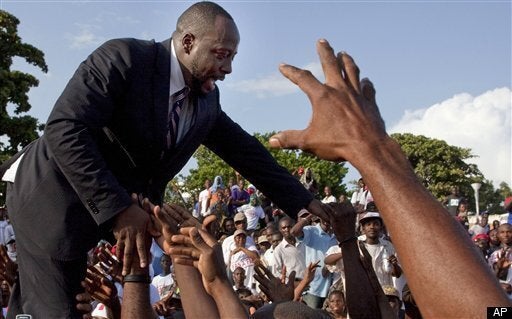 PORT-AU-PRINCE, Haiti (AP) -- Singer Wyclef Jean officially announced his bid to be president of Haiti to a roaring crowd of supporters on Thursday, thrusting himself into a contentious race to lead an impoverished country reeling from a devastating earthquake.
At one point the hip hop artist-turned-politician bodysurfed on the hands of bandana-waving supporters in Haiti's capital and stepped onto a speaker truck to address the crowd of hundreds. Jean had submitted his candidacy papers 10 minutes before the provisional electoral office closed.
"America has Barack Obama and Haiti has Wyclef Jean," shouted Jean, who was born in Haiti but raised in Brooklyn, N.Y. Many in the crowd wore T-shirts distributed by supporters.
Carrying his wailing 5-year-old daughter on his shoulders, Jean told The Associated Press: "It's a moment in time and in history. It's very emotional."
The former Fugees frontman enters a highly competitive and crowded race for a difficult and dangerous job. Only one person has completed a democratically elected 5-year term in Haiti's history - current President Rene Preval - who is poised to do it again and hand it off to an elected successor.
The winner of the Nov. 28 general elections inherits a destroyed capital, 1.6 million homeless people and countless groups fighting over billions of dollars in international reconstruction funds pledged after a January earthquake that killed an estimated 300,000 people.
Jean originally planned to join the coalition of Pierre Eric Jean-Jacques, former Chamber of Deputies leader. But he switched at the last minute to Jean-Jacques' brother's party to make room for government planner Leslie Voltaire in Jean-Jaques' coalition.
The switch is not expected to affect Jean's chances.
If Jean's candidacy is approved, he will face several candidates who lack his international fame but have more political clout. Among the most formidable is ousted ex-Prime Minister Jacques-Edouard Alexis, who secured the backing of President Rene Preval's powerful Unity party this week. Preval is barred from running by the constitution.
An eight-member board reviews would-be candidates and verifies whether they meet all the constitutional requirements, including having lived in Haiti for five consecutive years leading up to the election and never having held foreign citizenship. The list of official candidates will be published Aug. 17.
Jean's U.S. upbringing could be a roadblock to his candidacy, but the singer says his appointment as a roving ambassador by Preval in 2007 exempts him from the residency requirement.
The singer was born on the outskirts of Port-au-Prince but left the country as a child and grew up in Brooklyn. He gained fame as a member of the Fugees and went on to have a successful solo career. He is known for such hit singles as "We Trying to Stay Alive" and "Gone Till November." With the Fugees, he recorded the Grammy-winning, multiplatinum-selling album "The Score."
In recent years, he has been active in Haiti with the charity Yele Haiti, prompting long-running speculation that he would run for president one day.
Earlier Thursday, he stepped down as leader of Yele Haiti, which faced criticism for alleged financial improprieties.
Jean helped found the charity five years ago to raise money and build awareness of the myriad problems in his impoverished homeland. It raised $9 million in the wake of the Jan. 12 earthquake that killed a government-estimated 300,000 people. Of that, it has spent $1.5 million on food, water, tents, clothes and other products for quake survivors, said Cindy Tanenbaum, a spokeswoman the musician said.
"I am not stepping down in my commitment to Haiti. On the contrary, regardless of what path I take next, one thing is certain: My focus on helping Haiti turn a new corner will only grow stronger," Jean said in the statement.
Jean is not the only celebrity in the race.
Popular musician Michel "Sweet Micky" Martelly arrived just ahead of Jean to submit his candidacy papers. He was accompanied by singer Pras Michel, who was also one of the original members of The Fugees and is supporting his bid for presidency.
Martelly welcomed Jean, a longtime friend, to the race. "I hope politics will not divide us," he said.
Jean relied heavily on Haitian music during Thursday's campaigning, with speakers blasting songs from Barikad Crew, a popular band that rallies thousands of Haitians with their political lyrics.
Jean also promised to bring U.S. rapper 50 Cent to perform at a campaign rally, although he did not say when.
As Jean stepped onto the speaker truck, the DJ and crowd began to sing a Haitian spiritual usually reserved for Jean-Bertrand Aristide, an ousted ex-president who was flown into African exile in 2004 aboard a U.S. plane.
The crowd replaced Aristide's name with Jean's.
If approved, Jean would have to deal with voters undecided on how to think about Haitians abroad. Many families are dependent on successful overseas relatives for remittances but often seem them as near foreigners. The singer's American accented Creole and lack of French - for many things still the language of government here - will be constant reminders he did not grow up here.
During Thursday's speech, Jean spent much of his time trying to defend his roots.
"I am not a diaspora candidate," he said in Creole. Then he ended with the phrase: "Mwen pale Kreyol."
The phrase, "I speak Creole," has a double meaning in Haiti: that a person speaks the language, and that they mean what they say.
Related
Popular in the Community