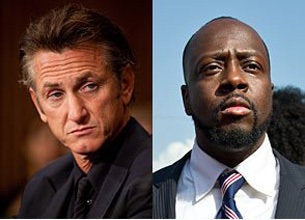 Wannabe Haitian president Wyclef Jean accused Sean Penn of sniffing cocaine, and Penn has shot back. Penn previously criticized Jean's potential candidacy and said he had been a 'non-presence.'
During a concert over weekend, Jean sang his song 'President,' changing some lyrics to be about Penn, including, 'I got a message for Sean Penn: Maybe he ain't see me in Haiti because he was too busy sniffing cocaine.'
Not so says Penn, who has spent months helping out in Haiti since the devastating earthquake. A rep for the actor gave the following statement.
"Mr. Jean is clearly unfamiliar with the physical demands put upon volunteers in Haiti. As aid workers there, the notion of depleting the body's immune system thru the use of illicit drugs is ludicrous. More specifically, J/P Haitian Relief Organization (a.k.a. JPHRO) has a ZERO tolerance policy for any and all illegal drugs. As the leader of this organization, Sean Penn has not only set this policy, but adheres to it. That Mr. Jean would make such a false accusation is reckless and saddening, but not surprising.
Watch Jean singing:
Calling all HuffPost superfans!
Sign up for membership to become a founding member and help shape HuffPost's next chapter