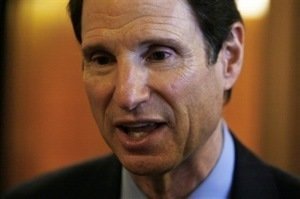 One of the most innovative voices in the health care debate, Senator Ron Wyden (D-Ore.), is accelerating the process of exempting his state from some of the national reforms passed under President Barack Obama.
The Oregon Democrat is seeking to take advantage of a provision he helped write into the legislation that allows states to set up their own health care systems as long as they meet minimal requirements established by the Department of Health and Human Services. In a letter to the state's Health Authority office, Wyden announced that he will introduce legislation to accelerate the start date for state waivers from 2017 to 2014, if not earlier for Oregon specifically.
In addition, he strongly suggested that the state should use the provision to exempt Oregon from the individual mandate, which would penalize those individuals who refuse to purchase insurance coverage. The mandate was a feature of Wyden's own health care bill but has proved to be remarkably unpopular among voters.
From Wyden's letter (emphasis ours):
As you know, under the Patient Protection and Affordable Care Act (PPACA), I authored section 1332 that makes it possible for Oregon to obtain a Federal waiver and implement its own health care approach without an act of Congress. Oregon has a long history of pursuing flexible strategies for ensuring that all our people have high quality, good value, health care that is affordable to both consumers and taxpayers. Oregonians have demonstrated again and again that a one size fits all approach from Washington is not the best approach for the Northwest, and they have come up with innovative solutions that the Federal government has never had the flexibility or will to implement. For these reasons, I wrote Section 1332 specifically with Oregon in mind.

Section 1332 is scheduled to go into effect in 2017. I intend to introduce legislation shortly to accelerate that date to 2014. Moreover, if the bipartisan legislative leadership and the executive branch were in support, I would like to explore the possibility of Oregon moving forward with a Federal waiver even earlier.

[snip]

In addition, Senate Finance Committee Counsel has stated that a state that can meet the general coverage requirements of the PPACA can obtain a Federal waiver under Section 1332 without a requirement that individuals purchase health insurance. Because you and I believe that the heart of real health reform is affordability and not mandates, I wanted to bring this feature of Section 1332 to the attention of you and the legislature.
In a reply to Wyden, the state's director-designee of the Health Authority, Bruce Goldberg, expressed his openness to allowing Oregon to venture away from the national health care reform package. In particular Goldberg discussed advancing the state's insurance exchange (the veritable marketplace in which businesses and individuals can survey a variety of different plans) beyond the constrictions of Obamacare.
...with insurance exchanges as the centerpiece of national health reform, I believe it would be most beneficial to the nation and Federal agencies for a state of the size and demographics of Oregon to go early with an exchange. This would allow us to test a variety of the systems and policies that will be necessary for national success and for other states to learn from.
The moves by Wyden and Goldberg have potential implications that extend well beyond Oregon's borders. The senator has been a mostly silent critic of parts of the president's health care package, casting a yes vote despite the belief that the legislation did not fundamentally reform the private market. His continued efforts to move his home state into a different system are driven by the belief that the reform passed into law lacked that basic innovation.
Should Wyden prove successful -- both in pushing section 1332's start date to 2014 and in scrapping the individual mandate -- it stands to reason that other states, not all of them as innovative as Oregon, will soon follow. They would, of course, need clearance from the HHS to opt out of the national program. But there's no guarantee that a Democratic administration will be in power at that point.
Popular in the Community