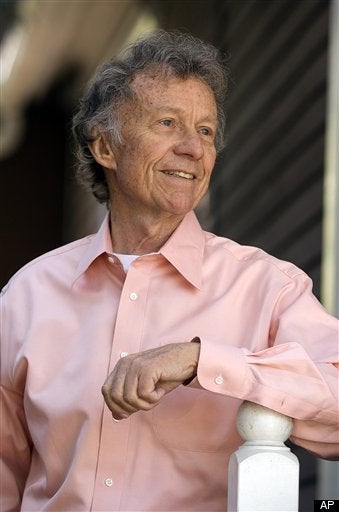 This story has been updated
The billionaire brothers from Dallas who were charged by the Securities and Exchange Commission with orchestrating a massive securities fraud scheme that netted them $550 million are well-known philanthropists and fundraisers for conservative politicians.
Charles and Samuel Wyly, along with their wives, have donated $2.5 million to more than 200 Republican candidates and committees over the past 20 years, including over $1.3 million to the Republican National Committee, according to an analysis by the Center for Responsive Politics.
The top recipients of their largesse have been Texas Republicans. George W. Bush received at least $100,000 raised by the Wyly clan during the 2000 presidential election. Sen. Kay Bailey Hutchinson has received $30,400 from the family; Rep. Pete Sessions, $29,000.
Other Republican senators who've received their donations include John Cornyn of Texas, Sam Brownback of Kansas, Judd Gregg of New Hampshire, John Thune of South Dakota and Kit Bond of Missouri. Sam Wyly also funded the Swift Boat campaign that torpedoed Massachusetts Democrat John Kerry's 2004 presidential campaign.
And the Wyly brothers have been busy in the 2010 election cycle, most recently writing a check dated June 10 for $10,000 to the Republican Congressional Campaign Committee. Charles Wyly has also contributed to Freedom Works, a now-defunct political action committee started by former Republican House Majority Leader Dick Armey (which is different from the current FreedomWorks PAC affiliated with the Tea Party movement, as erroneously reported by HuffPost in an earlier version of this story). The Wylys and their companies have also reportedly contributed $353,500 to Texas Gov. Rick Perry in recent years.
As reported by HuffPost's Sam Stein, the brothers played an instrumental role in helping Bush defeat John McCain during the 2000 Republican presidential primary, with a $2.5-million advertising campaign that marked the "very first ad" launched by a 527 -- "the oft-maligned political groups that came about due to a loophole in campaign finance laws."
Sam Wyly's son Andrew ended up being a major fundraiser (or "Texas Aviator") for McCain in the 2008 election. In the 2010 cycle, Andrew has contributed to Marco Rubio's Florida Senate campaign and Pat Toomey's Pennsylvania Senate campaign, among other Republican candidates.
Beyond politics, the charges are sure to shake up the close-knit community in Dallas, where the brothers wielded enormous influence. Charles Wyly donated millions to the Dallas Center for the Performing Arts to have a building named after him, which was designed by famed architect Rem Koolhaas and billed as the world's only "vertical theater."
A prominent lawyer for the Wylys, Michael C. French, and stockbroker Louis J. Schaufele III were also charged in the case. Schaufele III is the Investment Committee chairman of the Episcopal Foundation of Dallas.
The case, which caps a six-year investigation prompted by inquiries about overseas trusts kept by the Wylys, also serves as a vindication of sorts for Senator Carl Levin (D-Mich.), who along with former Sen. Norm Coleman (R-Minn.) issued a damning 2006 report on tax haven abuses that primarily focused on the Wyly brothers.
Through a lawyer, the brothers said the charges are "without merit."
Popular in the Community